People of Play details Young Inventor Challenge winners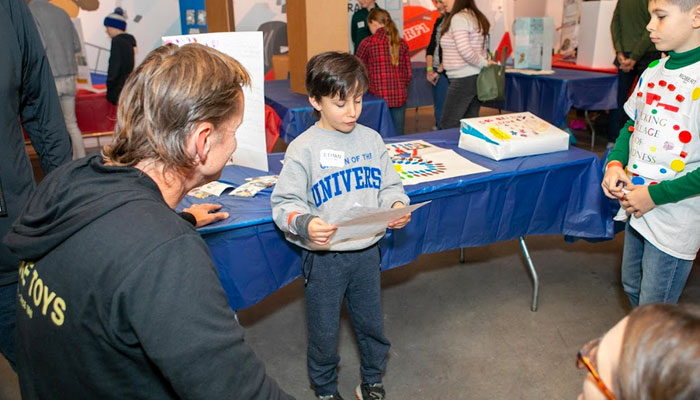 People of Play has revealed the winners of its 17th annual Young Inventor Challenge.
The annual competition sees students aged between six and 18 get the opportunity to create an original toy or game and then pitch it to professional toy and game inventors for a chance to win prizes. Past winners have seen their entries licensed, manufactured and sold in major retailers.
This year's competition welcomed 89 entries from three countries, with 50 participants pitching in person at an event held at the Radio Flyer Headquarters.
Below is the official list of winners of the 2022 Young Inventor Challenge:
BEST GAME
Senior Winners: Chicken Scratch by Avalinn Olson (7th grade) of Lebanon, IL and Ainsley Turkington (8th grade) of Caseyville, IL
Junior Winner: The Flibbertigibbet by Paula Juzenas (4th grade) of Palos Park, IL
Honourable Mention: Micro Golf by John Kampwerth (8th grade) of O'Fallon, IL and Eric Rybak (8th grade) of Collinsville, IL
MOST CREATIVE
Senior Winners: Water Bottle Maze by Grant Middleton (8th grade) of O'Fallon, IL and Jacob Portera (8th grade) of Caseyville, IL
Junior Winner: Flicking Village of Madness by Robert Fala (4th grade) of Palos Heights, IL
Honourable Mention: Rocket Building Spree by Jeremy Dugan (4th grade) of Skokie, IL and Wilson Emidi (7th grade) of Chicago
BEST PITCH
Senior Winners: Rock Paper Scissors Brawl by Max Gramelspacher (5th grade) and Oliver Middleton (5th grade) of O'Fallon, IL
Junior Winners: Optimism for Autism by Isabella Slack (4th grade) of Palos Park, IL
Honorable Mention: Hide and Beep by Braxton Holland (10th grade) of Trophy Club, TX
–
To stay in the loop with the latest news, interviews and features from the world of toy and game design, sign up to our weekly newsletter here