Phy McCarthy on how a lack of ethnic dolls on the market led her to create Darcy Curl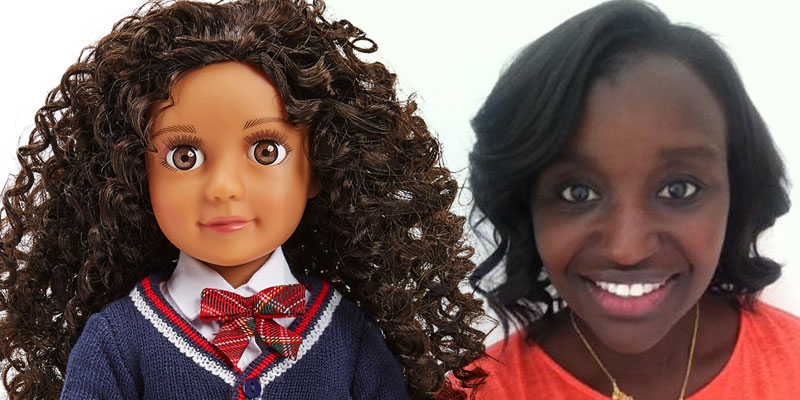 Long blonde hair, blue eyes, tall and with feet permanently shaped around a pair of heels – the dolls that seven year old Phy McCarthy was playing with in the early Eighties didn't strike a chord with the youngster.
Fast forward to 2016, and McCarthy faced a similar struggle when attempting to find a doll that reflected her mixed race daughter, Ellis. Rather than give up, that failed shopping trip proved to be the spark that led her and Ellis to develop and launch Darcy Curl, a new ethnic doll boasting the body and facial dimensions of an average seven year old girl.
We caught up with McCarthy to discuss the design process behind Darcy Curl, the other progressive doll brands she admires and how people-watching fuels her creativity.
Where did the idea for Darcy Curl come from?
The idea started back in the early Eighties. I wrote to Santa asking for a little doll like me. Unfortunately I didn't get the doll I asked for. As I got older, I quickly understood that black and brown dolls, depicting girls like my friends and I, didn't really exist.
Fast forward to 2016 and I started my doll search again for my mixed race daughter. I found it shocking that nearly three decades later, trying to buy an ethnic doll was still so hard. I started a Change.Org petition asking UK toy shops to commit to selling a reflective range of dolls but that didn't seem like enough – so I made a doll myself.
In short, I started pretty much due to failed shopping trip and my continued frustration around the lack of ethnic toys in mainstream shops.
Can you talk us through some of you key design decisions for Darcy Curl?
Darcy is co-designed with my six year old daughter. We brainstormed our ideal doll and then worked from there. In addition to her ethnicity, we wanted her hair to be easy to play with. Surprisingly, it's quite hard to find curly synthetic hair that holds its curl, so a lot of time was spent getting this right.
My daughter suggested making her body soft for bedtimes and moveable for playtime. It was really important to her that she could role play naturally with the doll. As you can imagine there were a lot in cool ideas still on our notepad. Hopefully some will make it into our second Darcy Curl doll.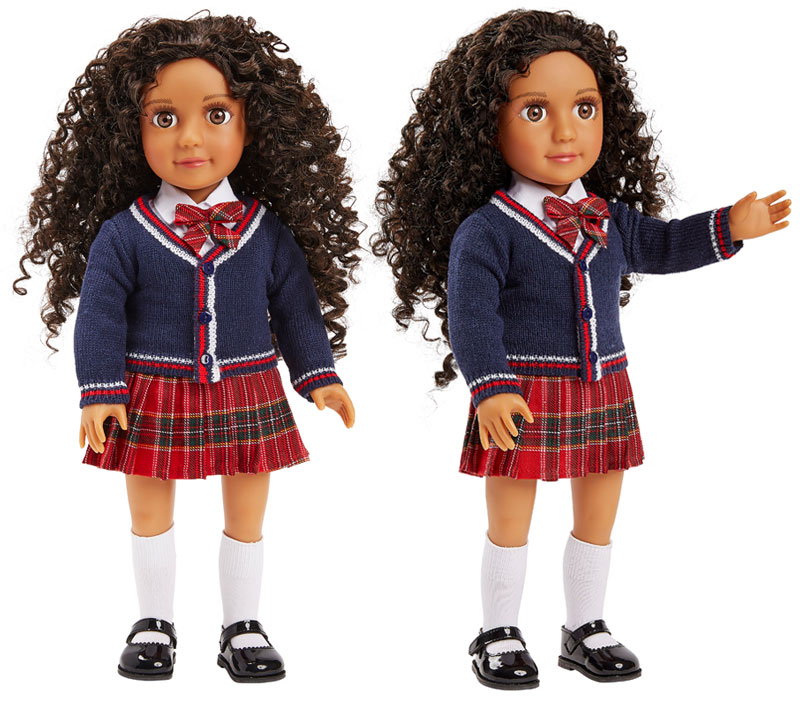 How does Darcy Curl compare to the dolls you played with when you were younger?
When I was younger all of my dolls were blonde, blue eyed and modelled on women; at seven years old, I was none of these things. Making Darcy, I knew she had to be ethnic as it is still a glaring gap in the market.
When I was researching the doll sector, I noticed that a number of the 18 inch ethnic dolls in market were not aspirational or good quality. We worked very hard to make sure that Darcy's face was reflective of a mixed race girl and that her body was that of a child's.
How do you assess the state of creativity in the doll sector at present?
Creativity in the doll sector I believe has been slow. Many dolls still look and function like the dolls of the Eighties, showcasing gender and beauty stereotypes.
However, over the last five years there are a number of new entrants like Lottie Dolls who have really broken the stereotypes and empowered children beyond gender. It's also great to see brands like Luvabella embracing technology. My background is in technology so I know there is so much innovation in the form of voice control, AI and AR that would take most toys to the next level. I can't wait to see how the industry transforms.
How do you stay creative?
People-watching. I'm fascinated by spotting the similarities and differences in people. Luckily I'm surrounded by my target audience who are at the age that they love to talk. I get so much understanding of how their minds work. I'm also a news and documentary junkie which helps me keep my finger on the cultural pulse of the world. Marry these two together and the ideas are always popping.
What are your plans for Darcy Curl looking ahead? Are there other dolls in the line on the way?
We're working on our second doll with the aim of bringing to life more from our original brainstorm ideas. In the short term we are working on Darcy Curl's social media presence with a blog and vlog series in the New Year.
Save