Play Creators Awards 2021 finalists revealed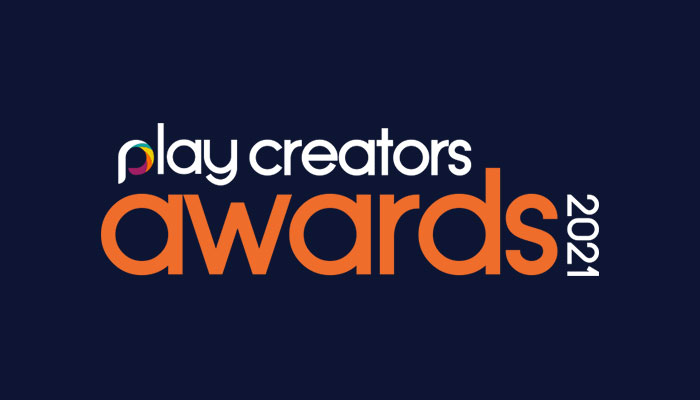 Mojo Nation has unveiled the finalists for this year's Play Creators Awards.
The Play Creators Awards celebrates figures in the toy and game design community that have excelled over the last 12 months, including in-house design teams as well as external invention studios and design partners.
As nominated by their peers, the finalists are:
Toy Designer of the Year
Adam Carson (Fat Brain Toys) – Dimpl Digits (Fat Brain Toys)
Bang Zoom & Fisher-Price Pre-School Product Development Team – B.B. Hoopster (Fisher-Price)
BOTI & Seven Towns – Stuff-a-Loons (BOTI)
Brennan Hunt & Matt Synowicz (TOMY) – Club Mocchi Mocchi (TOMY)
Doug Taylor (Fuse) – Micro Machines World Super Van City Playset (Jazwares)
IDEO – WeWearCute Inkfluencer Click N Color Marker Set (Spin Master)
Kindi Kids Team (Moose Toys) – Kindi Kids (Moose Toys)
Peter Williams & Robert Schwartzman (Pace Development) – Hot Wheels Action Rollout Raceway Track Playset (Mattel)
Sahad Rivera Sonda (Educational Insights) – Bolt Buddies Home Town Heroes (Educational Insights)
Q&Q Japan – Peek-a-Roo (Spin Master)
Game Designer of the Year (Kids/Family Games)
Bang Zoom – Crossed Signals (Mattel)
Carterbench – Monopoly: Crooked Cash (Hasbro)
Geoff House (Tricky) & Simon Skelton and Ruth Elliott (Big Ideas) – Hide 'N Cheek (Big G Creative)
Jack Andrews & Students of Simon Balle School (Fynn Sidebottom, Daniel Parker, Ross Goldie, Billy Bailey, Loui Cimino, Baily Harrison-Stokoe) – Active Snap (TOMY)
JM Duparc & Identity Games Design Team – Escape Room The Game: Puzzle Adventures (Identity Games)
Kenn Morton (KidKenn) – Foosketball (Hasbro)
Mary Jo Reutter (You-Betcha Interactive) – Dice of Fury (Educational Insights)
Open 2 Design & TOMY – Ahoy There! (TOMY)
Game Designer of the Year (Party Game)
Andrew Lawson & Jack Lawson – Ka-Blab! (Hasbro)
Courtney Wood, Matt Ludlow & Roberto Rotaru (Bubblegum Stuff) – Plant-Based Riot (Bubblegum Stuff)
Danielle Angel, James Smith, Kat Press & Rich Walton (Professor Puzzle) – Rainbow Go (Professor Puzzle)
Geoff House (Tricky) & Simon Skelton and Ruth Elliott (Big Ideas) – Cluckle (Big G Creative)
Geoff House (Tricky) & Mark Daniels (Sublevel Studios) – Fill Your Pants (TOMY)
Jeremy Posner & Ken Gruhl – Bunch of Butts (Under Where Games)
Open 2 Design – Play Your Number (Ginger Fox)
Phil Walker-Harding – Snakesss (Big Potato)
R&D Team of the Year
BlueJ powered by Jazwares

Bubblegum Stuff
Character Options

Hasbro

Professor Puzzle

Mattel
Spin Master
The Last Gameboard

TOMY
Design Agency/Invention Studio of the Year (Sponsored by Hasbro)
Bang Zoom
DesignbyTouch

Design Edge
Fuse
JMP Creative

Making Things
Open 2 Design
Seven Towns
Streamline Design
Tricky
Inventor Relations Exec of the Year
Adam Hocherman (PlayMonster)
Brent Geppert (Educational Insights)
David Winter (Jazwares)
Dominique Roy (Make it Real)
Erik Quam (Fat Brain Toys)
Harrie Sivanander (Spin Master)
Heath Saber (Moose Toys)
Jenn Brees (Hasbro)
Sarah Franco (Mattel)
Tanya Thompson (Hasbro)
TinkerTini – led by Trina McFarland with Kate Soanes and Amanda Melendez (TinkerTini)
Toy Designer of the Year (Licensed Product)
Anderson Ward Grubb & Ioana Popescu (LEGO) – LEGO The Friends Apartment (LEGO)
BOTI, Eolo Toys and Fuse – Marvel Battle Cubes (BOTI/Eolo Toys)
Goo Jit Zu Team (Moose Toys) & Jon Elliott (Character Options) – Marvel Heroes of Goo Jit Zu (Character Options/Moose Toys)
Hasbro SPARK R&D Team – Star Wars The Child: Animatronic Edition (Hasbro)
Fuse & Fisher-Price Imaginext Development Team – Imaginext DC Super Friends Bat-Tech BatBot (Fisher-Price)
Fuse – Mega Batman Playset (Spin Master)
Matt Bland, Matt Jordan & Tom Yamazaki (TOMY) – Toomies Jurassic World (TOMY)
Game Designer of the Year (Licensed Product)
Eric Lang – Disney Sidekicks (Spin Master)
Nextoy – Spirit Stackin' Apples (Mattel)
Open 2 Design – Top Gear: Fastest Lap (Ginger Fox)
Prospero Hall – Fast & Furious: Highway Heist (Funko Games)
Richard Heayes –  Knight Rider: KITT Vs KARR (Cartamundi)
Ryan Miller – The Princess Bride Adventure Book Game (Ravensburger)
Scott Rogers – Alien: Fate of the Nostromo (Ravensburger)
Play Innovator of the Year
Ben Gray (Mime Industries) & Ric Scott (Educational Insights) – Artie Max (Educational Insights)
Don Ullman & Jose Leal – Drone Home (PlayMonster)
Emma Peat (Spin Master) – Orbeeze #Challenge (Spin Master)
The Marketing Store – Paper Toys Happy Meals Program (McDonald's)
Mark Rober – Colour the Spectrum Initiative
Johannes Sich – MicroMacro: Crime City (Edition Spielwiese)
Robert Victor (Kite & Rocket) – NERF Fortnite RL Blaster (Hasbro)
Shail Mehta – Gameboard (The Last Gameboard)
Rising Star
Adam Carson (Fat Brain Toys)
Anna & Anton Ten (Papaton Kids)
Assaf Eshet (Toyish Labs)
Brian Thornber (Lemon Lime Toys & Games)
Josh Addyman (Seven Towns)
Kat Press (Professor Puzzle)
Lorena Montalvo (TOMY)
Sam Price (Fuse London)
Shail Mehta (The Last Gameboard)
Will Anderson (Inventor)
Panels of expert judges – comprised of R&D execs, inventors and figures from design agencies and invention studios – will assess each category and select winners based on design merits in a series of roundtable judging sessions.
The Design Icon award does not have a shortlist and the winner will instead be unveiled, alongside all other winners, in a special Mojo Nation newsletter on Monday, September 6th.