Play Creators Festival 2019 welcomes The Toy Association's Creative Factor as headline partner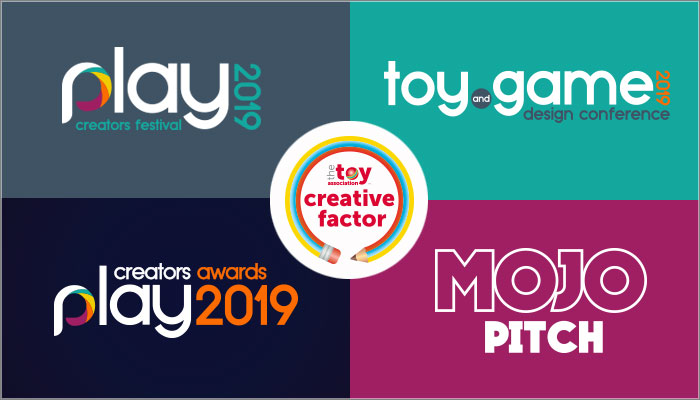 The Toy Association's Creative Factor has signed as the headline partner for this year's Play Creators Festival, a two-day celebration of the toy and game design community taking place across September 2nd and 3rd at London's Stamford Bridge Stadium.
The partnership ensures The Toy Association and its Creative Factor arm have a presence across the entire Play Creators Festival, including involvement at the Toy and Game Design Conference, the Play Creators Awards and Mojo Pitch events.
The Creative Factor houses The Toy Association's array of educational programming, events, and resources for toy inventors, designers, and entrepreneurs, with the Creative Factor educational sessions held annually at the North American International Toy Fair in New York City.
"The Toy Association is thrilled to extend our longstanding support of the inventor and designer community through Creative Factor programming and deepen our commitment to Mojo Nation through this multi-dimensional event, offering invaluable learning and networking for inventors, designers and brand owners." said Steve Pasierb, President and CEO of The Toy Association.
Billy Langsworthy, co-founder of Mojo Nation, added: "We're delighted to get The Toy Association and its Creative Factor arm involved in this year's Play Creators Festival. The Association has proved itself to be a true advocate for the inventor community through its Creative Factor programming at US Toy Fair each year, and we're over the moon to help it have a presence in the UK at the Festival this September."
The partnership will see The Toy Association present the Toy Designer of the Year (Licensed Product) and Play Innovator of the Year awards at this year's Play Creators Awards, while the Creative Factor Lounge will house designers in-between their pitch meetings at the Mojo Pitch.
For more information about this year's Play Creators Festival, powered by the Creative Factor, head to:
Monday, September 2nd
Toy and Game Design Conference

Monday, September 2nd
Play Creators Awards

Tuesday, September 3rd
Mojo Pitch