Play Creators Festival to usher in new design talent with Student Conference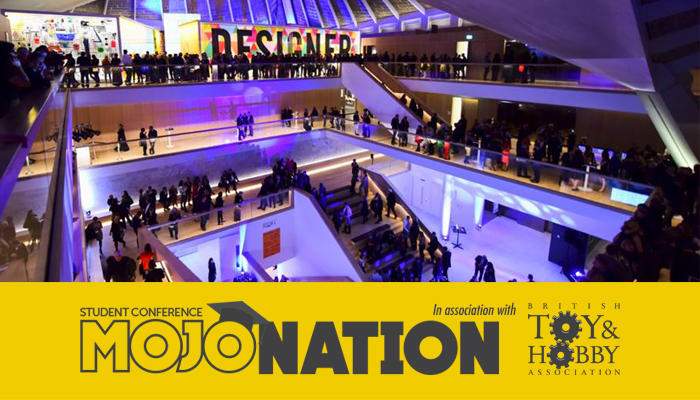 Mojo Nation's Play Creators Festival is expanding with the addition of the Mojo Student Conference, held in association with the BTHA.
The celebration of toy and game design is already playing host to the Toy & Game Design Conference and the Mojo Pitch across September 10th and 11th at the Emirates Stadium, but a third event has been confirmed in the form of the Mojo Student Conference, dated for Wednesday, September 12th.
Aimed at encouraging more product design students to take up careers in the toy and game sector, the event is taking place at the Design Museum in London and will be free to attend for students and course leaders.
"Since launching Mojo, one of our key objectives has been to help usher new blood into this space, and so we're delighted to be able add this third day to this year's Play Creators Festival," said Mojo Nation co-founder, Billy Langsworthy.
"We hope our Student Conference can help more graduates embrace toy and game design as a potential career path, and I encourage anyone in the industry who wants to work closer with students, either via internships, guest lecturing or graduate schemes, to come along to the event to engage with this exciting crop of fresh design talent."
The Conference will cover various aspects of toy design, game development, creativity, working with brands, as well as host a 'How We Made It' roundtable with the heads of R&D at some of the world's top toy firms. The event will also see the launch of the Student Design Challenge, an exciting competition open to students on product design degrees.
"The BTHA and its members have always taken pride in supporting new emerging designers and innovation in the industry through our Design Student Seminar at Toy Fair," added Rebecca Deeming, public relations manager at the BTHA.
"We're delighted to be a part of the Student Conference and join Mojo Nation in supporting even more young designers considering the industry as a future career destination, as they learn more about the exciting world of toy design.'
For more information, or to be involved, in the Mojo Student Conference, email billy@mojo-nation.com.
For more information on the wider Play Creators Festival, head to playcreatorsfestival.com.