Playpress co-founders lift the lid on the design process behind its new universe of cardboard construction toys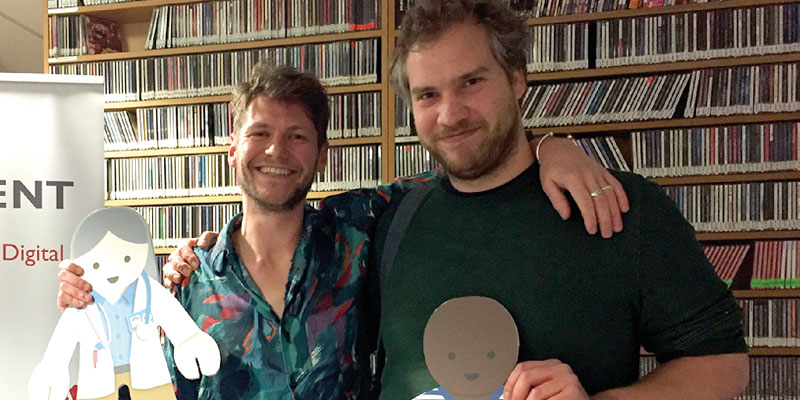 2018 looks set to a huge year for Matthew Wright and Mike Wyatt.
The two have been best friends since they were 14 and at UK Toy Fair in January, they'll be unveiling their new toy universe, Playpress, to the world.
Playpress is a new world of cardboard construction toys and every Playpress toy set is made from a specially engineered, 100% recyclable Playboard.
As the two finalise a run of new sets ahead of their first ever trade show next year, we caught up with Wright and Wyatt to discuss the origins of Playpress and how they're looking to ensure the line is more affordable than other construction kits on the market.
What's your background in design?
Me and Mike met in Art class when we were 14. We share the same birthday, place of birth and initials. We're best friends and love working together.
Mike is a brilliant artist and animator. He's worked on loads of kids TV shows and for the past several years has been running his own animation and design business.
We've also got to work with my older brother Peter who has helped to shape the branding and shapes and designs of the people and continues to provide his design wisdom.
I'm a 3D designer, currently working for a large UK retailer as a physical experience designer. I've always loved making things, and am so happy working on this play universe.
In all our spare time we are working designing, developing, making, packaging and selling Playpress – and it's so much fun.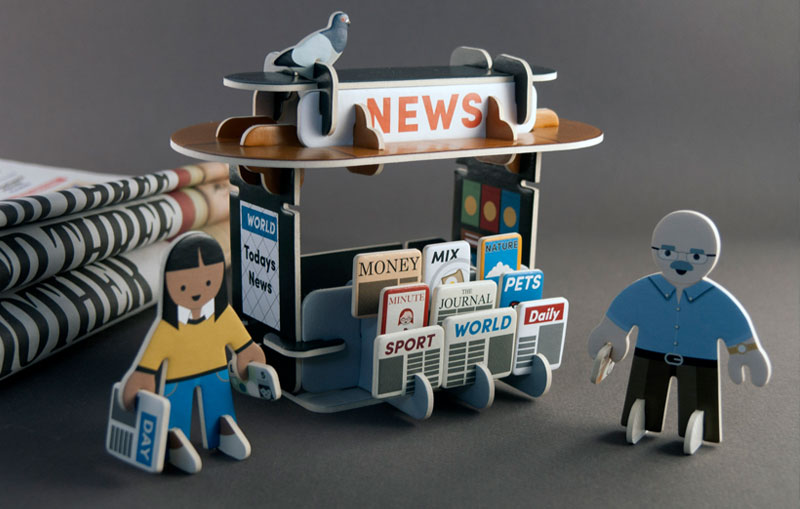 Where did the idea for Playpress come from?
We grew up loving LEGO and Playmobil. I had a whole city and like millions of other kids it was my favourite toy.
The one thing with it is that it is expensive. I was very fortunate my parents could get it for me. We set out to design something that would offer that same kind of play, being able to build a whole world, but at a much more affordable price and in a really environmentally conscious way.

Can you talk us through some of the key design choices that went into the first Playpress sets?
We decided very early that the sets should be made of a fibre based board and all the pieces should be able to be cut out flat. This would keep the price of the sets affordable and also meant we could do the first production runs ourselves, with our savings, so hundreds of pounds instead of thousands.
We tested loads of different sizes and shapes to get to the current Playpress ratio of sizes. We also tested loads of materials before coming up with our play board – a laminate of several papers and boards that was super strong, allowed for the manufacturing process and had excellent environmental credentials.
The style and design language of the sets is constantly evolving but we are starting to find a consistent style. We are influenced by the toys we grew up with and we try to keep things simple and engaging but each object still having that real authenticity. We've spent days designing a brick wall and literally months and months getting the people to the shape they are now.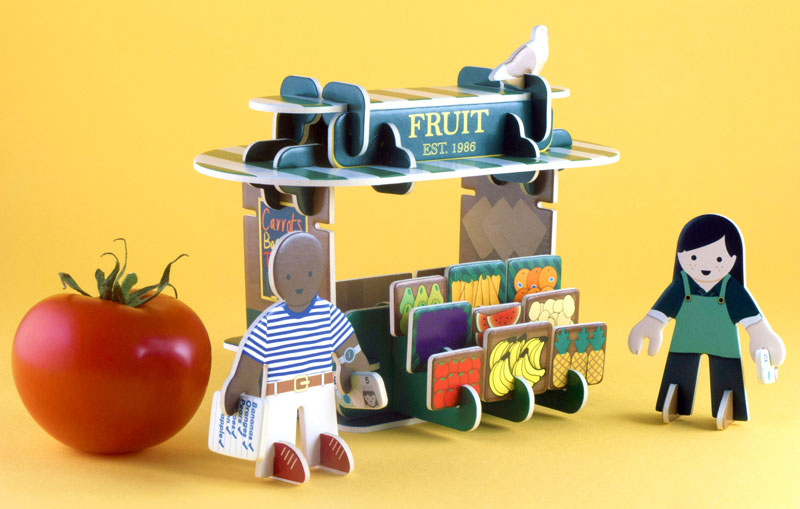 What's next for Playpress?
We're so excited.
We've got the manufacturing chain pretty much sorted and are currently producing a run of our new sets. We are selling in shops and online and getting ready for our first trade show in January, the Toy Fair in London.
Mike and I would love to go full time on Playpress as soon as we can. We've got a figure of how many sets a week we need to be selling before we can.