Prolific toy inventor Louise White on where ideas come from, her creative process and the advice she'd give her younger self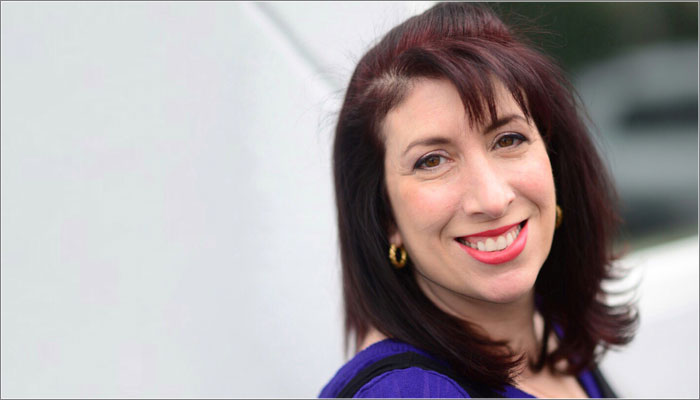 Inventing toys of every kind, Louise White is the President and Head Designer of Me First! Designs.
We spoke with Louise to hear where ideas come from, and what advice she'd give clients, new designers and her younger self.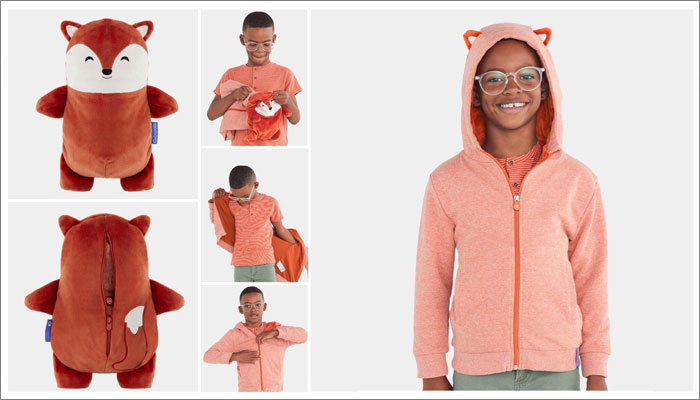 Louise, you've been in toy design since 1998. What's in your back catalogue?
Since starting, I've created thousands of plush, bath and plastic toys; bedding, prints, accessories, books, small furniture, and kids' apparel for a global client base. I've worked with large toy companies like TOMY, Earlyears, Cubcoats, Kids II, Fat Brain Toys, Sassy, Alex Toys, Toys R Us and many others. I've also designed pet toys, as well as being a trend-report writer for companies overseas.
Wow. That's quite a list. You've also done licensed products?
Yes; hundreds of licensed products: Disney, Star Wars, Marvel, NBA, NHL, MLB, Hello Kitty, Peanuts, Thomas the Tank Engine, Taggies, D.C. and Paw Patrol. I also work on branding, including logos, packaging, style guides, and patterns.
Phenomenal! When did you start showing an interest in design?
As a child! I was obsessed with sketching; doodling on my desk, notebooks, and anything I could get my hands on – much to the dismay of teachers. I even started my own fashion line in middle school. That put me in the crosshairs of my principal: he didn't appreciate my entrepreneurial spirit!
It was against your principal's principles! Where did you major?
I majored in Industrial Design at Pratt Institute in Brooklyn, with a focus on product design. My first instructor told me that my greatest strength was my out-of-the-box thinking, and ability to come up with unique ideas. That became ingrained in my mind and has propelled me forward for more than two decades as a professional designer.
Starting how? How did you get into the industry?
I was at Six Flags designing height-check signs, and recoloring booths – for less than minimum wage. My first toy-industry job, though, was working at Prestige Toy in New York City. My parents are avid antique-toy collectors and I really wanted to work in the industry, but didn't have any contacts. This was before one could search Google so I was forced to read the tags on the bottom of my plush toys, then call information on the phone to get their numbers. I've always been undeterred by barriers to access – and I've never looked back.
Pre-Google! Different world… You once said that you feel today's kids are overloaded with media and tech. What's the downside of that?
I have three children and see first-hand the negative aspect of media/technology overload. I hear the same story from parents of teenagers: this generation hangs out online, but not physically together…
Gen-Z have become more introverted and less adventurous; they watch a lot of YouTube and see a lot of the world online, but their physical worlds are getting smaller and smaller. The irony is that even with all of this access to information 24-7, they actually have less sense of wonder – and they certainly don't read literature like previous generations.
It's the age of wisdom, it's the age of foolishness… Is there an upside to it?
Well… As a parent, doing homework is much easier with Google! I do find that this generation has become more entrepreneurial. They're also more conscious of trends and are showing greater openness to different ideas, cultures, and schools of thought.
The upside of being a baby/toddler toy designer is that I can attempt to extend the wonder experience longer and help children develop their sense of creativity without a dependence on technology. The trend of "back-to-basics" is something that I welcome, encourage, and appreciate.
Inventors talk about having a spark of an idea. Where do ideas come from?
I always take photographs of everyday objects that might spark a future invention… I've always been an observer of life and nature, and how objects work. My parents' antique/retro toy collection has a lot of mechanisms and I've always seen my role as, "How do I make this work in a more clean and modern way?" As a parent, I observe how my children use or misuse things, and I think about how to improve the experience – and fill in the white space.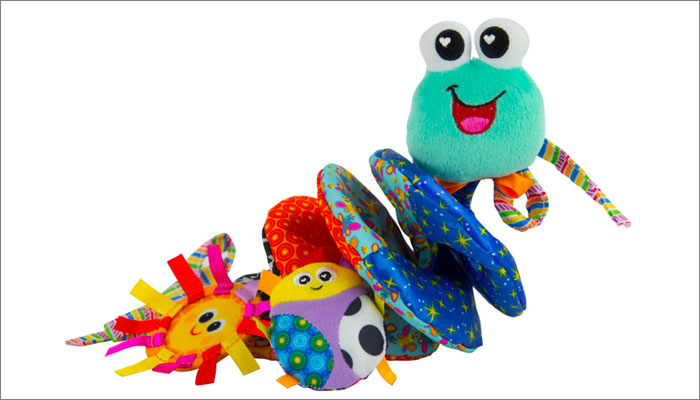 Can you give us an example of a product that filled in the white space?
Sure! A product that I created under the Lamaze license for TOMY recently came about from my personal experience of trying to squeeze too much stuff into a diaper bag. As a result, I saw a need for foldable, on-the-go toys. I came up with the Fold & Go Activity Friends.
How easily can you talk us through your creative process?
It depends on the client or if it's for my own personal invention company. I have some clients who present very detailed concepts and know exactly what they want. I have other clients who only have a seedling of an idea and need a lot of direction. Regardless of the scale of the project, I always do a lot of independent research by visiting stores, and researching online.
When working to a brief, how soon do you measure your idea with clients?
Oh, if they have a design direction, quite early on. Many times, I create a deck for the client so they can see what else is available, and ensure we're on the same page. The goal is to make sure their product is as unique as possible. I often provide a deck with characters, and color trends as well.
That's interesting: we don't often hear about clients getting sign off at the early stages. What happens next?
Once a design direction is approved, I'll begin to sketch out ideas, and have a video conference call with them to make sure that I'm capturing their vision but keeping the project grounded in reality… Can it be manufactured? Is it safe? Is it following a trend or is there a reason why nobody else is doing it?
That's a great question! Some people take the absence of an idea on the market to be an intrinsically encouraging sign… Whereas, in fact, it means nothing without knowing the reason behind that…
Yes, and I'm very honest with clients; I don't want people to waste their money on a product that'll never make it to market. On the flip side – I don't want clients who will just pick my brain for ideas and waste my time before moving on to do it themselves.
Just stealing the idea you mean? Is that a common problem?
Yes, stealing is a huge problem. I've been blessed with some of the best partners and representation in the industry – but also dealt with some of the worst. There are companies who will pick your brain – free – then take all of your hard work and, when the time comes to reward you financially, cut you out in order to get a bigger piece of the pie.
What can be done about it?
Those types of companies never succeed; this is a small industry where word travels fast when you're dishonest and unprofessional. Those companies have short-term thinking as I have many ideas – not just the one.
I've been fortunate to build long-term relationships that have survived recessions and corporate turnover. When I click with a design manager, sometimes I'll work with them in several companies as I'm a believer in developing long-term relationships. Talent will only get you so far…
Being honest, having strong people skills, and treating people well goes a long way. Also, I've become an advocate for other designers; new people come to me for advice; looking for ways to sell their designs without being ripped off by companies. If I can represent them, I do. If I can't, I refer them to reputable agents who can help them sell their concepts.
What other advice do you give would-be designers?
As a designer, you need to have a very thick skin. Art and design are subjective; you need to be prepared for a lot of rejection. It makes you a better designer because it forces you to improve your skills, or think differently. There are many reasons why someone might reject a design. You have to keep going. On the other hand, you can't only focus on one concept at a time. As an artist and toy designer, you need to have many concepts and decks ready to be shown.
Sounds like resilience and idea volume are essential. What else?
Patience is a big part of being a designer. For example, I created a product for Alex Toy called Barber in the Tub. This addressed the needs of children who fear the sensation of a barber's clippers against their scalp. My son, who was three years old at the time, had a very bad experience during a haircut and refused to sit for another one for years… I eventually licensed this concept several years after conceiving the idea. Success rarely happens overnight.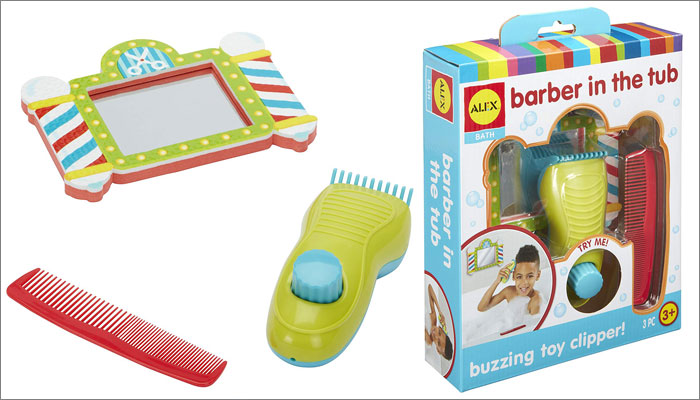 If the opportunity existed, what advice would you give your younger self?
Slow down and take as many classes as possible. Apply for as many internships as you can when you're still in high school and starting college. While you're still living at home and don't have as many bills to pay, take advantage of the opportunity to learn from as many designers as you can.
And just to mix things up, what advice would your younger self give you?
Probably the same advice. I've never learned how to slow down! I need to relax more, read more, and be more open to different possibilities. Having said that, someone once asked me what I do for fun… The reality is that what I do is fun, and has been my career and hobby. I suppose, too, that my younger self would tell me to focus on less-traditional versus a standard way of thinking.
We got totally engrossed in this; we're taking up a lot of your time! Let's take it into the home strait… What's next for you?
The booming economy has created a lot of new design and licensing opportunities. I have new products that are ready to be licensed, and I'm always open to new challenges. I'm also travelling overseas in 2020 to create trend reports for clients.
Superb! Finally, then, what's the most interesting thing in your office?
I have an old toy that hung in my grandmother's dining room; a model façade of a toy shop from the 1970s. I inherited it when she passed away… I look at it every day as a reminder of why I love doing this.
Love it! That's totally the image we need to sign off with; brilliant. Louise White! What can we say? Fantastic interview; thank you so much.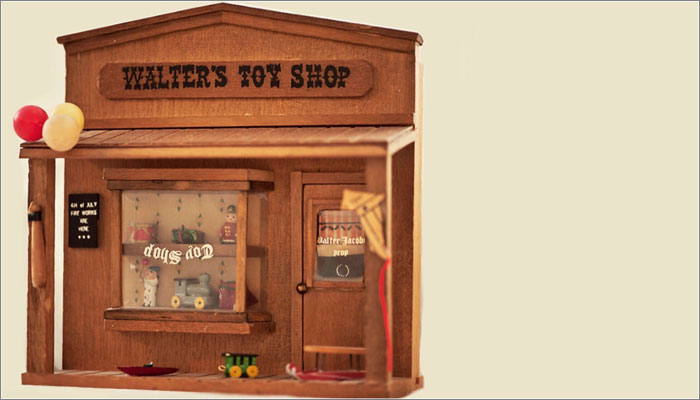 —–
To stay in the loop with the latest news, interviews and features from the world of toy and game design, sign up to our weekly newsletter here