Push, pop, catch! Westley Ciaramella of Catapult Concepts on the launch of Goliath's Pop Off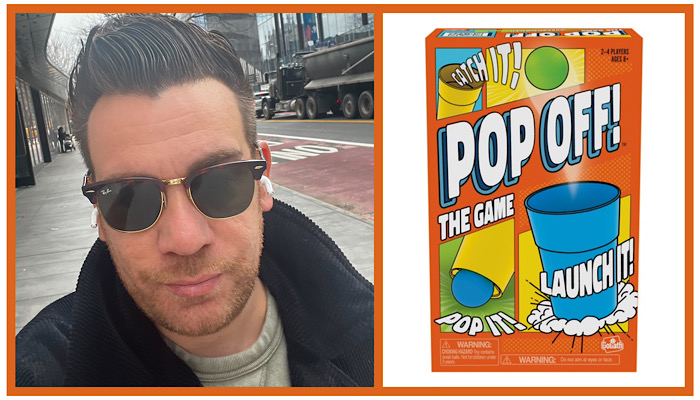 Westley, welcome back! It's been ages. Catapult Concepts came up in conversation on the Goliath stand at Nuremberg Toy Fair… The Mojo team was very taken with a game called Pop Off. How would you describe it?
Hi Deej! We're excited to hear the reception for Pop Off! I'd describe it as an addictive party game: easy to do but challenging to master! Optimistic for a viral video to "pop" up for the "off".
It's only a matter of time! So, when I first mentioned this to you, you described it as coming about in one of those "eureka moments". How so?
Keith Millman and I were toying with a rolling ball game and needed some targets that could hold a small ball. I grabbed a Play-Doh lid and cut some slices into it as a ball catcher.
As a catcher? Not a launcher?
Right! And while Keith was cutting Play-Doh lids to test our idea, I leaned a cut lid onto a ping pong ball. It shot up and literally hit me in the head! I was like, "Dude, check this out!" Keith instantly grabbed a cup and taped the lid to the bottom! Pop and catch!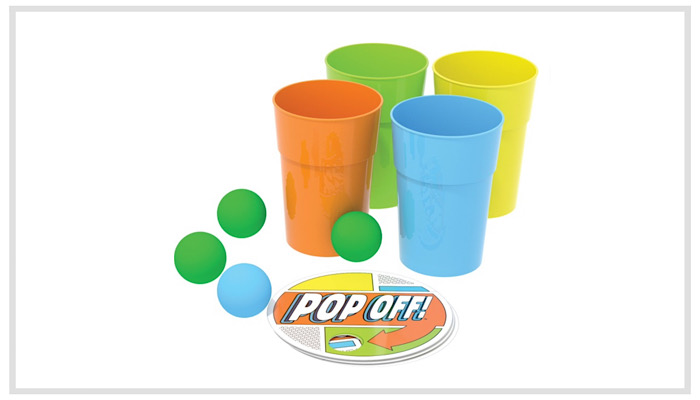 That's terrific! I'm reminded of the Mark Twain quote: "Name the greatest of all inventors. Accident." After that initial idea came about, though, how did it develop? When did the cards and paddles come into play?
We slapped every drinking game we know with a pop and catch twist! We created a fun video that I believe sold the game… The Goliath team hosted a Zoom meeting where we collaborated in a holder concept. And we had a Zoom meeting with Sara Furay.
She was a great ambassador for it on the stand, I must say!
Well, she seemed excited about the pitch… They requested a model and Goliath licensed the game relatively quickly. They ran with it, and developed the paddle/holder to our happy surprise!
Love it. The idea looks so simple, Westley, but I'm wondering if it's deceptively so… How hard was it to get the spring of the 'grip' right on the bottom of the cup?
Play-Doh lids are made of polypropylene so they naturally hold a tension…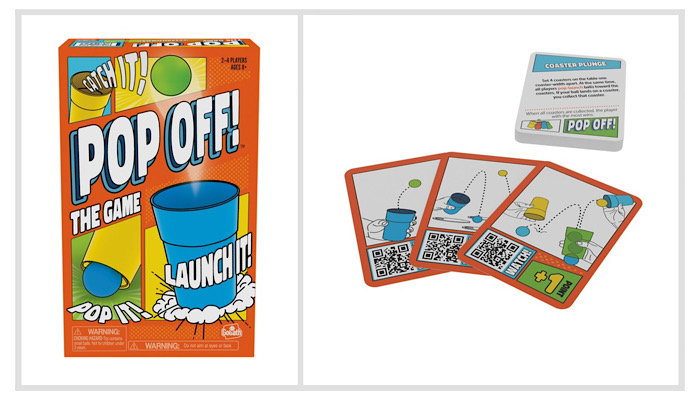 My shoulders are the same!
Ha! Well, actually, that meant the issue we had was in the catch… The ball shoots up through the sliced polypropylene, but it would bounce out on catching. So we die-cut a hole in the centre to prevent the ball from bouncing out. It also helped the accuracy of the ball launching vertically.
Interesting. You've made it very addictive! What other new products have made it to shelf recently, Westley?
2023 is a great year for Catapult! In addition to Pop Off! with Goliath, we have a very exciting new game with Hasbro. Pitched directly to Naomi Brugnatelli, Puzl It! is a competitive puzzle/card game for 2-6 players. It's a cutthroat battle to be the last player left to finish the puzzle. The first theme is currently on shelves with new themes to follow… Highly recommend picking one up!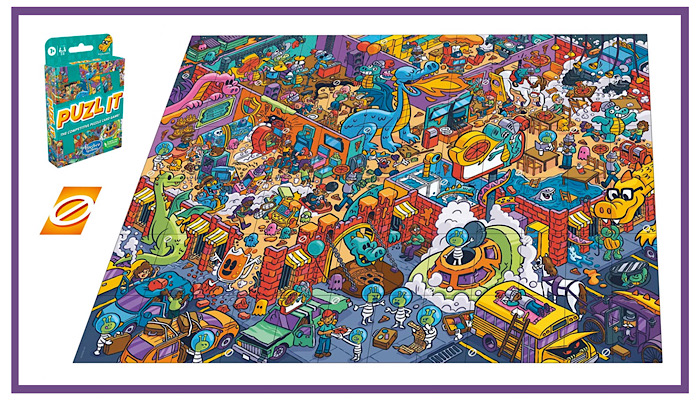 Consider it done! For the last question, I'd like to ask something that I forgot first time round… What's the most interesting object in your office on your desk?
Oh, wow. My desk is packed with nostalgia toys from the 80s, and table-top arcade games… But I'd say the most interesting thing I have is a brass bust of Benjamin Franklin. I bought it at the Franklin Mint on a field trip in the 5th grade. An Inventor inspiration… It's all about the Benjamin's.
Great answer! Gosh, I don't know enough about Benjamin Franklin; he was a clever inventor, though… I should look into him! Westley – thanks for joining us!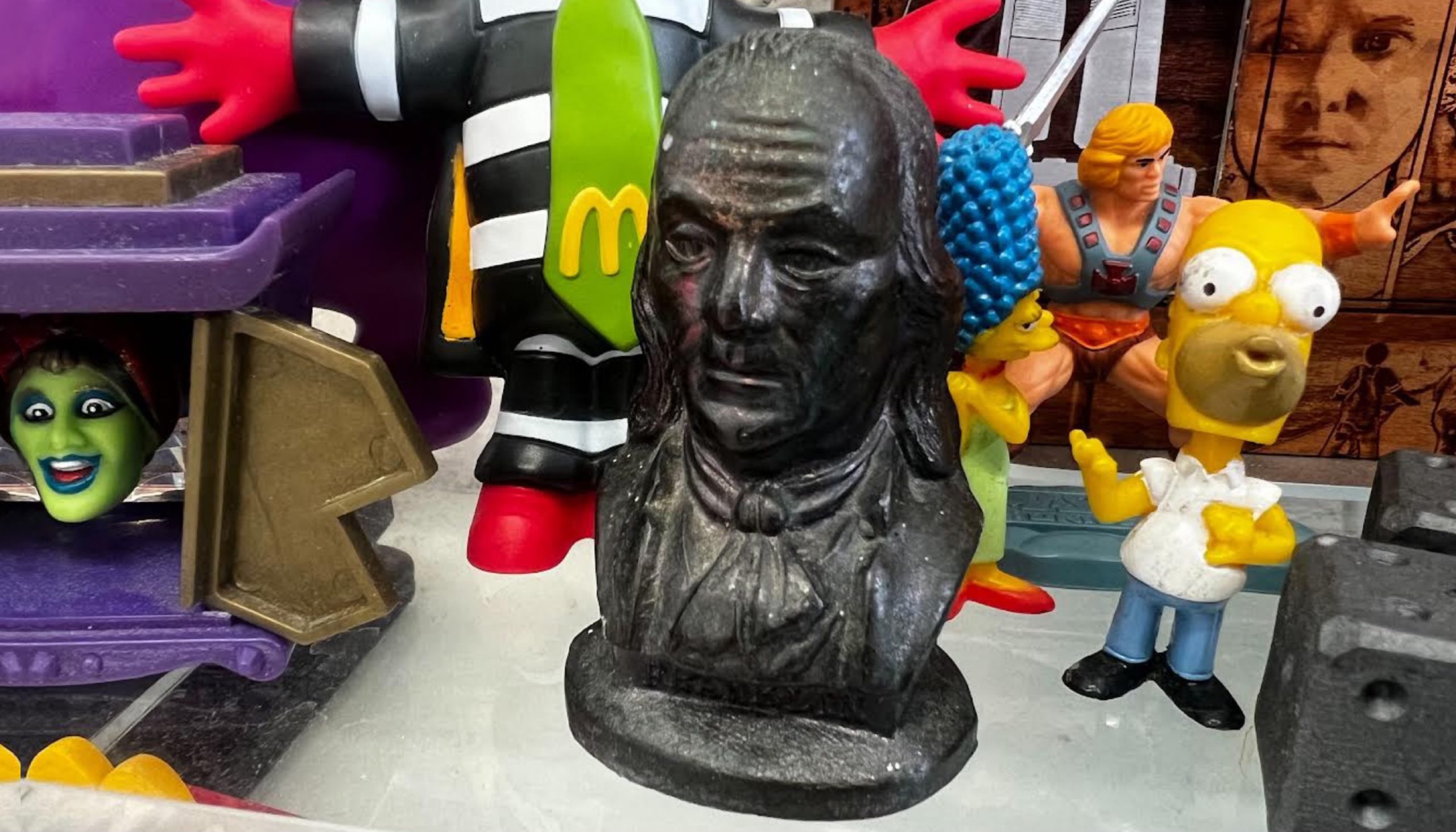 –
To stay in the loop with the latest news, interviews and features from the world of toy and game design, sign up to our weekly newsletter here