Rainbow Rage designer Matt Edmondson talks creativity, Big Potato and finding inspiration everywhere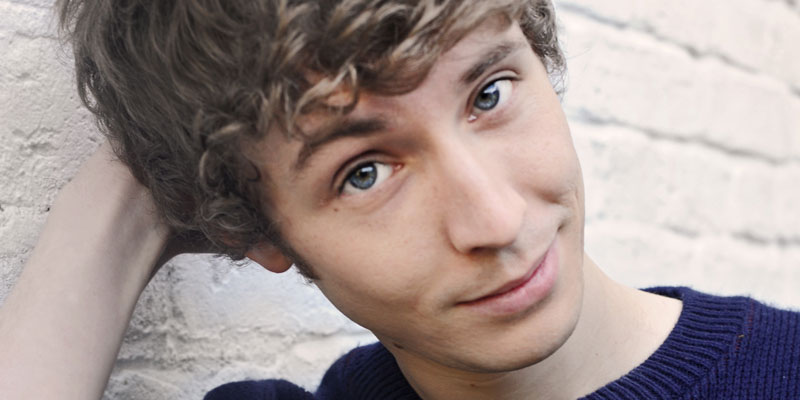 Most people know Matt Edmondson either from his work on the telly, where he's fronted shows like T4 and The Xtra Factor, or on the airwaves as the host of Radio One's The Matt Edmondson Show, but fans of party games will almost certainly have spent nights playing games that he's designed.
Yes, as if his bow wasn't already crowded with enough strings of talent, Edmondson is also carving a name for himself as a game designer, having been responsible for Big Potato's celebrity rhyming game Obama Llama and frantic, grabby, spot-the-difference game Rainbow Rage.
We caught up with Edmondson to talk about the development process behind Rainbow Rage, how he stays creative and what we can expect from his next wave of games (including one about dinosaurs!).
How do you go about coming up with concepts for games? Where do you find inspiration?
Because of my 'proper' job in radio and telly, I'm constantly burning through ideas and material, and format is something that I spend a lot of time thinking about. Occasionally an idea pops into my head that won't work for those mediums, but could work as a board game. From the initial idea, I then try and work out a structure that makes it compelling and fun to play.
I find inspiration everywhere. I get bored very easily so I'm always looking for the 'how could this vague idea be turned into something more' angle with almost everything.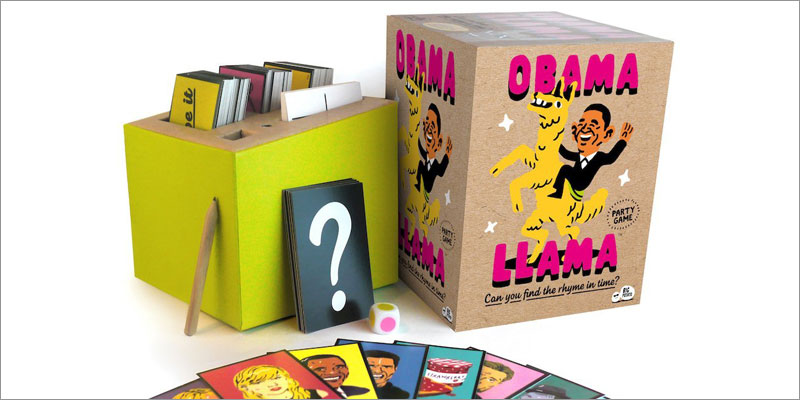 Both Obama Llama and Rainbow Rage have launched via Big Potato. How does this collaboration work during the development process?
With Obama Llama, I had the idea and formatted it exactly as it plays in the game now. Big Potato used their talents to make it look amazing, distribute it brilliantly and do all of the bits I don't have the time and expertise for! They are the absolute best team to work with – super creative, always willing to listen to new ideas and with a terrific eye for design.
Rainbow Rage was pretty much the same story. I made a rough version on playing card stock with some LEGO bricks and they transformed it into something glorious.
Where did the idea for Rainbow Rage come from?
There are two versions of this story – the real one, and one I made up so sound more interesting…
The real one is that I'd played lots of 'grabby' games like Spoons, Jungle Speed and Geistes Blitz and wanted to make a game with a grabbing element. The idea of creating rainbow coloured blocks came first, and it felt like to would be an awesome scoring mechanism.
I then just spent a while thinking about rainbows. Any down time I had, I'd just think about them. Then I came across the notion that two colours could swap places, and I felt I was on to something. A few days later I then realised that two colours could remain where they belong whilst everything else moved. At that moment the game clicked into place and I then designed all the cards and ordered the LEGO whilst on a car journey!
I never imagined it'd look as good as it does. The die-cutting of the cards into Rainbow shapes really makes it stand out, and the overall personality of the game is great.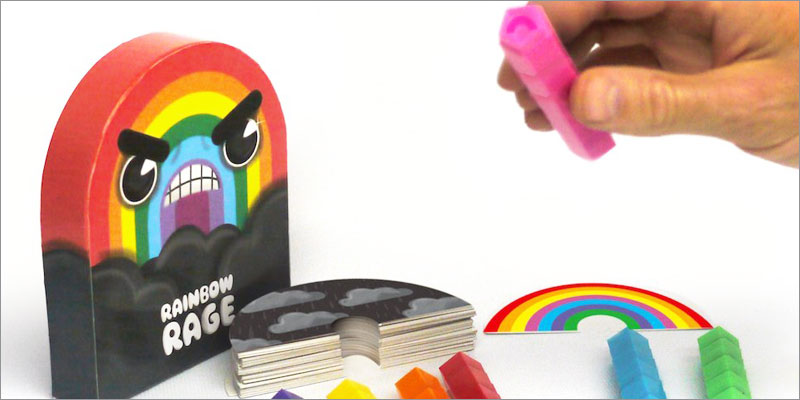 Have you got any top tips for other game designers for keeping the ol' creative juices flowing?
Just keep lots of notes. I rarely have ideas arrive in my head fully formed, but it's about knowing which thoughts to pay attention to. If an idea tickles the bit of you that thinks 'this is exciting', then just keep coming back to it.
Also, know when to give up. If an idea feels like it's not fun anymore then find another. The biggest mistake I think you could make is to think your current idea may be your last good idea. There will always be more.
Are you still designing? If so, can you give us any hints as what we can look forward to from you in the future?
Yes, I've got another game coming out with Big Potato soon this year about dinosaurs. We also licensed a game to a big toy company last year, which I'm forbidden to talk about, and I've just had an option taken on a ridiculous but brilliant game by another big toy company, which is worlds away from the sorts of games I've made before.
I'm also thinking of doing a Kickstarter for a game I've played with my friends for years, which is possibly the best game ever invented (if I do say so myself…).
Also, rather excitingly Obama Llama has been re-modelled into a TV format fronted by Len Goodman for BBC One called 'Partners in Rhyme', so I'm about to go an work on that! Now I just need to find a telly version of Rainbow Rage…
Save
Save
Save
Save
Save