"R&D on any given day is Royalties & Decadence or Rejection & Depression": Rudell Design's Elliot Rudell on longevity, creativity and the origins of Upwords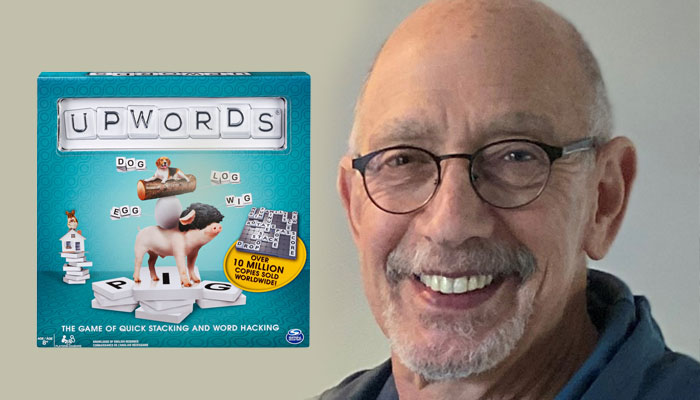 Elliot Rudell heads up Rudell Design, a prolific product development and invention company whose hits include Upwords, Wet Head, GeoTrax and Splash Out.
We caught up with Elliot to find out more about his route into toys, his approach to fuelling creativity – and what he feels is key to successful relationships between inventors and toy companies.
Elliot, it's a genuine pleasure to connect. To kick things off, how did you find yourself working in the toy and games space?
It's an insane story – I'm glad you have 14 hours!
I was in industrial design school in New York City at Pratt Institute, but I'd always been a car freak. I had car magazine subscriptions from when I was six years old and my dad was in the parts business. So, I was a transportation major on a General Motors scholarship, interviewing with Porsche… I thought I'd end up in Detroit.
It was the hippie years, and my lifestyle lent itself to much darkness and craziness. Because of my lifestyle, I'd run out of money in my senior year. I went to career placement and my portfolio was insanity – it was nuts. Goofy things like heads of lettuce that I'd lit on fire… Wild, crazy stuff! The career placement person said: "You have an amazing portfolio, but we can't imagine anybody would ever hire you!" The next day, career placement got back in touch and said: "We have the perfect job for you!"
Ha! Quite a turnaround! What was it?
They said: "We got faxed a job requisition for an industrial designer with a whimsical graphic flair." I called the company up, I borrowed someone's tie and drove to New Jersey for the maybe lamest interview imaginable. I was about to walk out but then this amazing man walks in – who remains my friend to this day, and he's even older than me! – and he hires me on the spot. That's how I started working at Mattel. This was 1970. The same year as the Kent State shootings. It was a turbulent time in America.
Wow. And how was your time at Mattel?
A year later Mattel transferred me to their California headquarters, and I ended up in the thinktank group that was to later become Mattel Electronics. Mattel was very kind and good to me, and I left in 1975 on good terms to start Rudell Design. When I started, I didn't have a business card, I hadn't done an invoice and I had one small client who was about to go bankrupt.
Humble beginnings then!
Yes! Mattel – bless their hearts! – said: "Please come in next week, we have some work for you." They treated me really well and I've had a great relationship with them ever since.
Then, over the years, I had been doing graphics and ghosting for a lot of inventors and eventually, I would get asked if I had any of my own concepts to show. So, I started showing concepts and artwork. Sometimes the company would tell me: "Oh, you're using that same guy that everyone else is using?" I'd have to say: "I am that guy!"
Did you get much exposure to the inventor space while you were at Mattel?
I knew nothing about the inventor community. There wasn't any real need to know as internal design folks. At the small Mattel offices in New Jersey, we were just a little outpost – like the French Foreign Legion.
Actually, one day, I was told there was a man in a hotel in New York and he had presentation materials that I needed to go and pick up. So, I met this little smiley man, picked a sealed package of his stuff up, and delivered it to New Jersey… It turned out that little smiley man was the spectacular Eddy Goldfarb.
Funny story… Six months later, I came up with an idea called Zoomin' Humans. Even though I was part of Mattel's games group, I suggested that we do these characters on wheels. So my presentation went to Hot Wheels, while at the same time, Eddy had a concept that went to preliminary design – or vice versa! Whatever it was, Mattel eventually came out with Farbs, named after Eddy.
A year later, they realised they were paying an inventor a royalty when a similar idea was proposed by an in-house designer. That's when I realised that it's not just great minds that think alike; mediocre minds do too! (Truth: Eddy happens to be a great mind!) So that was my first inventor interaction; that hotel interaction with the illustrious Eddy Goldfarb.
Back to Rudell Design – did you set out to specialise in one area, or were you inventing all sorts of things?
I was never that organised! It was a shotgun mentality; it was just about what fired my rockets. Over the years, there remains some categories that elude me, but we've been most successful in games and pre-school. We've also done a katrillion track-sets. And ironically, even though we invent a lot of games, when I'm not working, I don't play games!
Really!?
The only game I play is Upwords. I'm addicted to it.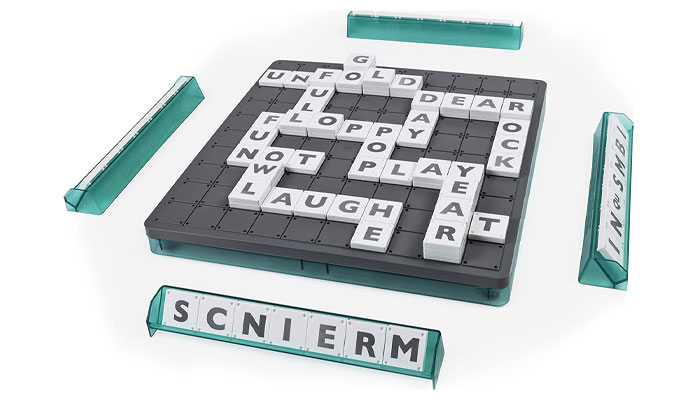 Yes, we'll dive into Upwords in a moment. So if you don't play games, what does 'fire your rockets'. Where do ideas come from for you?
Invention is more evolutionary than revolutionary. Oftentimes when you're revolutionary, people look at you like you're on drugs, like you're crazy. I try and keep my antennae up to see what trends are around.
The other thing is, we love getting kids wet. We did Splash Out, which did eight million units. We've done water game mats. We've done crazy ideas like Wet Head. We think about what kids like, what feels good and what feels fun.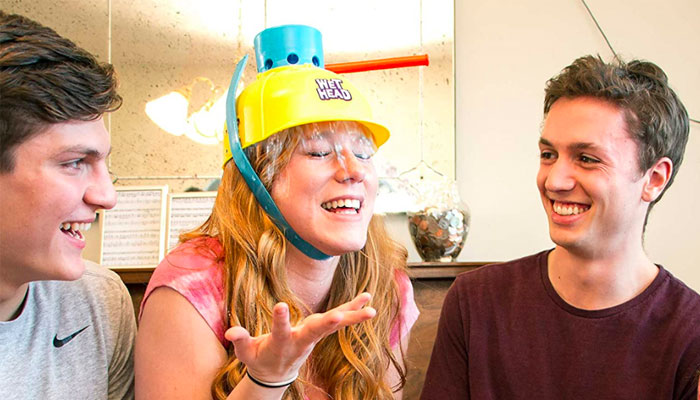 Back in the days when there were dedicated retailers, the buyers understood the 'F' word. The 'F' word being 'fun'.
And that's something you feel has changed when it comes to retail?
I'm not knocking the big box stores and the big discounters, because they are who they are and they're doing very well. But you get people who were buying shower curtains four months ago, and tyres eight months ago, and now they're buying toys. Many of them don't understand the 'F' word. Some of them learn it, and some of them think the safe bet is a property licence, so they sell souvenirs.
The algorithm for how those stores make money is dollars per square foot per week. So, the toy industry is not steered by invention. They're publicly held companies who are obligated to their shareholders to make a bottom line. So, the challenge for inventors is to come up with something so stinking irresistible that people can't help but buy it.
What was that first stinkingly irresistible product for you? What was the concept that made inventor relations people take note of Rudell Design?
I was very fortunate that Mattel was a breeding ground for people who spawned off into other companies, so a lot of people knew me at Mattel. It opened a lot of doors. I knew no-one at Hasbro at the time. God bless the people who were, really, the active management there back in the Stephen Hassenfeld days: George Dunsay, Steve Schwartz, Larry Bernstein… They were very kind in opening up a door to show them product and to work with them – we developed Weebles and also the Playskool Express railroad system for them.
That kind of opportunity came in because all through my invention years I've been blessed by being surrounded with amazingly creative and talented people – right from the very beginning. They brought – and bring – to the party many skills and talents I personally did not, and still don't, personally possess.
Also, we invented Upwords and licensed that to Milton Bradley Company, which later became part of Hasbro. Upwords was a massive, explosive success for us. That game opened doors for us.
So Upwords was first published by Milton Bradley?
Yes. Crazy story: I had a mental checklist of who I wanted to get games with, and as I'd already licensed something to Milton Bradley, I actually pitched Upwords to Parker Brothers first. They passed on it…
The first year that Upwords came out with Milton Bradley, upper management said: "If we put it on TV, we better sell 250,000 units." They sold around 650,000 units. It was a smash hit and started winning awards right away. I would walk through the Parker Brothers showroom and the heads of R&D and marketing would say to the President of the company: "This is Elliot Rudell, he invented Upwords that we passed on!"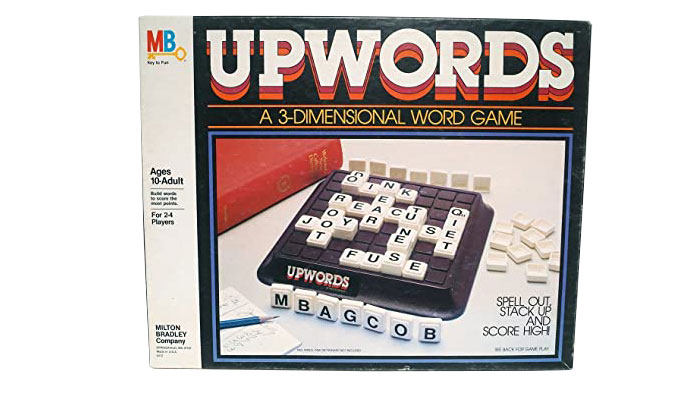 You said that game opened doors, so was pitching a little easier post-Upwords? How did it help?
Well, a great reputation opens the door, but that's all it does. What's on the table better stand for itself. The kids don't say: "Mum, I want this product because Rudell Design did it." Reputation is massive, it's critical, but a company has to make decisions based on 'Is this the best product for us at this moment?' If it were to ever become a commercialised version of nepotism, it all collapses.
I realise we've spoken about the success of Upwords, but I forgot to ask how you invented it!
My mom used to play Scrabble with me. Scrabble came out in 1949 – I also came out in 1949! I'm a word game nut.
I was standing in the Milton Bradley showroom one year, and they were showing me a Sid Sackson game called Domination. It had little coloured hemispheres that you stacked. I thought 'I bet I could do that with letters…'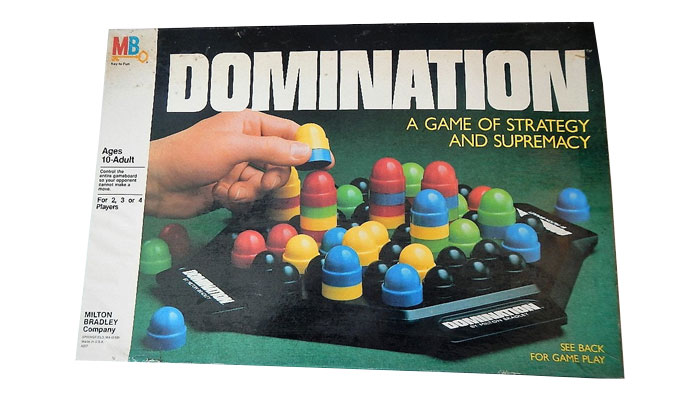 So I went home and cut tiny little letters out of cardboard I had originally made for an earlier goofy game that no one wanted. I drew up a little gameboard and starting playing a letter-stacking game – and it played well immediately!
We built a proper model of Upwords and sent that into Milton Bradley. God bless a man named John Vernon, who worked at Milton Bradley at the time. He picked up the phone and he said: "We love Upwords but it has a fatal error and we're going to return it." I asked what the error was and he said: "No-one wants to build out, they only want to build up." I asked him to give me one hour. I took out that little cardboard model and played it again and then called him back. I said: "Limit each letter stack to a maximum of five high and add a double point score if a word is flat on the board to encourage sideways building. See how that plays." Two days later, he called me back and said: "That did it. We love it. We're licensing it."
Amazing!
That's all because John Vernon picked up the phone and called me.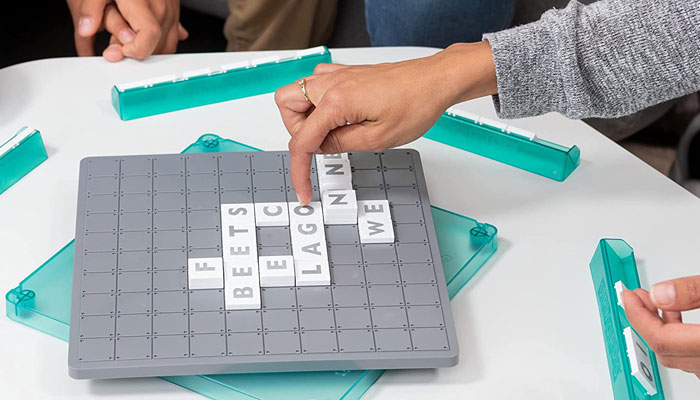 How important is it for inventors to have in-house champions – and clear communicators – like John?
A great product has its own mojo and its own momentum, but having a champion on the inside is wonderful because you're not there. You don't want someone to fall on their sword for your product, but you need someone to represent the product and understand the product. Good communication between the inventor and somebody in the company is also critical for the success of a product, although some defy that.
Alongside good communication, what else do you feel is key to a successful relationship between an inventor and an inventor relations exec?
First and foremost, the inventor better not be a nag. R&D on any given day is 'Royalties & Decadence' or 'Rejection & Depression'. It's one or the other! If you look up the word 'bipolar', there's probably a picture of all the toy inventors. The highs are really high and the lows are really low, but inventors can't be nags.
I know inventors who won't take no for an answer. I believe in my products and I can nag with the best of them, but if you make it difficult for someone to pass on something, they'll eventually stop bringing your stuff in. You can't guilt people into taking product.
Pitch-wise, have you got any top tips?
If you don't believe in your product, don't waste your time. You want to pass the energy on. If you have to make excuses for your presentation, don't present it yet. You're better late than bad.
You better do your homework. You better know the industry. You better play devil's advocate and think 'If I was looking at this concept for the first time, what would I think is wrong?' You better come to the table prepared.
You have to equip the inventor relations exec with a reason to love your product and push it forward. Remember the story of Jack and the Beanstalk. His family were like, 'You sold the cow for beans! Are you out of your mind? What happened?' You've got to give Jack a reason to take the magic beans.
I like that analogy – you have to convince them they'd be nuts to turn the magic beans down! Before we wrap up, I have a few more questions. You've been in the industry for a long time…
I've been in toys for over 50 years – and I'm only 50! Can you believe that!
You don't look a day over 35!
Ha! Be sure to keep this in the interview: I put 1,000 miles on my bike last year. Just saying! I can't remember where I put my keys, but I did put 1,000 miles on my road bike. Some parts of me are old, some remain young!
Aside from regular bike rides, what's the secret to the kind of longevity you've enjoyed as an inventor in this industry?
First of all, be honest. It's a massive character flaw to be anything other than honest.
You also have to be energised by creativity. Listen, I love it when money comes in. The scriptures don't say 'Money is the root of all evil', it says 'The love of money is the root of all kinds of evil.' You can do massive good when you have the funds. So I love it when we make money, but that's not the driving force. I'm inspired by creativity. As long as I'm excited by what I do, I'll continue to do it.
I often joke that I'm not retired, I'm just tired. And I do get tired… I'm going to be 73 this year! I have to remain teachable and I have to remain fresh. If you want to stay in this thing, you have to be okay with rejection and criticism – and don't get bitter about your failures.
All great advice, and applicable for plenty of industries I imagine. One final question! You mentioned that you're energised by creativity, but what fuels your creativity?
Back when I was at Mattel, my now-wife and I had a ridiculously wonderful and unplanned ambush by Jesus. For this Jewish boy from Brooklyn, spirituality was on page 98 of my to-do list, but I have seen the hand of the Lord in my life for almost 50 years now. He's the Creator and that's why there's something spiritual about creativity. So my first place is to stay before Him.
I'm also a product lunatic – I do more research when I buy a pair of boots than most people do when buying a house! I'm a student of products – I want to see what's successful. It inspires me.
Sometimes necessity is the mother of invention. Other times things fall into your lap, like Upwords coming from looking at Sid Sackson's Domination game.
Elliot, the 14 hours flew by. Fun, insightful, I hope this is the first of many chats. Thanks for taking the time.
–
To stay in the loop with the latest news, interviews and features from the world of toy and game design, sign up to our weekly newsletter here