Rear Window, Decypher and Hand to Hand Wombat prove popular as Board Game Club returns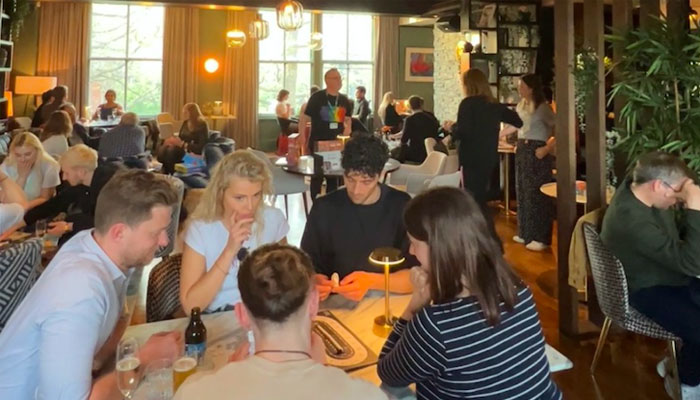 Board Game Club returned on Tuesday, welcoming over 60 people to London's Century Club for a grown-up games night.
"It was great to see so many familiar faces after such a long break from hosting these events, as well as lots of new people from both within and outside the industry – all eager to play, chat and explore new games together," said Lesley Singleton of Playtime PR.
Hits of the night included Rear Window and Cranium: 25th Anniversary Edition from Funko Games, Decypher from The Happy Puzzle Company and Exploding Kittens' Hand to Hand Wombat. The two-player Zensu from Cheatwell Games proved a popular play with couples on the night.
Elsewhere, Matt Edmondson brought along his ever-growing portfolio of Format Games, while teams from Professor Puzzle and Bubblegum Stuff enjoyed their first trips to Board Game Club. Both had games on the menu, including Burger Balance from Professor Puzzle and Chunky Monkey Business from Bubblegum Stuff.
The next Board Game Club event will take place at London's Century Club on Tuesday, June 6th. Tickets are free and can be booked here: https://www.eventbrite.co.uk/e/board-game-club-at-century-club-tickets-629988732257
–
To stay in the loop with the latest news, interviews and features from the world of toy and game design, sign up to our weekly newsletter here