Rebellion Unplugged readies return of 1982's Judge Dredd board game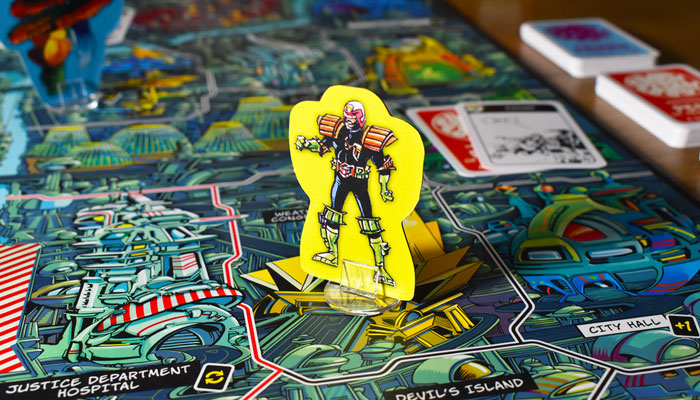 Rebellion Unplugged is launching a new edition of Judge Dredd, 40 years after the board game's original release.
Designed by Sir Ian Livingstone, the game sees players take on the role of Judges competing to prove themselves the greatest crime fighter in Mega-City One. Each turn they patrol the board and 'bust Perps', using their action cards to gain advantages or sabotage enemies.
The new edition launches in November and introduces the Specialist Judges expansion, casting players as one of six unique characters from across the history of Judge Dredd. Each has a special ability that will change how players approach the game.
Alongside the expansion, the game features new and updated cards, revised rules for faster play and recoloured artwork from iconic artists Brian Bolland and Ian Gibson.
"I'm thrilled that Rebellion Unplugged is publishing my Judge Dredd board game," said designer Sir Ian Livingstone.
"It's 40 years since players first had the chance to drive around Mega-City One to arrest the Angel Gang, Judge Death and other perps for their various crimes. The additional rules, action cards and recoloured art combine to make the new edition a game that I hope every Dredd fan will want to play."
Duncan Molloy, Head of Rebellion Unplugged, added: "It's a delight to be working with Ian, and a real treat to revisit one of the true classics of British board-gaming. We've kept the gonzo spirit of the original while giving it a fresh look and adding new characters like the Specialist Judges, to make this edition a real celebration of the last 40 years."
–
To stay in the loop with the latest news, interviews and features from the world of toy and game design, sign up to our weekly newsletter here