Ridley's Games details Good Clean Fun sustainability initiative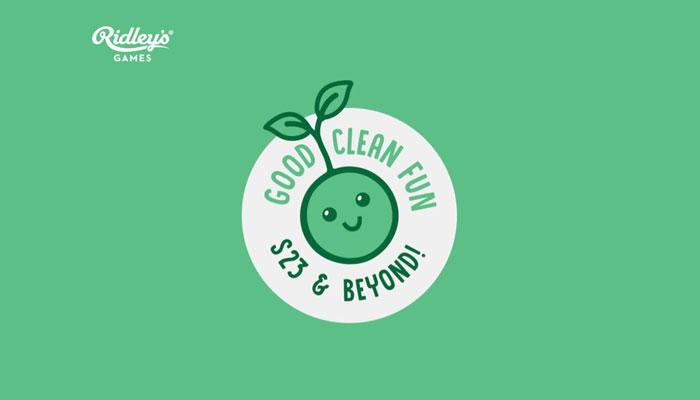 Ridley's Games has launched an internal Good Clean Fun initiative which tasks the team with hitting multiple sustainability targets over the next couple of years.
Packaging and product changes include:
• Using FSC-certified paper for all Ridley's products.
• Sourcing sustainable alternatives to single-use plastic components.
• Sourcing sustainable alternatives to plastic game components.
• Finding a bio-plastic solution for its plastic cases and change cassette cases to card.
• Using recycled materials instead of virgin materials where possible
• Removing plastic from transit, using card, paper and tissue instead.
These changes mean that Ridley's' SS23 collection is on track to be 80% free of single-use plastic, with efforts being made to increase this to 100%. For AW23 and beyond, the aim is to be entirely plastic-free.
"Under Chronicle, we've steadily been actioning more eco-conscious decisions within the brand since early 2021," said Jo O'Donoghue, Head of Product Development for Ridley's Games.
"However, we recognise the need for a much bigger impact, so we've been working hard on this initiative to challenge ourselves to go further and faster. We have outlined a solid sustainability criterion for Ridley's and will continue to review our materials and processes per product to see where we can make changes toward a circular – rather than linear – economy model in our product development and production."
Ridley's Selfish games now include moulded 100% recyclable pulp trays made from recycled materials, have printed elements made with 30% greyboard and 70% FSC materials and secure seal alternatives, with more changes to come. Elsewhere, Ridley's 1000-Piece Jigsaws are now made using 56% recycled materials and 44% FSC materials, and the 500-Piece Jigsaws with 49% recycled materials and 51% FSC materials.
While eco-friendly developments will be standard practice for all new ranges from SS23 onwards, the ongoing goal for older products is to review two historical lines each season to remove single use plastic, replace virgin materials where possible and ensure more sustainable production.
–
To stay in the loop with the latest news, interviews and features from the world of toy and game design, sign up to our weekly newsletter here