Rob Ames and Luc Hudson on creativity, world-building and ten years of Triclops Studio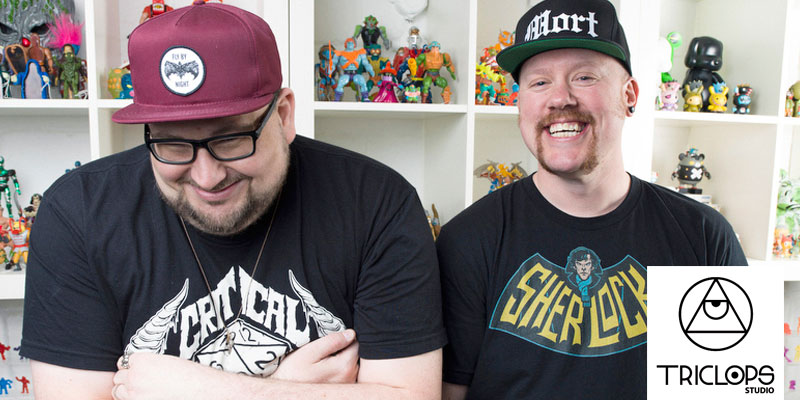 Founded back in 2007 by Rob Ames and Luc Hudson, Triclops Studio is a design consultancy whose expertise span across toy concept design, character creation and brand building.
Based in East London, the agency's list of clients includes the likes of Hasbro, Mattel, Spin Master, Flair, Vivid and LEGO, as well as brand owners spanning Disney, BBC and Aardman.
Away from the mainstream toy world, Triclops is also active in the Designer Toy scene, a venture which has led to various toy releases with firms such as Kidrobot and MINDstyle, artist and streetwear collaborations, exhibitions, Comic-Cons, toy talks and live workshop events across the globe.
And when the two aren't knee deep in toys, they can be found designing characters for the small screen, as well as building the worlds they'll inhabit. If you're a parent, it's likely that you'll be familiar with one of their recent success stories: creating characters, original designs for vehicles and interiors setting the scene for the world of CBeebies' BAFTA nominated show, Go Jetters.
If all that wasn't enough, they also happen to have arguably the best business cards in the industry.
As Triclops celebrates its 10th anniversary, we spoke with Ames and Hudson about the origins of the agency, the impact of crowdfunding and the double edged sword that is licensed toys.
Can you tell us a bit about both of your experience in the toy design space pre-Triclops?
Luc: I was always interested in toys. I created mechanical toys and automata during my degree but had never really considered mainstream toy design as a career. After moving to London in 2003, a work colleague tipped me off that "the people who make Action Man are hiring" and I successfully applied for the position of Concept Designer at Hasbro UK. My role included working on innovations for MB and Parker Games including Monopoly, Cluedo, Twister and Game of Life as well as blue sky toys and games concepts and character design. We both see Hasbro as a very valuable apprenticeship; we learnt an awful lot during our time there (and not all of it awful).
Rob: I always have been – and always will be – interested in toys, characters and comics. After four years at university studying Industrial Product Design, I also moved to London. I landed a job with Hasbro designing Action Man. Some nine years later I was lucky enough to not only work on Action Man but also A.T.O.M (Alpha Teens on Machines), G.I. Joe and other blue sky properties both in the UK and US offices.
How did Triclops Studio come about?
We used to catch the same train out to the sticks from Central and East London respectively. Although we didn't work in the same department at Hasbro, we hatched a plan to work together which began as an outlet for custom toys, created in our downtime. This enabled us to tap into the burgeoning Designer Toy scene which at that time was in its infancy. We then had the advantage of a foot in both camps with our vast experience of the mainstream, corporate toy industry from Hasbro which was a springboard to Triclops Studio, the design consultancy.
"THE MAJORITY OF TOYS ON SHELF TODAY ARE DRIVEN BY A LICENCE, WHETHER IT BE MOVIES, COMICS OR TV PROPERTIES. UNFORTUNATELY THIS HAS LED TO A LACK OF ORIGINAL IDEAS FROM SOME OF THE BIGGEST TOY COMPANIES IN THE WORLD. IT'S STRANGE BECAUSE IN THE HEYDAY OF TOY DESIGN, YOU NEEDED A GREAT TOY IDEA RATHER THAN A SUCCESSFUL LICENCE TO SELL A PRODUCT."
How does the process of collaboration between you both work during the development of a product?
We kind of found our way gradually. We each have different interests and different backgrounds and we quickly realised that we could build a much bigger, better idea between us than working individually. It's kind of a 50/50 split in everything; we bat ideas around until we're both happy with the outcome. Although for the majority of the time it's just the two of us, we can scale up depending on the project but we're always at the helm.
Most projects have the same process, it's just our level of involvement that changes. Usually this boils down to:
Research
Generate the ideas
Visualise the ideas (via 2D or models)
What do you think is the biggest change is to hit the world of toy and game design since you launched Triclops?
The fact that the majority of toys on shelf today are driven by a licence, whether it be movies, comics or TV properties. Unfortunately this has led to a lack of original ideas from some of the biggest toy companies in the world. It's strange because in the heyday of toy design, you needed a great toy idea rather than a successful licence to sell a product.
The way that people engage with toys and games is also really different since the internet has become the go-to means of finding absolutely anything out. Because news spreads like wildfire and websites can be accessed from anywhere, everything is much more immediate. Several recent juggernauts (Pie Face for example) have become hugely popular from viral beginnings online.
The web also provides a platform for indie developers to sell their wares without necessarily being beholden to the traditional retailers. By tapping into a ready fan-base, crowd-funding has brought to market a raft of toys and games which would have been deemed too niche or too expensive by any other means. This is something which didn't exist at all when we started up 10 years ago.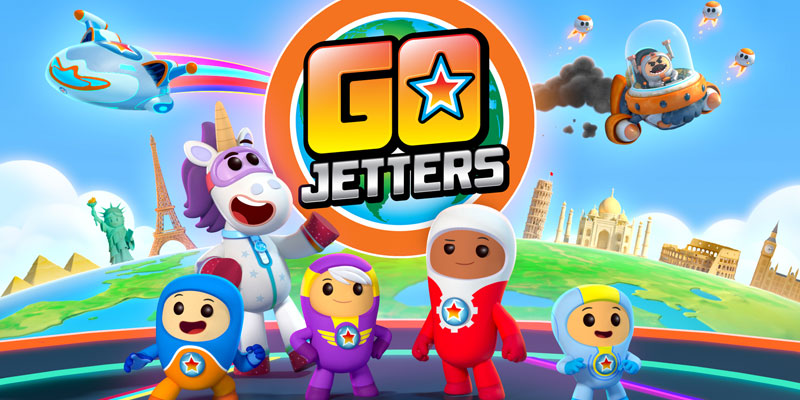 Can you talk us through your work regarding story-world building and does your experience in toy design inform this side of the business?
Because story is at the heart of every good toy or game, we always have to consider the 'why' of each project we are involved in, giving context to the product through strong themes. Why do the characters look a certain way? Why are they here in the first place? Who are the bad guys? Why are they bad? Why are the bad guys always cooler than the good guys?
We have carved a bit of a niche for ourselves over the years, evolving from Concept Design generalists to encompassing Story-World Building in a lot of what we do but CBeebies' Go-Jetters is perhaps the best known example of our work in this realm (and it's probably the one example we can actually talk about because our name is on the credits!).
Interestingly, we were first approached to develop the toys for the IP at a very early stage as the client was keen for the two to go hand in hand, always the best way in our opinion! As our involvement increased, we wound up designing the characters plus original designs for vehicles and environments, setting the scene for the world they inhabited too.
It's a shame that toy design is so often an afterthought, if the toys are considered from the outset, their features can be engrained into the story, otherwise the results might be reduced to label-slapping. This knowledge was also informed by our experiences with the development of big name brands.
"WE HAVE A STEADY STREAM OF EMAILS FROM STUDENTS ENQUIRING ABOUT WORK PLACEMENTS SO IT FEELS LIKE THE TOY INDUSTRY IS MORE APPEALING THAN EVER AS AN OUTLET FOR CREATIVITY AND THE AFOREMENTIONED CROWD-FUNDING 'CROWD' ARE AT LEAST IN PART RESPONSIBLE FOR THE MASSIVE RESURGENCE OF MORE TRADITIONAL CARD AND BOARD GAMES."
Do you think the world of toy design is in a good place creatively at present?
There's good news and bad news to answer this one! As already mentioned, there are increasing pressures on larger toy companies to keep their share-holders happy since the ultimate aim is to increase profits year on year. The biggest licences potentially land the biggest sales, but also chip away at profits with huge royalties to the licensors.
Smaller profit margins have led to diminished budgets for product development which stifles creativity because many features are costed out before manufacture. This can also make companies risk-averse where they won't take a punt on something different over what they perceive as more of a guaranteed success.
The good news is that these constraints on the bigger companies allow smaller, more agile companies to wriggle through the gaps. Even though the big fear is that the swipe-generation will turn their backs on toys, their parents and grandparents still need to wrap up a present for them from time to time, so physical product will always have a place in the world.
We have a steady stream of emails from students enquiring about work placements so it feels like the toy industry is more appealing than ever as an outlet for creativity and the aforementioned crowd-funding 'crowd' are at least in part responsible for the massive resurgence of more traditional card and board games.
There is also a new wave of young inventors, buoyed by movements like the Maker community. They have a can-do attitude and a fresh set of influences to draw upon so it will be interesting to see how they influence the market.
In your opinion, what makes a great toy?
Does it do anything? Can you play with it and how long for? Cool characters are certainly a driver. There are certain goals which we try to achieve when concepting but then something like Fidget Spinners comes along from left field and doesn't tick any of the boxes, so maybe originality is key!
Save
Save
Save