Ross Padgett on the design process behind Dinosuit – a build-your-own wearable dinosaur kit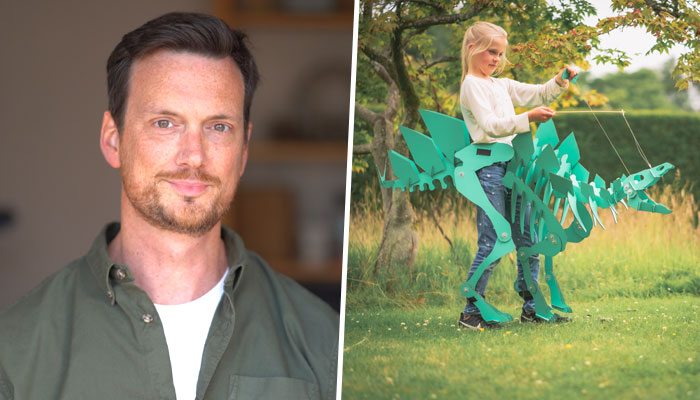 Landing on Kickstarter this week is the Dinosuit, a construction kit that allows kids to build their own wearable dinosaur.
We spoke with Dinosuit inventor Ross Padgett to find out where the idea came from – and why sustainability was a big factor in how he approached bringing the concept to life.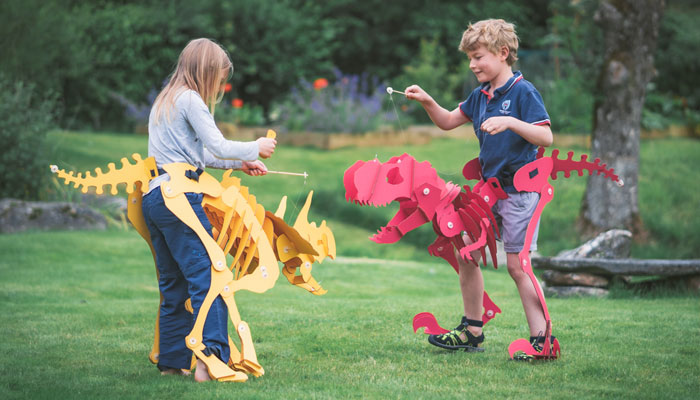 Hi Ross, thanks for making time for this. To kick us off, how did the idea for Dinosuit come to you?
Hi Billy, thanks so much for having me at Mojo Nation! So the idea for the Dinosuit came about while I was a teacher of Art and Design. It started off as an educational model which the students really loved. The parents also sang it praises and they wanted Dinosuits made as toys for their children. They loved the genuine physical play and social interaction the Dinosuits provide with also a welcome break from screen time too.
I wanted to make a toy that was not only great fun but had strong values and being made from mostly cardboard and wood, the environmental impact would be very low too.
They look incredible. What was the design process like behind getting these suits right? Any big challenges to overcome?
Thanks a lot! There have been lots of design challenges along the way. The first being the construction element needing to be enjoyable and feel achievable for the child right off the bat.
Also, I really wanted to make the dinosaur move convincingly in a way you might expect of a real walking fossil when it is animated effortlessly by the child. I felt the more character the wearer could generate through movement, the more enjoyment they'd get from imaginative play. There was a lot of repeated prototyping that went into this to get it feeling just right though.
 
This is the kind of thing I imagine it's crucial to get the instructions right for! How did you tackle that process?
Yes this was vital! I was definitely haunted by the cliche of the hateful flatpack instructions that we have all witnessed! Thankfully lots of experience preparing lesson resources got me off to a good start.
Recognising how children process visual information into the practical and making it an engaging learning experience is pretty important for an Art and Design teacher. That said, I tested the construction of the toys so much with children and parents and learnt a lot more myself to make sure that the construction element of the toys is really great fun.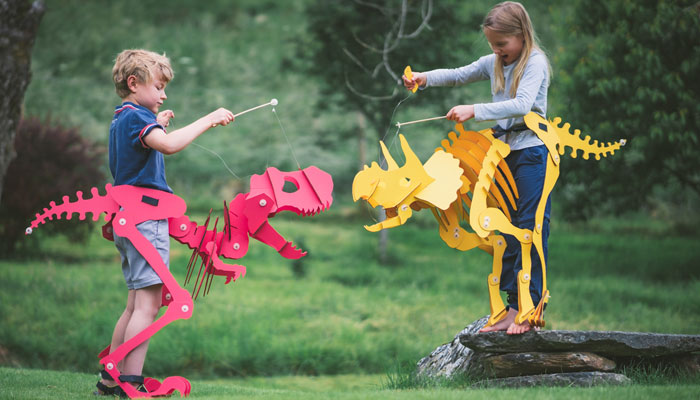 You mentioned earlier about Dinosuit being eco-friendly…
Yes, from the beginning it was about proving what fun can be had from waste cardboard and challenging children's creativity at school. Then I realised the broader vision in fostering environmental values in our children through the toys that they grow up playing with.
I still cherish the plastic dinosaurs my Dad bought me at the Natural History Museum from my own play days and hope that more sustainable toys can now be an influence on young minds in their development.
So, with an ethical approach, the Dinosuits are made predominantly from responsibly sourced cardboard and wood with just a tiny bit of recyclable plastic. They certainly offer parents an environmentally friendly alternative to some of the conventional plastic toys on the shelves.
Moving ahead, what are your plans to get these in the hands of consumers?
Well, I have launched a Kickstarter campaign this month with a limited set of Dinosuits available for Christmas should things go well. If the campaign is successful, the funds will go towards a large order to get the business going.
We are looking for retail stockists now that things are falling into place so if anyone is interested, please do get in touch! As soon as the big order comes through early next year the Dinosuits will be available directly through the website too.
I can imagine there could be some great brand extension opportunities – I can see Jurassic World suits! Is the world of licensing something you're interested in exploring?
Oh, I love all of the Jurassic Park movies so it will be amazing to link up if we can.
In addition to the three species of Dinosuit already being produced at the moment, I have designed and tested even more popular dinosaurs ready and waiting in the wings. There are other concepts for different creatures I have planned out using the same design format.
I will certainly be interested to explore exciting licencing collaborations that work well.
Well, we've put it out there so let's see! Ross, thank you for taking time out for this. Before I let you go, one last question – how do you fuel your creativity?
Oh, this is a good question!
I had to get one in!
Ha! Well, I love this topic and could easily enjoy discussing ways of stimulating creativity all day. Fostering creativity in students of all ages and having lots of dialogue on how to extend creative projects with them is enormously rewarding and influential both ways.
For the toy projects, it has definitely been play that fuels the ideas for new exciting designs but divergent thinking needs convergence too and a focussed approach in order to make effective designs work well. Being around children of course is inspirational and the challenge of improving their futures is a perfect catalyst for fresh thinking I believe.
Ross, thanks for making time for this – and good luck with the Kickstarter, which can be checked out here. Or to contact Ross directly, email ross@dinosuit.co.uk. 
—
To stay in the loop with the latest news, interviews and features from the world of toy and game design, sign up to our weekly newsletter here