Rubik's, Bananagrams and Seven Towns join Mojo Pitch 2018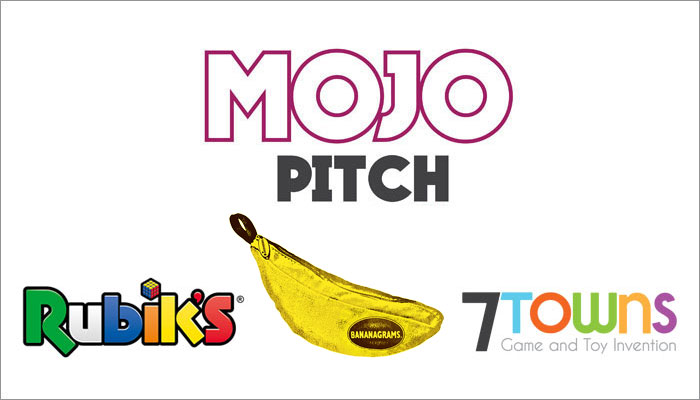 Rubik's, Bananagrams and Seven Towns will all be taking part in the inaugural Mojo Pitch event this September.
Forming part of the Play Creators Festival, the Mojo Pitch will take place on September 11th at London's Emirates Stadium, and will see toy and game designers, invention houses and design agencies pitch exciting new toy and game concepts to a range of companies, each on the lookout for new products.
"As we grow our portfolio of games, Mojo Nation is such a fantastic partner," said Derek Weston, director of marketing, puns and product development at Bananagrams Inc.
"The networking and collaboration of Mojo's events look to be tremendously fruitful. They're such a fantastic resource to help us harvest some new concepts from the inventor community. It's all hugely a-peeling to the Bananagrams Bunch!"
Steve Perrin, senior VP of design and production at Seven Towns, added: "Seven Towns are pleased to be supporting and taking part in the Mojo Pitch.
"What Mojo Nation is doing throughout the year is fantastic and we expect this to be the crowning event of the year. We're really looking forward to meeting new potential partners, inventors and developers as well as reviewing some great innovative new product ideas, which hopefully we can help bring to market."
Hayley Woodward, marketing manager at Rubik's, stated: "Rubik's is always striving to find new products, and add fresh puzzles and games to our growing portfolio to excite new audiences and generations.
"The Rubik's Brand is gearing up to celebrate a tremendous 40 years at retail in 2020 and we're delighted to join the Mojo Pitch to find the next bestselling puzzle to launch in the anniversary year. So if you have any Rubik's themed ideas or a 'new twist' on the classic puzzle, we would love to see your ideas."
Rubik's Bananagrams and Seven Towns join the already announced Hasbro, TOMY, Alpha, Vivid, Character Options and Wynne-Jones IP in being involved in this year's Mojo Pitch.
More companies are set to announced in the coming weeks, and Mojo Nation will be publishing a wish list for participating firms, outlining what each company is looking for in terms of product, ahead of the event.
To join Hasbro, Alpha, TOMY, Vivid, Character Options, Bananagrams, Rubik's, Seven Towns and Wynne-Jones in seeing designers at the Mojo Pitch, email Billy Langsworthy at billy@mojo-nation.com.
For more information on the Mojo Pitch, or to book your ticket, head to: mojo-pitch.com.
For more information on the wider Play Creators Festival, head to: playcreatorsfestival.com.