Rubik's Head of Global Marketing, Hayley Woodward, on the Cube's appeal – and what all inventors need to know about new ideas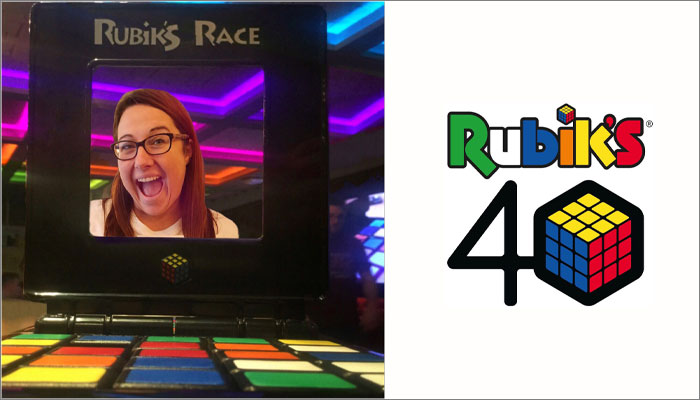 With sales of over 350 million for one product alone, Rubik's Brand Ltd. have been a major player in the industry for 40 years. We spoke to Head of Global Marketing, Hayley Woodward, to discover why the cube still has appeal, and what all inventors need to know about new ideas.
Hayley, we recently sent Ernö Rubik some questions about the Rubik's Cube itself – so we can mostly talk about other stuff! Let's get the eye-roller out of the way… Hayley Woodward: can you solve the Cube?
I can indeed solve the Cube – but very slowly! After attending so many speed-cubing competitions it's impossible to get out of one of these competitions without being able to solve one. I am, admittedly, the slowest in the office! It's that last algorithm that gets me…
If someone wants to learn, then, what would be the best way to do it? Go online? Read a book? Paint over the stickers?
You'll ALWAYS find someone who could teach you to solve a Rubik's Cube if you asked around… There's no better way than someone showing you and giving you that confidence and drive. If that fails, try good old-fashioned solution guides, online tutorials, and patience! It helps if you have a bit of spare, quiet time on your hands too – so maybe now's the time?!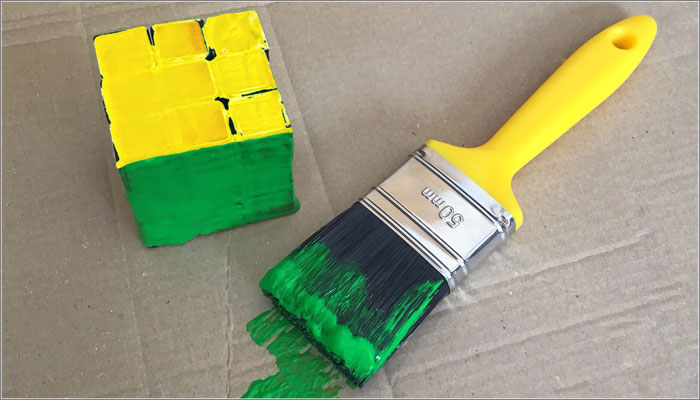 Agreed! And when you were growing up, what was your favourite toy?
I think I developed my first crush with the playground Pog champion! I also loved my Roller Baby Doll.
Roller Baby Doll? I'm not familiar with that… Let me google it. Oh, Jesus wept! Hayley! What is it wearing?
She was my best Christmas memory!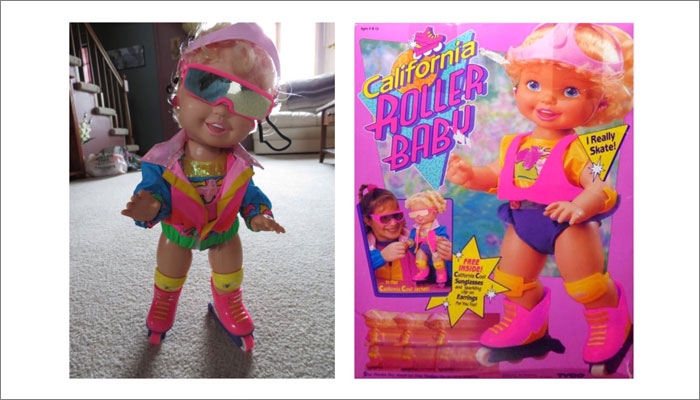 I should've googled the Pog champion! Alright… Let me ask you this: how did you come to work in the toy industry?
My mum worked at TOMY for over 15 years and she gave me my first job in the summer holidays from as young as 11 sending out all the Sylvanian Families competition prizes to the winners.
Brilliant!
Yes! I absolutely loved it! My mum roped all her four kids into TOMY in some way or another – we've all worked there at some point. We've been in TV ads, on packaging, and helped demo all the new toys! I was the only remainer! When I finished school, I started working at TOMY 'professionally' as a sales admin, eventually moving across to marketing while studying my marketing degree part time at university.
In that time, I became a brand manager on various brands that I'd grown up with which was very surreal and rewarding – and I even managed to get my niece on a few packs too. After a fantastic and memorable eight years at TOMY I then made the jump to Rubik's, and have now been here for six years.
I don't think I've asked this question before but I'm curious: if you weren't doing this, what would you be doing?
If I wasn't in this industry, I'd be running my own pub somewhere in the country! I grew up in a local pub with my dad being a landlord. I loved being part of that close community and pulling a pint… And drinking it, obviously!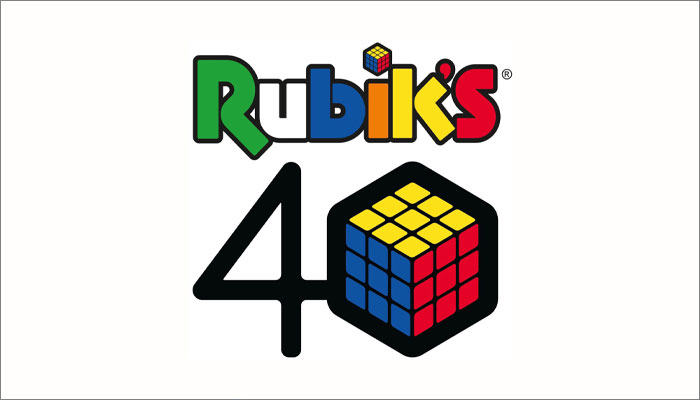 Good answer! So you're now celebrating 40 years of the Cube… It's one of the best-selling products of all time. What, in your opinion, is its appeal?
INTRIGUE! To market such an iconic puzzle is a dream; there aren't many products that are so languageless and so easily understood yet also still such a mystery to many!
Also, I think parents love the traditional Cube because we're educational and iconic, while all new generations of kids love us because – at some point in their lives – we become cool; a new challenge and, again, something intriguing!
Intriguing… That's a great word for it! I like that. Okay. And putting the Cube to one side – as millions have – Rubik's has launched dozens of other puzzles and games. What do you do to keep the brand fresh?
Without putting me out of a job – we achieve so much organic press through film appearances and Guinness World Records being broken every few months, we're always in the spotlight!
So yes, speed cubers solving it in 3.69 seconds help… Social media has really helped us gain popularity again too – celebrities love sharing the fact they can solve a Cube. Have you seen the Justin Bieber Carpool Karaoke clip?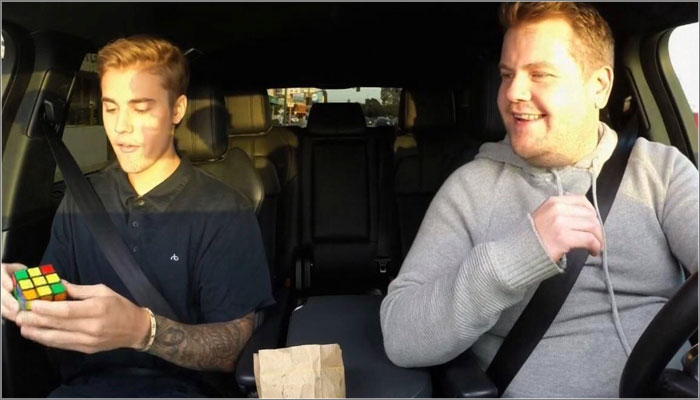 I have! And images of Will Smith, Ryan Gosling, Chris Pratt… There's a long list of actors, TV shows and movies. You couldn't buy the publicity!
Right! But beyond celebrity endorsement, Rubik's has really become a brand in itself over the last five years. It's made relevant and fresh with licensing collaborations like Puma, McDonald's and Red Bull, and so many great new product categories like the games, as you know…
Well, let's talk about that! Over the last two years, you've seen a lot of new product ideas through Mojo Nation Challenge events. What led you down that route?
We needed 'new news'! Retailers had seen such a huge success with Rubik's Race and the mini; the Rubik's 2×2 – and they wanted more! We knew that, as a brand, Rubik's could open the door to so many other product categories and opportunities, so we wanted to put out a wider brief to inventors. Then thankfully, just at the right time, I met Billy Langsworthy at Brand Licensing Europe. Within a month, we'd organised our first Rubik's inventor pitch – where we successfully found, and later launched, two great products.
I didn't realise you and Billy had met so fortuitously… And you're right, Rubik's Match from Brett J. Gilbert and Open 2 Design's Rubik's Cage ARE both great! But how are you defining great? Put it this way: what qualities mean they got green lit?
Those two games had both the same simplicity and the clever strategy that makes the Cube so appealing. If you have an idea that can easily be recognised as Rubik's, understand how to play it, and still be repeatedly challenged by it, it's on the way to being a winner!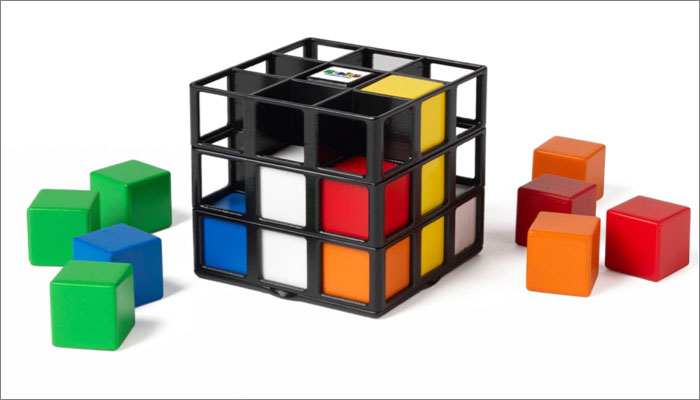 And from your perspective, then, what's the process? How do new inventors progress ideas through a Mojo Nation Challenge?
Although I do send out a very loose brief before a Challenge, we're a brand that's open to hearing ideas 'outside the Cube'… We have a very strong brand DNA but encourage inventors to come and talk to us as a ten-minute conversation may spark an idea. Often, the inventors I've met don't realise how much scope there is beyond 'twisty puzzles' for Rubik's, and I still think there are so many unturned categories or areas that we could branch into with the right product.
In your experience, what's the most-common mistake inventors make when developing and pitching ideas, then?
I've seen a lot of brand slapping – just because its Cube shaped and colourful it doesn't mean it's a good fit for Rubik's!
Interesting. So… Last year, you opened a pop-up shop in Covent Garden, which had been an ambition of yours for some time. How did it go?
This really was a big highlight of my career so far! In my Rubik's job interview I talked about opening a pop-up and never did I think I'd have achieved this in London's Covent Garden just five years later.
So you'd wanted to do it since you started? How did it come about, then?
It started off as a licensee summit to excite the trade about our upcoming 40th Anniversary… Then when Billy and the Mojo team helped me find this amazing venue, I knew we had to use this opportunity to open to the public as well. But then it happened very quickly… Crazy or genius – you decide – we pulled this off in just seven weeks, and the space looked incredible!
It really did! There was something for everyone…
Right?! We not only succeeded in exciting our licensees and buyers but also made an impression on the Londoners who popped in. Anyone who came by had no idea how much Rubik's Brand had to offer – there's still such a big brand-awareness opportunity to be taken! We even achieved a Guinness World Record by roping in members of the public to learn to solve a Cube and participate in a Rubik's mosaic of Prince Harry.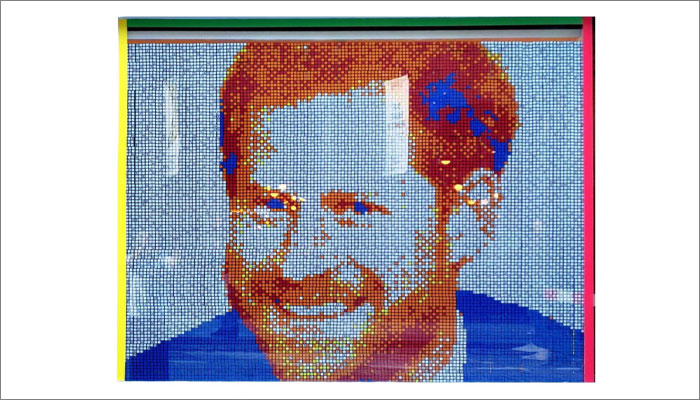 Which was subsequently moved to California, presumably?! Was there anything about the pop-up that you'd have done differently?
No! My only regret was that it wasn't open long enough!
What question haven't we asked that you'd love to have answered?
Who do I look up to most in my years in the toy industry?
Okay! Good one… Go for it.
First, Mike Moody from Seven Towns – Mike's a fountain of knowledge, and I can always go to him for advice when I need it. He really has helped me grow within my career… He has been, and continues to be, a great mentor; I'm very privileged. I absolutely love the Seven Towns team and I've learnt so much from them, especially about the inventor industry and how things work.
Second is the person you really should be interviewing! Chrisi Trussell… With over 42 years at Rubik's, she can tell you some fascinating stories. Chrisi isn't only my colleague, but one of my closest friends – I know she'll kill me for this! She really is Mrs Rubik's.
That's a pretty-terrific shout out; very generous… And don't think that Chrisi and Mike aren't on our list, by the way! So, last question: what's the most interesting thing on your desk or in your office?
Our new office is very cool, I urge you to come and visit! I'd have to say I do love our Rubik's fridge, too, or our impressive logo in our entrance made from Cubes. But also, your Cube in a Jar, Deej, has a prominent place on my desk!
Hussah! A mention for the Cube in a Jar! That's gladdening, thank you. And thanks for making time to do this, Hayley… I know you're tremendously busy but this is a really useful insight into Rubik's as a brand; thank you.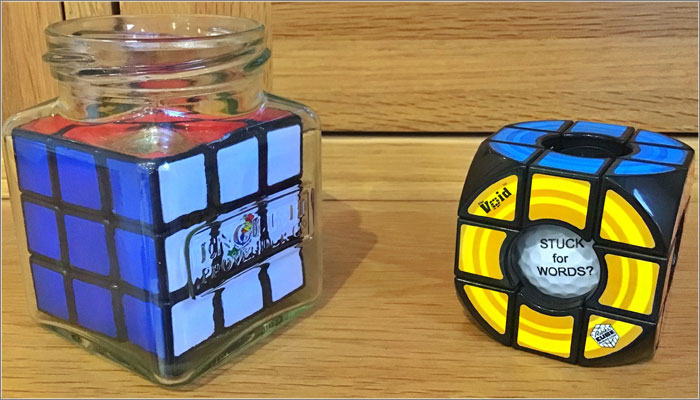 —-
To stay in the loop with the latest news, interviews and features from the world of toy and game design, sign up to our weekly newsletter here