Ryan Miller – creator of The Princess Bride Adventure Book Game – on how performing improv comedy shaped his approach to game design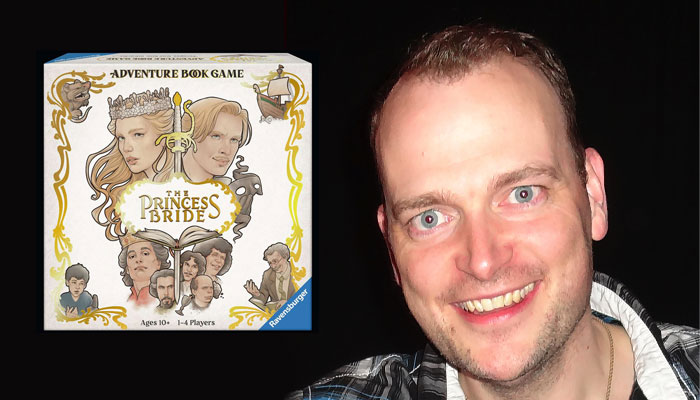 Following a ten-year spell at Wizards of Coast, Ryan Miller became a solo game inventor in 2013 and has been behind a raft of popular titles, including Top Gun: Plot Twist, Aliens: Bug Hunt and The Princess Bride Adventure Book Game.
We caught up with Ryan to find out more about working with brands, the origins of his Princess Bride game and how improv comedy shaped how he tackles game invention.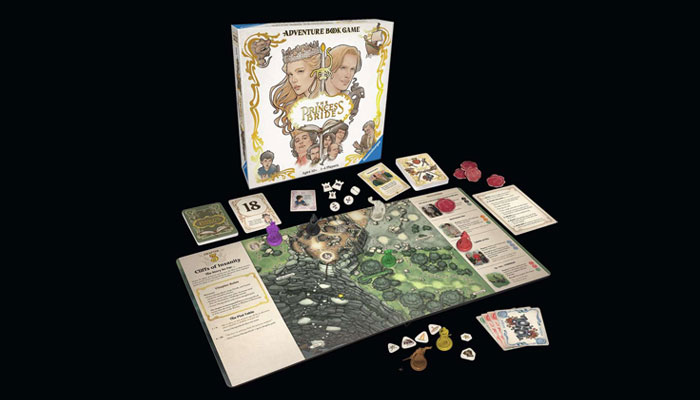 Ryan, it's great to catch up. You spent 10 years at Wizards of the Coast before going it alone as a solo game designer. Was design always on the cards for you or did it spring up unexpectedly?
I've been designing games since I was 11. A friend of mine had told me about Dungeons & Dragons – and that sounded like the coolest thing I'd ever heard. I ran home to tell my mother, who quickly informed me that I couldn't play that game as it was satanic! Of course it's not, but since I couldn't play, I decided to make my own game, and after a while started to get a talent for it.
Satanic! Surely that only added to the allure! So it was always a hobby, but did you see a career in it?
It was always something I knew I would do, I just didn't expect to make a living out of it. I was actually a prison guard in the Army, as I was thinking about a career in law enforcement. After the Army, I moved to Seattle. I wanted to give game design a shot, and figured I'd get any job I could at Wizards I could find. I ended up working at the tournament centre they used to have, as a Magic judge.
From there, I basically talked to everyone who would listen about game design, the gaming industry, and gamers. I eventually moved on to retail for Wizards, up to corporate as a brand manager, and finally as a designer in R&D, seven years after moving to Seattle.
How would you sum up your approach to game design? Is there any one element that you think is shared by all your designs?
The thing I love most about games is their ability to take us out of our normal lives and immerse us in other worlds. It's something I've tried to make an important part of each of my designs – immersion. This makes theme an important component of my game design process.
It also speeds things up! If you asked me to design a game, it might take me a week or two to have something playable. If you asked me to design a pirate game, I might have one ready to play tomorrow!
Before we dive into The Princess Bride, you've worked on games based on brands like Star Wars, Top Gun and Godzilla. What is the key to successful translating a brand into a game, and does your usual approach to design change when tackling an IP?
I think the first step is to try to understand what fans of a given IP love about it. It's important that the game feels like a love letter to the property. It has to be something that not only allows the players to express their love through the game, but that feels like someone who understands the IP made it.
In that case, how do you get to grips with brands?
It helps if I have a deep knowledge of the IP, but this is not always possible. In that case, I'll talk with people I know who have that knowledge, and study up online. There have been times when this has led me to become a fan – when I designed the Tokyo Ghoul card game, I watched the show and really got into it. When it comes to Princess Bride, I had no problems – I've loved that movie since it came out, and even played Westley in an improvised comedy version here in Seattle!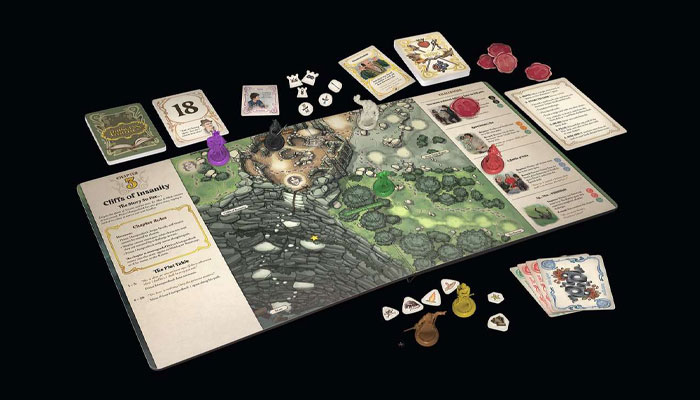 Wow! Let's hope it tours the UK one day! Now, The Princess Bride Adventure Book game is one of your recent launches and it looks incredible. For anyone that hasn't seen or played it yet, how would you pitch it?
In the Princess Bride Adventure Book Game, players work together tell the story of Westley and Buttercup. You've got to tell the story properly, or the Grandson will interrupt you! You'll play through six chapters of a board-book as you re-create the movie from the shrieking eels to Prince Humperdinck's wedding as you try to have true love prevail.
Talk us through the development of the game; was the initial idea always grounded in the world of the Princess Bride?
I've been toying with the idea of a game in a book for a while. I had this idea of a book that had a haunted house in it, with each page spread being a different room. When you walked through a door, you'd go to that page and see what was there.
I struggled with this idea for a couple years, with no real breakthrough, so I put it back on the shelf. When I was contacted by Ravensburger about this game, I needed to write up a pitch. While thinking about the many things that make that movie great, the Grandpa reading the story to the grandson popped into my head, and I dusted off the book game idea.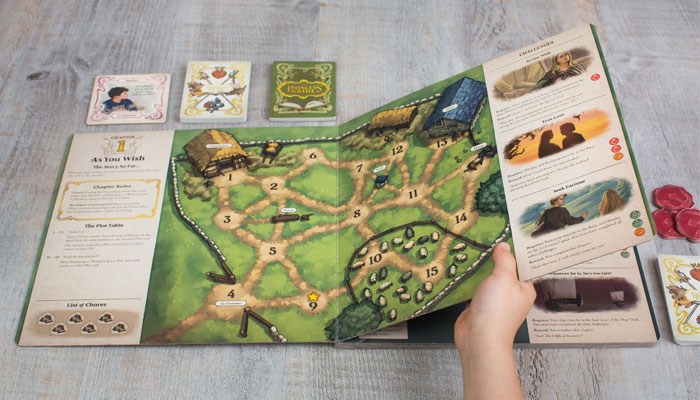 It's a beloved movie, with plenty of iconic moments – some of which have enjoyed board game adaptations in the past. Your game is novel – pun intended – in that its taking a broader outlook rather than focusing in one moment from the film and building a game around that. Why opt for that approach?
The question when approaching a movie for a game is what to include. The common approach is to focus on a part of the move, such as the duel between Westley and Inigo, or the battle of wits between Westley and Vizzini.
Of course, I considered this, but the book idea was already swimming around in my head, and I thought it would make for an interesting challenge. I had even joked with a friend a few years before about a Princess Bride game where you were trying to keep Fred Savage from getting bored – could that work? The framing of the movie, with the grandpa reading the story, could also be the frame of the game, and the players could work together to keep the kid from getting bored. I pitched the idea to Ravensburger!
As far as what I could include, the answer was "as much as possible." Steve Warner, the game's producer at Ravensburger, and I had to figure out how to distil the story down to six scenes, and then what each scene would do differently to keep the game play fresh.
In the end, we made the game have as many quotes and characters as we could stuff into it, and I think the only one we left out was the grandkid's mom!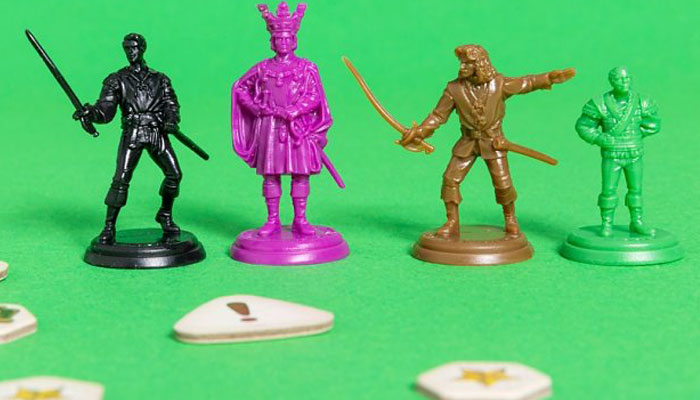 What made Ravensburger the perfect partner for the game?
I've been impressed with Ravensburger for a while. They have a great track record of high-quality game experiences, and also a long list of great licensed games. Working with licensors adds another level of complexity to the game production process, and since they have so much experience in this area, I knew the game was in good hands. They also make absolutely beautiful games!
Looking ahead, what else can we look forward to playing from you? And is there a film out there that you'd still love to adapt?
I've actually started working full time for Ravensburger, on a project that I can't disclose but am very excited about!
Congrats! We'll keep our eyes peeled! Thank you so much for this Ryan, I only have one more question: how do you fuel your creativity?
Creativity is like a muscle, so I try to exercise it as much as possible. I've been performing improv comedy for 30 years now, and it has helped my game design career immensely. Improv teaches you to be specific, and to be comfortable narrowing your options and running with it. This is invaluable in the early stages of a game design, as it speeds the process up.
I also usually have several game designs I'm working on at any given time. If I get stuck on one of them, I find it's helpful to work on another for a bit, as this often gives me the distance I need to come back to the original game with a new perspective.
Finally, I try to play as many games as I can. I rarely come out of playing a new game without at least a couple of ideas for mechanics or game flows. It's one of the most fun parts of game design!
Ryan, this has been a joy! Congrats again on the success of The Princess Bride Adventure Book Game and we'll hopefully catch up again soon!
—
To stay in the loop with the latest news, interviews and features from the world of toy and game design, sign up to our weekly newsletter here