September's Board Game Club to be a Spin Master special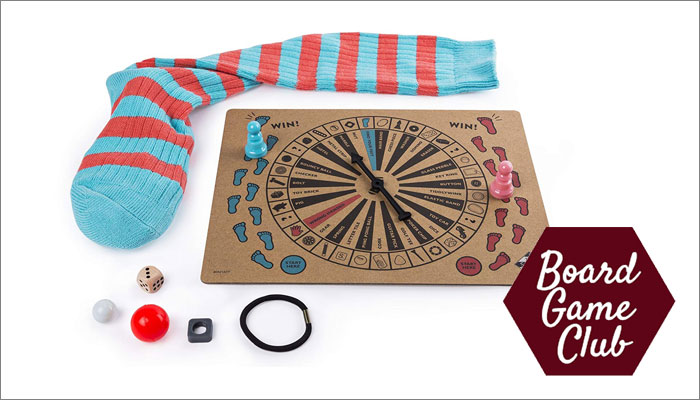 Spin Master is taking over Board Game Club's next event at Soho's Century Club on Wednesday, September 19th for a night of fun filled game playing.
The evening will celebrate Spin Master's expanding portfolio of games with a wealth of new additions this Autumn, including brainy challenges with Otrio and fun with felines in The Cat Game.
Spin Master will also be marking the launch of The Sock Game – a title which went down a storm at previous Board Game Club nights after it debuted in London Toy Fair's Greenhouse. The two brothers who invented the game will be coming along giving guests the chance to beat them at their own game.
In addition, there's a great mix of silly social, strategic and playful dexterity games on the Spin Master menu this September, with Pimple Pete, Unicorn Ring Toss and Wobbly Worm as well as Jumanji, Santorini and The Awesome Game of Meme.
"This is our first Board Game Club take-over and it is definitely the right time with such a fantastic range of games launching this autumn," said Spin Master's Dharaa Patel.
"Guests will be able to get pimple popping with Pimple Pete, purr-fect their artistic skills with the CAT Game and put their sensory skills to the test with the Sock Game, plus much more! We're really looking forward to showcasing all the new games and winning over an army of new players!"
Board Game Club co-founder, Playtime PR's Lesley Singleton, added: "This is going to be such a fun night – seeing The Sock Game come full-circle since we first encountered it in The Greenhouse last year is truly special, plus of course we can't wait to sit our own Pete Jenkinson down with his namesake game.
"But seriously, the breadth of games on offer on the Spin Master menu is a great fit for a Board Game Club take-over with something for everyone, so we can't wait to throw open the doors in September."
For further information about Board Game Club, visit www.boardgameclub.net.  The event is strictly guest list only and spaces are limited. Email boardgameclub@playtimepr.com to add your name.