Seven Towns' Silly Sausage readies for "big 2017"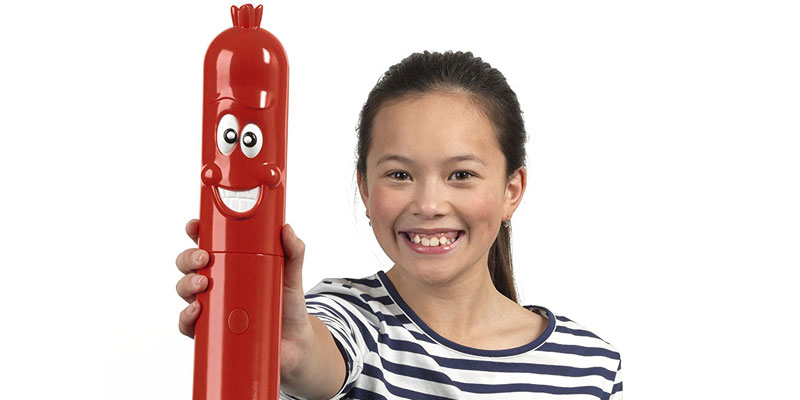 Toy and game design agency Seven Towns is looking forward to an exciting year ahead for one of its most popular creations of last year, Silly Sausage.
Silly Sausage was licensed to John Adams before launching last autumn to great success, and the reaction game is now set to go global.
"The product has been a huge success, launching for autumn 2016 selling over 100,000 pieces," Steve Perrin, senior VP of design and production at Seven Towns, told Mojo Nation.
"John Adams who have now placed it around the world with distributors, most recently Spin Master for the majority of the world including North America, so we are looking forward to a very big 2017 for Silly Sausage."
When pointing to what helped make Silly Sausage a hit, Perrin admits there were some happy coincidences that sent exposure for the game soaring.
"We had some great help, not just through good PR, marketing and TV advertising, but from some help from things we could not have expected," explained Perrin.
"First was the movie Sausage Party, which launched at the same time. We weren't sure would be a positive thing – being an 18 rated movie – but it didn't seem to do any harm. Second was being featured on The Jonathon Ross Show – seeing Kylie Minogue handling our Sausage was definitely a career high!"

"FIRST WAS THE MOVIE SAUSAGE PARTY, WHICH LAUNCHED AT THE SAME TIME. WE WEREN'T SURE WOULD BE A POSITIVE THING – BEING AN 18 RATED MOVIE – BUT IT DIDN'T SEEM TO DO ANY HARM. SECOND WAS BEING FEATURED ON THE JONATHON ROSS SHOW – SEEING KYLIE MINOGUE HANDLING OUR SAUSAGE WAS DEFINITELY A CAREER HIGH!"
STEVE PERRIN, SEVEN TOWNS

Seven Towns has a rich history of inventing children's action games, and the development process behind Silly Sausage saw the concept take many forms when it came to the actual game play.
Perrin said: "Following on from our own recent success of Pig Goes Pop – which is in its 8th year and has sold over 10 million worldwide – we've seen the resurgence of games with overtly fun, physical and silly game play.
"The idea for Silly Sausage was very much driven from thinking what object/character is naturally funny and was first simply created from a foam tube with a face painted on. We did then build an electronic prototype which included silly sounds, but it still did not have a defined game play.
"Initially it had no game play and we went through lots of ides of what the game play for it could be. This included doing physical challenges with it, using it for pass the parcel or hot potato type games, using it as a prop for gesture games or simply to hit each other with. It wasn't until after licensing the game the final game play was developed with the licensee."
Save
Save
Save
Save
Save
Save