Smartibot creator Ross Atkin on why it's an amazing time to be working in the tech toy space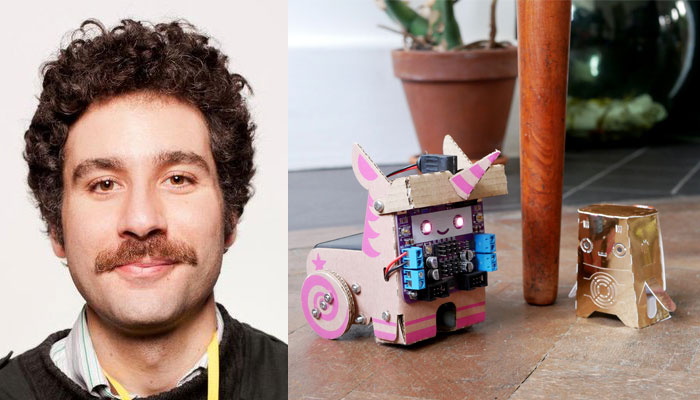 Tech education brand The Crafty Robot has launched its new robot kit, Smartibot, which aims to give users hands-on experience with A.I.
Created by product designer Ross Atkin (part of a team of inventors in the BBC's The Big Life Fix), Smartibot takes The Crafty Robot's 'build a robot out of anything' ethos and adds the latest A.I. technology and smartphone connectivity, allowing users to build robots that can recognise and respond to objects they can see or be driven around the home and office using a smartphone as a remote control.
We caught up with Atkin to learn more about where the idea for Smartibot came from and why it's an amazing time to be working in the tech toy space.
Where did the idea for Smartibot come from?
Making and selling the Fizzbit-based Crafty Robot kits, I've been really happy with the way people have been able to re-use their Fizzbits to create their own robots using all kinds of materials, from 3D printing to cookies. Those robots do a fantastic job getting kids making and encouraging them to learn through experimentation and iteration, but, as they don't have any digital electronics, they aren't so good for actually learning about robotics.
I wanted to create a new product that had the same accessible, irreverent making-focused ethos but allowed users to get hands on with the latest technology. This meant supporting coding, as many other robotics kits do. Increasingly though, coding is only part of the process of inventing with digital technology, so we added A.I. to allow kids to start exploring and get creative with it. To keep the cost down and encourage kids to hack their robots from day one we made them from cardboard.
We're really pleased how all the pieces have come together to create a super fun product with loads of open-ended creative possibilities.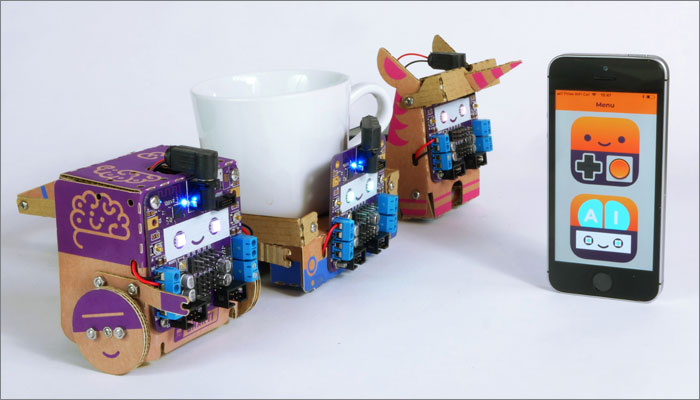 Were there any key learnings from the development of The Crafty Robot that fed into the design of Smartibot?
When I was developing The Crafty Robot I was always thinking 'how can I make this as fun as possible whilst using as few resources as possible?' This approach is good for the environment, but it also forces you to minimise the number of different materials and production processes you use. This meant that we could sell robots at a price that is accessible to everyone, and that when we came to fulfil our Kickstarter, manufacturing was straightforward, so we were able to do it all on time.
We've followed exactly the same approach with Smartibot, which means we've been able to create a robot that has comparable features to robots that cost £150 or more, and make it available for just £35. I think this is important because it shouldn't just be the kids of the wealthiest, most tech-focused parents who are able to benefit from these products.
How do you assess the state of creativity in the tech toy space at present?
Now is an amazing time to be working in the tech toy space. Creators have realised the incredible opportunities that smartphones and tablets can bring to toys, and consumers have started to get excited about it too.
In the mainstream market there are some fantastically capable products available, but unfortunately they are only accessible to the wealthiest families and don't offer opportunities for open-ended creativity. In the maker market there are more products that support creativity, and in some cases they are more financially accessible, but technically the bar to get started is often quite high, which ends up excluding lots of non-techie parents.
With Smartibot we are combining the easy, app-focused out of the box experience of the best robots in the mainstream market, with the financial accessibility and potential for growth and creativity of the best maker products.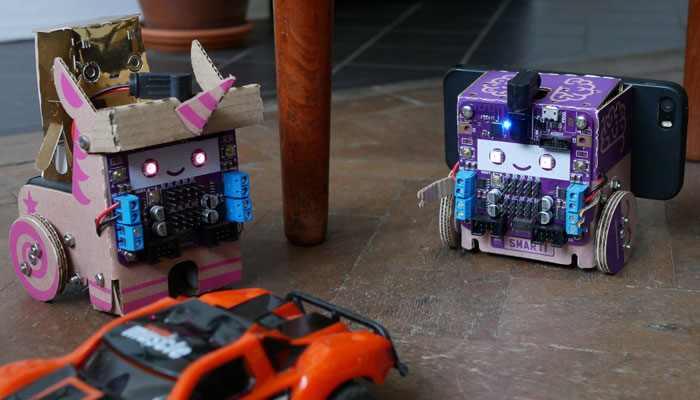 Why opt to launch via Kickstarter?
Running the campaign for The Crafty Robot was a really fantastic experience. There is something special about putting together a product that embodies a set of values that you believe in, sharing with a really energetic and optimistic community, and seeing them get excited about it and buy into it. I loved the whole experience, from seeing people's comments when the campaign went live to watching the hundreds and hundreds of boxes go out in the mail.
Putting new products into production and out to people takes money and I think it's much better to raise that money from customers who believe in the product you want to make and values behind it than investors who will probably make you compromise on both.
You can check out the Kickstarter campaign for Smartibot here.