So Sound's TJ Morrison and James Livett on the launch of the firm's new video production service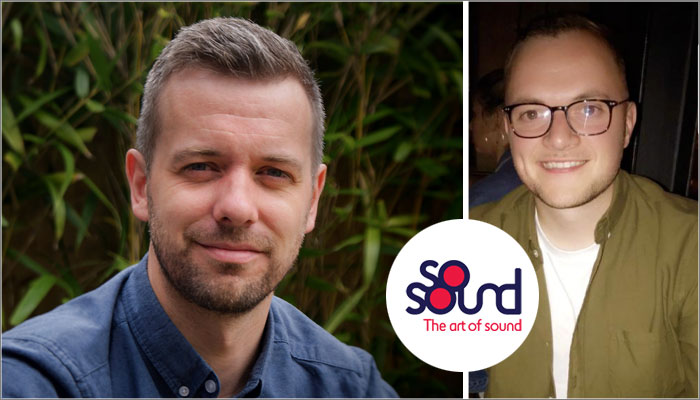 Since launching back in 2002, So Sound has become known for products that boast quality design, innovative technology and, as the name suggests, crisp audio.
Founded by Doug Morrison, So Sound initially focused on audio and electronic design, but in recent years has established itself as a key player in world of toy design, with clients spanning the likes of Hasbro, TOMY and Fisher-Price and recent success stories including the music-making Tweet Beats play-set.
The latest string to So Sound's bow comes in the form of a video production service that offers everything from helping toy firms create fresh online content for their brands to producing great sizzle reels for inventors.
Fresh from winning the Design Agency/Invention Studio of the Year Award at this year's Play Creators Awards, we caught up with So Sound's James Livett and TJ Morrison to find out more about the new venture.
What can you tell us about So Sound's latest service offering? And what prompted you to launch it?
James Livett, Development Manager, So Sound: We have a long history in the toy industry and a great deal of experience creating digital content. We've seen a massive rise in interest for our video capabilities, including internationalising video content for major toy companies, syncing VO to picture for the BBC and Channel 5, and composing music for toy TV commercials. We are now also creating a huge number of video sizzles to support our invention pitches.
TJ Morrison, Inventor, So Sound: When TOMY came to us for help with creating video content for their new product line, the timing couldn't have been better. Within the team we have the technology and a wealth of talent across each of the disciplines necessary to make stunning video content.
What can a great video do for a toy or game?
TM: As we know, toy companies are increasingly recognising the power of online video as a promotional tool and to help build brands. There is a vast quantity of media available and accessible to children, and parents have never been more conscious of children's safety online. Parents should feel they can rely on established children's brands and content providers to release high quality, age appropriate, educational and morally grounded content.
JL: Through creating video content, toys and games companies are able to build a story behind their products, whether this be creating a world for the toys to inhabit, or developing storylines and personality for the characters. Placing products in new play locations and scenarios can inspire the child and expand the product's longevity and play value.  Combined with the ability to fully demonstrate the functionality of the product, which is far more immediate and compelling than diagrams on the packaging or in a manual.
Talk us through how you helped TOMY bring Ritzy Rollerz to life in the recent video series?
TM: It has been a fun and rewarding challenge and we have enjoyed immensely working with the TOMY team in helping them bring their new brand to life. Through the series of webisodes, we introduce the audience to each Ritzy character, each with its own voice, catchphrases, personality and interests. Based on artwork supplied, we have brought the Ritzy world to life through designing and building a series of sets for each location, including an ice cream parlour, a city, snow peaked mountains, grassy hills, an open-air cinema and a rock concert stage!
JL: We have also hand crafted or 3D printed a huge assortment of miniature props for the characters to interact with, from cowboy hats, sleeping bags and tents, to an ancient relic, lasso and a football goal. Each episode has its own custom musical score too, all written and recorded in-house.  A great deal of time is spent perfecting the storyboards and scripts to ensure the right balance of fun, adventure and plenty of corny jokes, but also to include important messages about teamwork, sharing and friendship.
Is the service also available to designers needing help with a sizzle reel?
TM: Absolutely! We have made dozens of sizzles and pitch videos, utilising all the skillsets already mentioned. Any inventor or designer will understand the benefits of an exciting video to help sell an idea through. Just get in touch, let us know what you are looking to do, and we'll find a way to make it happen.
If someone wants to reach out to enquire about So Sound's video production service, how can they do so?
JL: We have a website, www.sosound.co.uk, which has a full rundown of services.  You can give us a call on +44 (0) 208 661 7979 or send an email to info@sosound.co.uk, please feel free to get in touch!