Spin Master to launch official USA Skateboarding Tech Deck fingerboards as part of sponsorship deal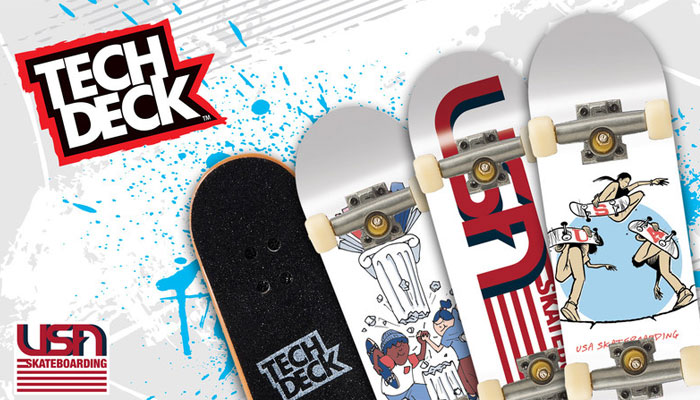 Spin Master's Tech Deck brand is now an official sponsor of USA Skateboarding, the national governing body for skateboarding in the United States.
The sponsorship kicks off with the 2021 USA Skateboarding National Championships for both skateboarding and fingerboarding – and Spin Master will also be launching official USA Skateboarding Tech Deck fingerboards.
Only 10,000 of the exclusive Tech Deck boards will be made and some will be given to the USA Skateboarding Team to take to the Tokyo Olympic Games, where the sport will make its Olympic debut. Limited quantities that will be available on the USASkateboarding website and given away on Tech Deck social channels.
"Tech Deck and USA Skateboarding share a passion for and commitment to growing and celebrating the sport and culture of skateboarding," said Chris Beardall, Spin Master's President of Toys and Chief Commercial Officer.
"We are thrilled to be starting our sponsorship during such an exciting year as skateboarding debuts at the Olympics and reaches a whole new generation of fans."
During the Olympics, the Tech Deck brand will be activating on the ground in Kasama City, Japan where the US athletes will be stationed just prior to the games.
"The heart of skateboarding is fun, and no company embodies that better than Tech Deck," added Josh Friedberg, CEO, USA Skateboarding.
"From the day we started our initial discussions, Tech Deck's commitment to skateboarding culture and their natural fit into our existing initiatives made it clear that we had a great opportunity – we're incredibly excited to have them as a partner in this historic year for skateboarding."
Later this year, the Tech Deck brand will also be a supporting partner of a skateboarding-focused STEAM curriculum for kids offered through Innoskate – a joint venture between the Smithsonian's Lemelson Center for the Study of Invention and Innovation and USA Skateboarding.
—
To stay in the loop with the latest news, interviews and features from the world of toy and game design, sign up to our weekly newsletter here