Starting up, carrying on and creating lots… Rebecca Bleau and Nicholas Cravotta on running Bluematter Games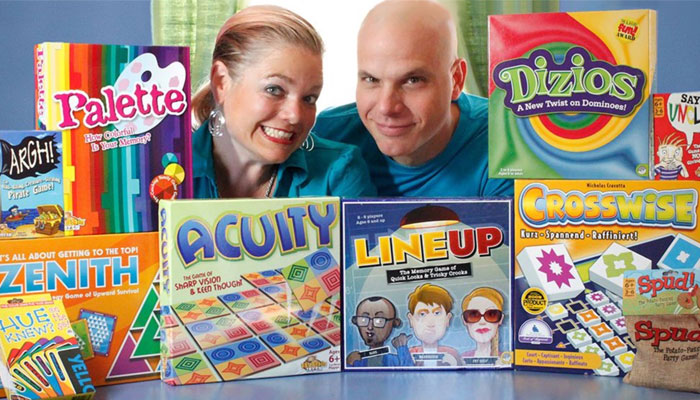 Hi Nick, Hi Rebecca! Thanks for joining us. Let's get the background right first… Nick, you're an author and game designer. Rebecca, you're a designer and illustrator. Together you're the founders of Bluematter Games. Tell us about that! How did it come about?
Nick: BlueMatter Games came about because I got on a plane! It started when I was playing with our son, Skylar, who was five years old at the time, and wanted to play with stickers. I played with him by designing a game and having him make all the tiles using stickers. This tile game ended up being fun, so we planned a trip out to New York Toy Fair…
To see how things worked? Or to try your luck?
Nick: A bit of both! I was a magazine editor at the time, and it never occurred to me that I needed to make appointments beforehand. I just showed up – I didn't know I couldn't do it… I had a bit of pressure to postpone the trip to attend another event, but I was excited about Toy Fair and kept to my plans. That year, there was a huge storm, and I was on the last plane that made it to New York. By the way, the tile game eventually became Acuity and is still available from Fat Brain!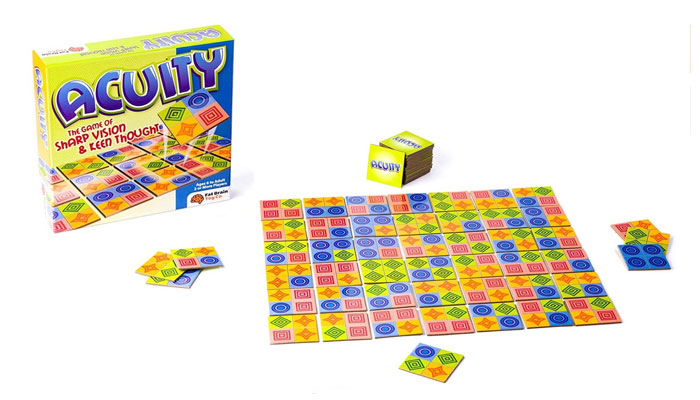 Interesting… How soon after that did it become more than just a hobby?
Rebecca: Quite soon. Initially, we started designing games on the kitchen counter. It quickly became clear that we were going to need more space if we were going to make our company successful, though. During one of Nick's business trips, I cleared out a room and turned it into a design studio dedicated to making games. That's when BlueMatter Games really started to take off.
And is that where you work from now?
Rebecca: No – I later redesigned our three-car garage as a work studio and again, our company blossomed. Then – about seven years ago – we wanted to design more puzzles and escape rooms, so I built out what we call our Puzzle Loft. It's a room dedicated to making and doing puzzles… The room itself is a puzzle as well.
Wow. I like that you invested more and more space in it. You now have quite a range of games on the market. Which are your biggest sellers?
Rebecca: We've designed more than 80 games and puzzles that have gone to market. Some of our bestsellers would be PicWits, by Mindware… That's a party game a five-year old can play with an 80-year old. It's one of our first games and still selling strong. It's also spun off a younger version, PicWits: Silly and Sweet.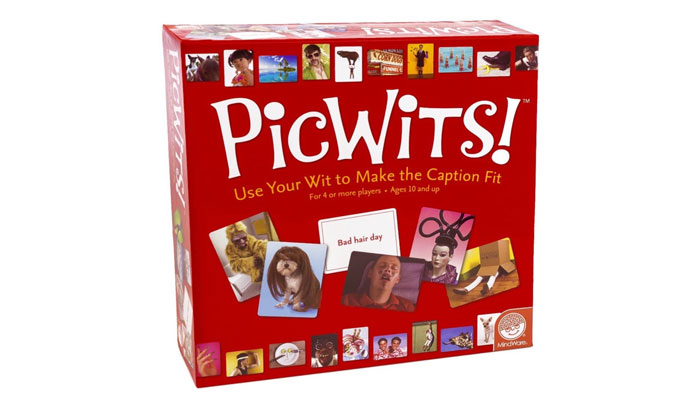 Nick: Buggzle from Fat Brain made the top-ten list for gifts for toddlers. Escape the Room sells well… Working with ThinkFun, we released the first commercially available tabletop-escape room. The line has been very successful, and the fourth title will be available later this year.
So that's the Escape the Room series? What was the first one called?
Nick: Mystery at the Stargazer's Manor. It's still on many escape-room 'top-ten' lists as a great 'first' escape room. It was followed by Secret of Dr. Graveley's Retreat. Our latest, The Cursed Dollhouse, sees players try to escape from a dollhouse they build on the table.
These have all been with ThinkFun?
Rebecca: Yes – ThinkFun's been an outstanding collaborator for these games, and we couldn't have done it without Tanya Thompson, Katie LeSeur, Josh West, and Melinda Contreras.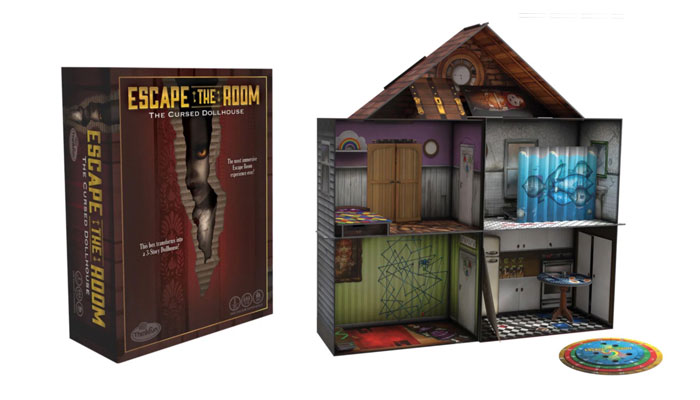 Let me ask you this: how do you go about coming up with ideas?
Rebecca: For us, creativity has two critical aspects: environment and nature. Environment refers to creating a safe space to be silly and inventive. Our favourite place is the hot tub. We'll shoot ideas back and forth in there…
So no whiteboard, no notebook?! No wall of Post-it Notes?
Rebecca: Well, no! I mean… Nick usually has a notebook with him, but not in the hot tub. And because we're not writing those ideas down, we let most of them go. On top of that, Nick can only remember three items at a time, so we keep just the three best ideas from any one session.
Nick: Nature refers to how we think. Both of us would probably be identified as learning disabled if we were in school today. Instead of believing we should try to think differently from how we do, we embrace our individual styles, and have spent years working together to foster and support each other in our unique ways of seeing the world. Being "funny brained" is one of our greatest assets.
'Funny brained'… Fantastic. And if being funny brained is one of your greatest assets, what's not? What's you biggest impediment to creativity?
Rebecca: Stress is one of our biggest impediments to creativity. We live in California. It's expensive to live here. Early on, we decided not to require BlueMatter Games to keep us in our house. So we kept Nick's freelance business going to handle living expenses. That means we're not forced to land several games with the big companies each year just to stay in our home. That kind of stress can really limit one's thinking.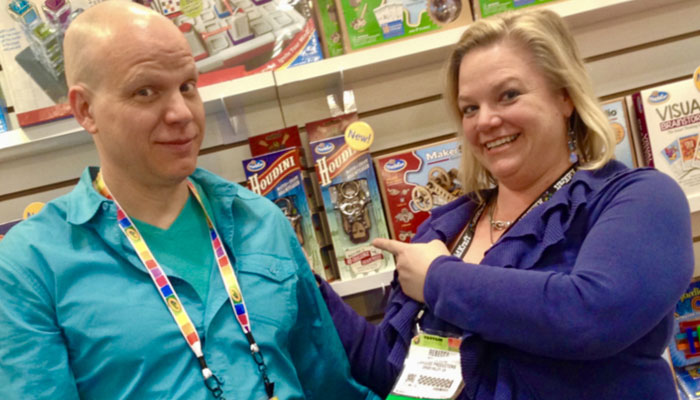 Makes sense…
Rebecca: This approach has been critical in keeping our creativity free to explore any idea we want. We recognised early on that ego is a potentially nasty wedge for teamwork. We acknowledge that the spark of an idea is essential, as are the long hours to develop that idea. But you don't have a product if you don't have a spark and can't put in long hours.
And when you're going ahead with one idea over another, does one of you tend to own it? do you divide responsibilities?
Nick: Not exactly, no. We take team ownership of ideas. Sure, often one of us is the lead for a particular concept. However, without each other, we wouldn't be where we are today. Burnout is another issue we face. To beat it, we take time off and cycle through other creative endeavours.
For context, what might they include, for example?
Nick: For example, I just finished my latest science-fiction novel, Fractured. Rebecca creates fine art, and has been developing her Botanical Prints series. She also regularly adds to the sculpture garden. And somehow she always finds time to embrace the belief "My life is art" by doing something crazy – like running prints of a school of fish up the stairs.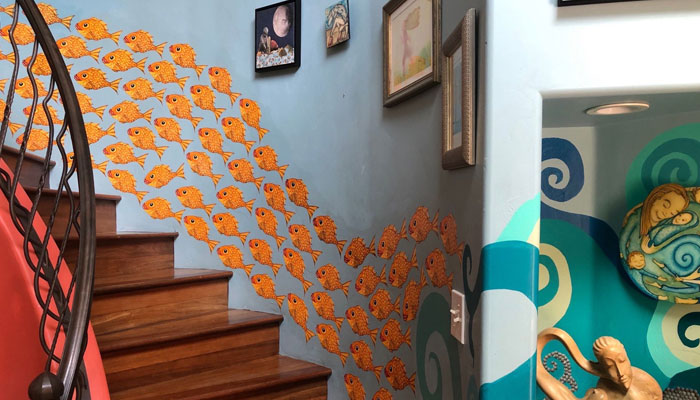 How, then, do you overcome a creative block?
Nick: We overcome creative blocks by being intentional, having balance, anticipating problems and challenges, and tackling issues before they explode in our face. As an example, we started BlueMatter Games as parents of two small children. We saw the potential problem of not having enough time to start a business and raise two kids…
Did you get rid of the kids?! Is that where this is going?
Nick: Ha! No! But we spent an evening talking and decided to turn our three-year plan into a seven-year plan. We also make space for creativity, not just for games but for our other endeavours. It's all part of balance. At one point, BlueMatter started taking over the whole house. Now, though, we set limits and we intentionally carve space out for other ways to be creative. Having an empty nest has been challenging but… I now have a writing room, and Rebecca has a full fine-art studio. An interesting bonus to this approach is that our different creativities feed each other.
Rebecca: We're always open to new game ideas, but we talk about so many other things besides games. We also feed ourselves with experiences. We go to museums, travel, see other people's creativity, and play play play. One of the more challenging aspects of COVID for us is that we couldn't do what we usually do to keep our creative juices flowing. So we had to come up with new ways to keep ourselves challenged and inspired… Which is another kind of game!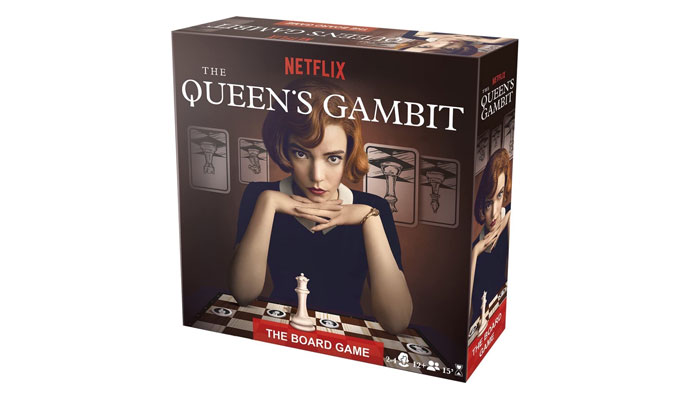 One title of yours that caught my eye is the Queen's Gambit board game. How did that come about? What essence in the TV show did you tap into for the game? How did you make sure you translated the show's qualities from screen to shelf?
Nick: Rebecca was a huge fan of the show early on. She liked how Beth's brain worked and wanted to capture that experience for people to think ahead like her. We wanted to honour the show, so we focused on the scene where Beth looks up at the ceiling and can see all the pieces moving. We call this "working in the sandbox."
Working in the sandbox?
Nick: When an idea starts, we imagine a huge beach with no edges. Anything can be done. And that can be daunting. There's no definition. So we build a sandbox. The sandbox edges give us something to push against, to form the foundation for ideas, and to make something truly authentic. That scene with pieces on the ceiling gave us inspiration but limits as well. Both are critical for creativity.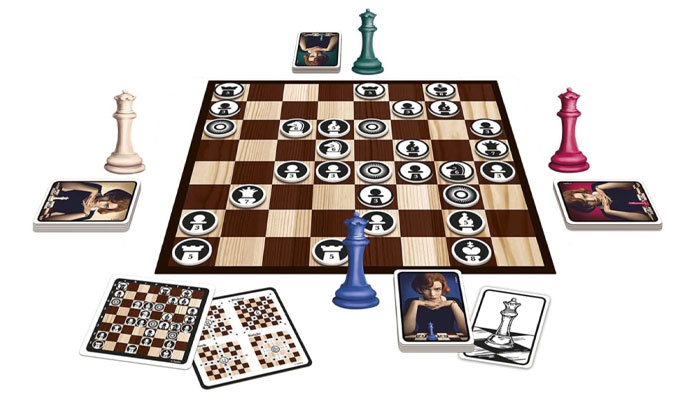 Rebecca: Part of our drive to make this game was to share the idea that being 'funny brained' can be a gift if you treat it as a talent, not a disability. Our next step was to share the idea with Asmodee and create slides to help them sell the game to Netflix. With everyone on board, we designed the game. Asmodee was a great partner in this process. They saw the vision for the game. You can see how well they captured it in the promo video they created if you'd like a link?
Sure! We'll put that in. And to clarify, is this your first licensed title?
Rebecca: Actually, no – our first licensed title was The MacGyver Escape Room from Goliath. That was a blast to create!
A MacGyver escape room! Makes total sense. Okay… What's next for you?
Rebecca: We can't say the name yet, but our next big game based on a Netflix show will be available the first week of August at Walmart US with worldwide release in October.
Nick: We've also got 9th Circle coming from R&R this year. The original seed for this was to design a strategy game with no luck, no first-player advantage, and no seating order dependencies… Your guts and ambition are your own limits! We're launching it as an upcoming Kickstarter. We're also expanding the experiential game category as well. Crack the Crate: A Dragon's World came out this year based on Mindware's Dig It line. It's an adventure experience for ages eight and up where you get to rescue a baby dragon. Need we say more?! Crack the Crate #2 is currently in development. Oh, and our first murder-mystery jigsaw puzzle, The Art of Murder, just came out with University Games.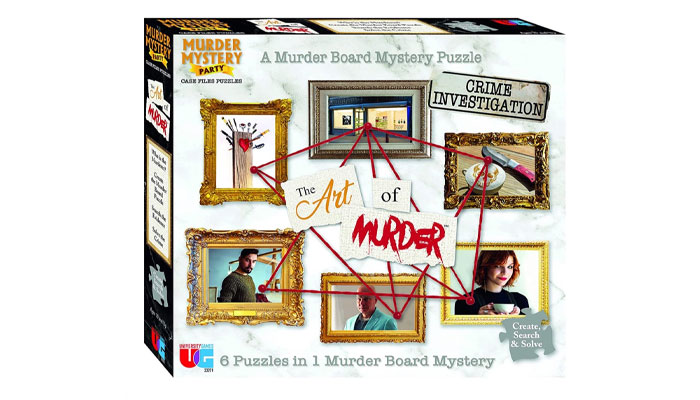 What's the story there?!
Rebecca: A gallery owner is murdered and the six artists in the show are the suspects. The twist is that all the artists claim credit for the murder to increase the value of their art. It was a wild adventure to create and a whole family endeavour. Our niece-neph Rayven was the photographer for the project. Nick was the model for the gallery owner. Our youngest was one of the suspects…
Nick: Rebecca made a gallery of art and engineered the killing sculpture. We turned one of our bedrooms into a murder scene, with blood splattered everywhere. We're just wrapping up another murder mystery for University Games scheduled for release later this year. We're shooting the tub murder scene tonight, actually! We've also just completed two adventure experiences for Ravensburger due to release in 2023.
So busy! Well, listen, thank you so much for joining me to talk about all this. I've really enjoyed hearing more about you. Final question… What's the most interesting object in your office or your desk?
Nick: Cleaning Puma lives on my desk and lets me know it's not okay to live in a mess. In addition to representing sanity, Cleaning Puma represents the need for magic in my life.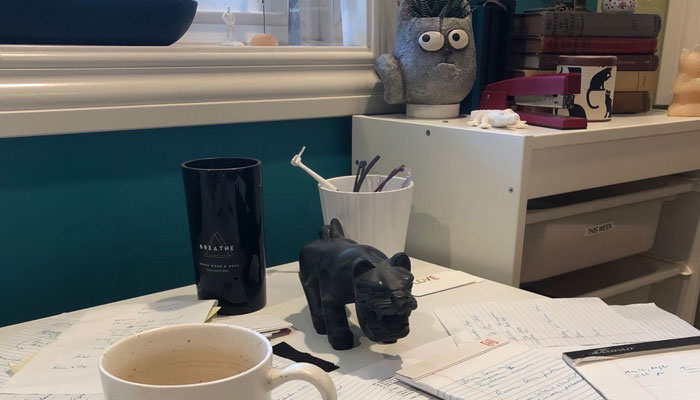 Rebecca: I have a Red Horned Mushroom Jackalope. The Red Horned Mushroom Jackalope is a woefully endangered species. This one is currently being 'rehabilitated'. Our home is an official Jackalope sanctuary. We find them out in the world hiding their true nature. I like rehabilitating them so they can express their true selves.
I'm glad I asked; that isn't the least bit disturbing! Nick, Rebecca… Thank you so much for your time.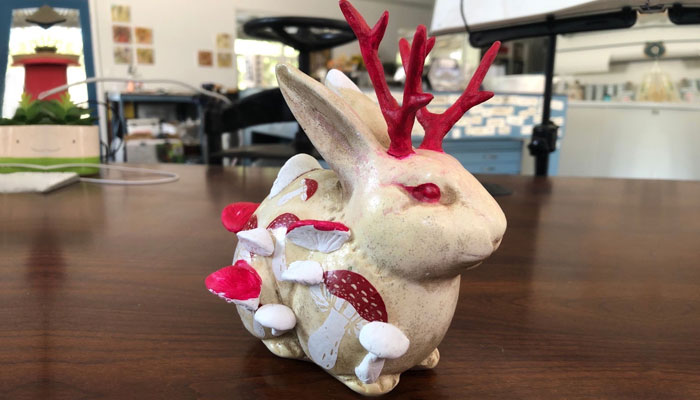 –
To stay in the loop with the latest news, interviews and features from the world of toy and game design, sign up to our weekly newsletter here