Steelcase and Microsoft debut new office spaces designed to foster creative thinking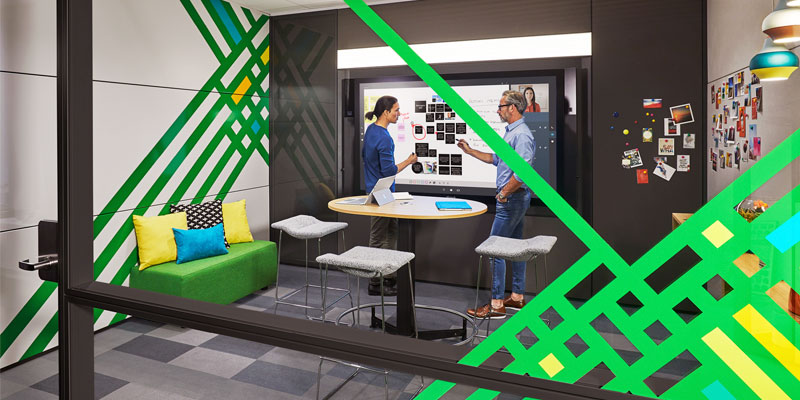 Furniture firm Steelcase has teamed with Microsoft to launch Creative Spaces, a range of technology enabled areas designed to help organisations foster creative thinking and better collaboration.
The Creative Spaces line integrates the Microsoft Surface devices with Steelcase architecture and furniture and encompasses five different spaces currently on display now at the Steelcase WorkLife Center in New York City:
Focus Studio: A place to let ideas incubate before sharing them with a large group, centred on the use of a Microsoft Surface Book or Surface Pro 4.
Duo Studio: A space that enables two people to co-create shoulder-to-shoulder, while also supporting individual work with Microsoft Surface Studio. It also includes a lounge area to invite others in for a quick creative review.
Ideation Hub: A high-tech destination that encourages active participation and equal opportunity to contribute as people co-create, refine and share ideas.
Maker Commons: A space designed to encourage quick switching between conversation, experimentation and concentration.
Respite Room: A private room that allows 'relaxed postures' to support diffused attention.
"Every Microsoft Surface device strives to enable the creator in each of us," said Ryan Gavin, general manager, Microsoft Surface marketing.
"Devices like Surface Studio and Surface Hub are fundamentally designed around how people naturally create, connect, and collaborate. With Steelcase, we have the compelling opportunity to blend place and technology into a seamless environment that allows our most important asset, our people, to unlock their creativity and share that with others. The future of work is creative."
Sara Armbruster, vice president of strategy, research and new business innovation for Steelcase, added: "The problems people face at work today are much more complex than they used to be. They require a new creative way of thinking and a very different work process.
"We believe that everyone has the capacity for creative thinking, and people are happier doing creative, productive work. Together, Microsoft and Steelcase will help organisations thoughtfully integrate place and technology to encourage creative behaviours at work."
Save