Bang Zoom's Steve Fink talks toy invention; past, present and future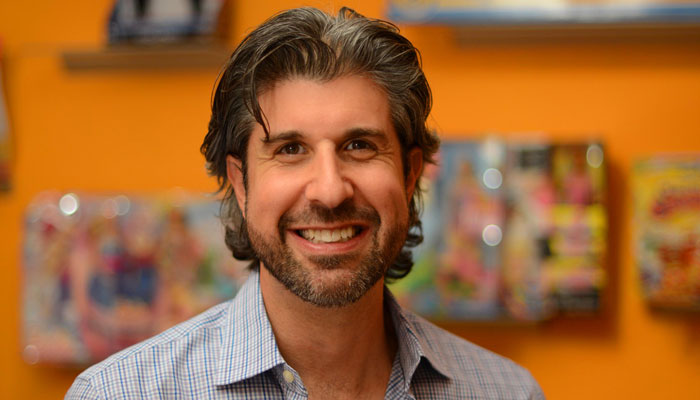 Deemed by one of his peers as 'the Marvin Glass of today', Steve Fink is the co-owner of Cincinnati-based Bang Zoom Design, one of the most prolific product invention companies in the toy space.
With Bang Zoom having shipped 35 new concepts last year spanning every category (a record for the firm), we caught up with Fink to find out what unites all of the firm's output, which industry shifts have had the biggest impact on Bang Zoom and why 2017 has proved the company can really do it all.
When did you first realise that being an inventor was something you could make a career out of?
When I was with the late, great Tyco Toys back in 1995, I was lucky enough to work with the great (never late) David Berko, who led the Inventor Relations department.  That job was like being the bartender at the Mos Eisley Cantina in Star Wars! So many crazy, wacky, fun and interesting toy inventors came through Tyco to present new ideas to me and David.  This is when I realised one could make a career out of developing and licensing toy concepts.  It was not until 1999 that I jumped head first into the inventing world.
What was your first product on the market? And would it be a hit today?
During my first year as a toy inventor with Bang Zoom, we licensed a few concepts, including Goofy Jalopy R/C (Fisher Price), Street Savage R/C  (DSI), Jacknife R/C and Max Air Arena (Mattel).  The radio control category was hot back then, and there were lots of companies making TV promoted R/C vehicles [see video below].  The radio control category has gone through a lot of changes since then, so I don't think these items would be as strong today in the market as they were 20 years ago.
How do you stay creative?
I think if you are a creative person, you don't have to do much to "stay" creative.  But, applying that creativity to your craft takes some work.  I immerse myself in all things related to toys, like learn about old toys and what worked or did not work in the past, and stay on top of the latest products and walk retail on a weekly basis.  I talk to a lot of people who I consider experts in the business, I ask a lot of questions and try to learn as much as I can.
I also pay attention to trends, whether its entertainment based, product based, or anything for that matter.  Combining all that info with some kind of built in creativity tends to spawn some interesting ideas.
Is there one element that unites everything that Bang Zoom Design has created?
It's something that you can't see in the product itself.  It's that we had a blast behind-the-scenes creating every single invention.  We are a very tight company and we have a ton of fun doing what we do, so the unifying factor is that the development process was a shared effort and we most likely had a lot of laughs (and oftentimes screams).
Bang Zoom has been around since 1991. In terms of industry evolution, what's been the biggest thing to impact the firm in that time?
There have been many changes in the industry that have impacted Bang Zoom, but perhaps the biggest is consolidation.  The toy industry has a tendency toward acquisition, so we end up losing clients when that occurs.  We focus on fewer companies now than we did in the past, but this focus has turned out to be beneficial, as we really get to know and understand those fewer companies better.
How has the last 12 months been for Bang Zoom Design?
It's been good, but has gone so fast…that's the toy biz!  My proudest achievement in the last 12 months was licensing at least one concept in every single category (such as dolls, games, pre-school, action figures, etc.).  That not only shows hard work, but also how diverse we are at Bang Zoom.  We want to be seen as a company that can do it all, and last year proved we can!
Do you think the toy space is in a good place creatively at present?
I think so. Toy companies are trying new things lately, and inventors are not slowing down to deliver new and different things…well…at least Bang Zoom is not!