Streamline Design's David Yakos on creativity, curiosity and why we should be proud of our imaginations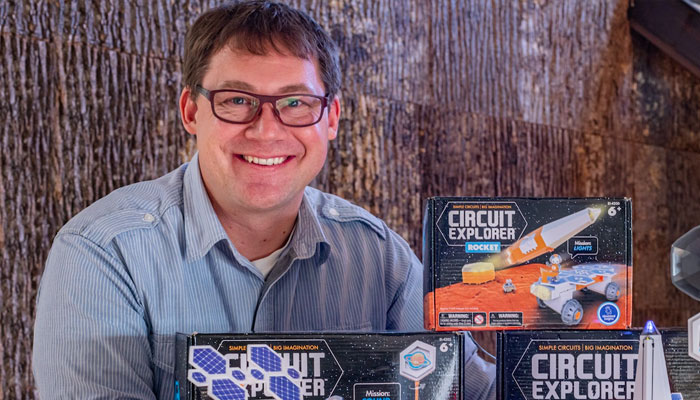 Award-winning inventor David Yakos is the co-founder of Streamline Design, a invention studio responsible for toy and game hits like Thames & Kosmos' Gumball Machine Maker, Gamewright's Long Cow and Educational Insights' Circuit Explorer range.
We caught up with David to learn more about what set him on the path to design, how he found his way into toys – and what fuels his creativity.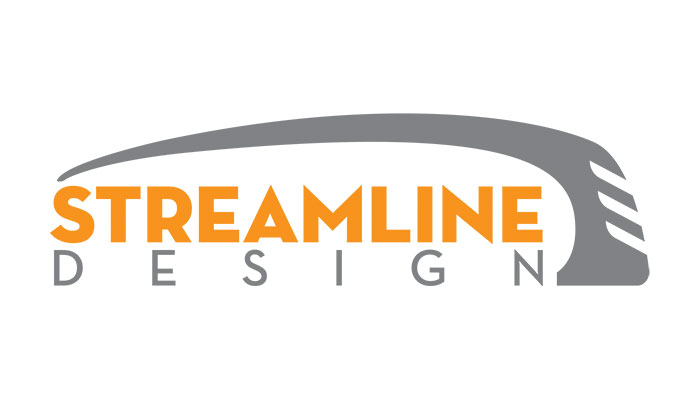 David, it's a pleasure to finally connect. To kick us off, when did you get your passion for design from?
I grew up kind of in the inventing space. Back in the Eighties, there wasn't the term 'maker'. It was more about crafting. My mom had taken a cardboard box, cut it down and made 'David's Creative Corner'. It was my very own maker space in the house. She filled it full of everything; popsicle sticks, Elmer's glue, pipe cleaners, empty bottles… That was my inventing tool kit.
I would invent things in my creative corner and one of my very first inventions was paper shoes. They were made out of construction paper, and I thought they were brilliant because you could fold them flat and mail shoes to your friends in an envelope.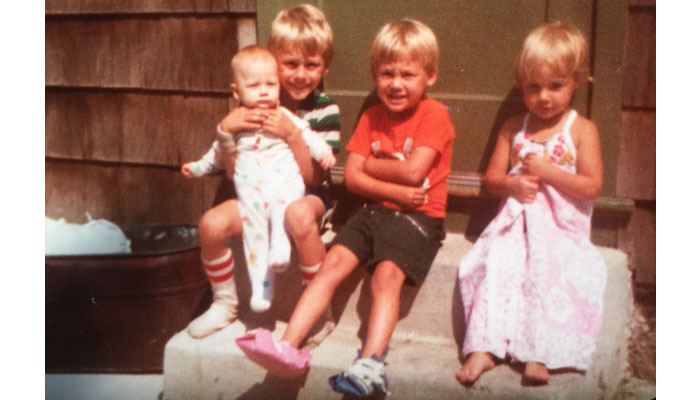 Sounds like a winner to me! And there we have a snap of you in those paper shoes!
Yes! I also tried to make a Flintstones car that I would power with my feet. So I've been making stuff since I was little and I knew I was fulfilled if I was able to get my imagination out into my hands.
Amazing – and what a great thing for your mum to have created for you.
Absolutely. I've got four kids and I live in Montana in a log cabin. We joke that we have free-range children. We also have chickens, but we have free-range children. They play outside and we have a dedicated maker space in the house. It used to be a guest room, but it would only get used every other weekend. Once we took the bed out and made it a full-time maker space, it's now used every day.
Sounds fantastic. So once you'd outgrown your creative corner, how did you turn this passion into a career?
I got a degree in mechanical engineering. It was a very tangible degree. I love the arts – I paint and draw and do a lot of my own art – but I felt a degree in engineering wasn't really up for debate. It was something I needed to go through and learn, and it gave me the framework for design.
Industrial design would've been the alternative, but I went into engineering as an artist and faked my way through the math! I'm kind of a blend of right-brain and left-brain – I argue that everybody is whole-brained but everyone picks a camp. I encourage people to bridge that gap a bit and live in both spaces because that's where I get complete ideas.
After my degree, I eventually started a company with my business partner, Stephen Sanford, called Salient Technologies – www.salient-tech.com. We didn't develop products for the toy and game industry though! I kind of got into this space by accident!
What industries were you working in with Salient?
We developed high-tech aerospace pieces. We worked with NASA developing control valves for the planetary lander called the Morpheus 2. We developed leak-free oil valves, we developed dozens of paediatric wheelchairs for kids around the world across both the high-end market and for developing countries. We've created coffee machines, weed wackers, leaf blowers, ski bindings – you name it!
From NASA to weed wackers – that's versality right there!
Yes, we run the full gamut of consumer product design. We're drawn to that blend of artistry and engineering; that crossover where something has to look good but someone has to see it and understand how it's going to work. It also has to be manufacturable for 20% of a retail cost. That's where our strong suit at Salient came in; we have that blend of creative thinking combined with the analytical.
So how does toy invention enter the scene?
It was about seven years ago. I met Tanya Thompson through a creative conference hosted by HATCH. We would get around 100 of the top creatives from around the planet and pack everyone in one room for five days. Tanya was a guest there and she was at ThinkFun at the time. She asked me if I had any toy or game ideas, so along with a friend, we put one together, showed her and she said "I love it; we'll take it!" It was like going into a casino and the first lever you pull you win!
Suddenly I had this gaming habit where I wanted to come up with more toys and games. The next year I licensed a couple of products that were both nominated for Toy of the Year.
What was that first product that Tanya licensed from you?
That was Maker Studio. It was a kit that utilised shampoo bottles and macaroni cheese boxes with gears and rubber bands to make little machines. It was my childhood realised in a box.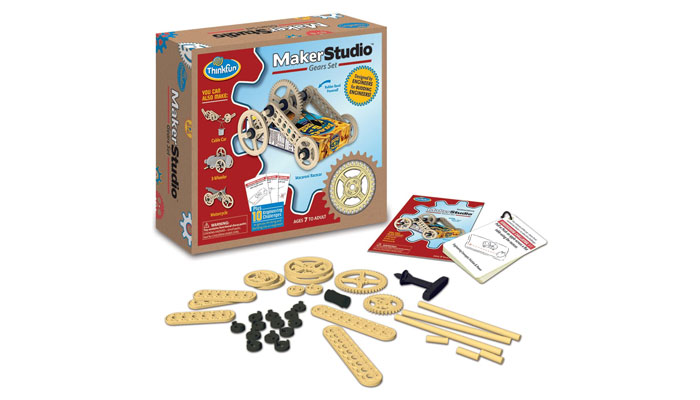 It looks great. Did you have that tucked away already, or did you invent that following the chat with Tanya?
Parker Thomas – the co-inventor – and I were actually going to launch it on Kickstarter and it them as wooden kits. We thought that if someone wants to take it, great – and we'll think of something else.
Well, it certainly worked out! You mentioned two other products that followed Maker Studios that were both up for TOTYs – what were those?
Those were Mega Tracks for Lionel, and then Circuit Maze with ThinkFun. I was named Toy Inventor of the Year at the TAGIEs that year too.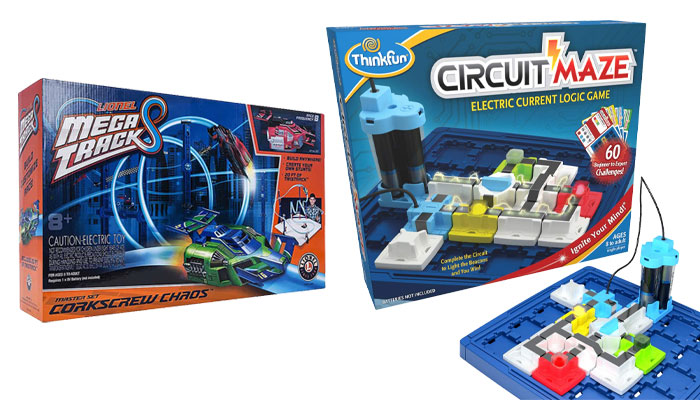 This had all been under Streamline Design – www.streamlineco.com – which is our invention house. We utilise the team we have here at Salient and do that to fill in the gaps between the paid consumer products gigs.
Do the Salient projects inform some of the toy concepts you're inventing with Streamline?
In most industries, everyone is divided into separate towers, and they never talk, so creativity never happens. I think creativity is the ability to connect things that don't normally go together. Having the experience of going into different industries means one little thing could spark the right question or idea that will then inform something in a completely different area. It absolutely overlaps.
Every product – whether it's a coffee machine or a build kit that teaches kids about circuits – has to be made, so it's pretty much the same process; from concept to prototype, to prototype testing and finally, design for production.
 
Is working across different industries one of your biggest means of fuelling creativity?
People that want to live creatively need to read books about everything. They need to listen to podcasts about everything. They need to go to trade shows about everything. They need to buy the plane ticket and figure out the details later – just go!
My wife and I spent about five years travelling internationally and that alone informed so much of my creative process; seeing cultures different to our own daily loop.
Sticking with the diversity of industries that you work across, is there anything unique to the toy industry that you don't see elsewhere?
Absolutely, it's a special industry. Trade show-wise, I've been to everything from housewares to the Valve World, and this is the only industry where you end the day of meetings and then get together with your "competitors" and play games till two in the morning. They become your community and your friends. The ChiTAG community – now People of Play – was instrumental for me. It introduced me to the industry of play and its where I met many people that have become good friends.
Also, typically people working on stuff are enjoying what they're doing! It's not as much of a button-pushing grind. You're working in the industry of play; if you don't like fun get out of it!
Absolutely. Now, delving into your approach to design, if we look at your toy and game output, is there a through line between the sorts of things you're inventing?
There are some veins that have been a little bit stronger. We've found a pretty good niche in STEM and STEAM toys. Some recent examples of that came in 2020, when we were up for two more TOTYS for Crazy Aaron's Thinking Putty Puzzle and Thames & Kosmos' Gumball Machine Maker.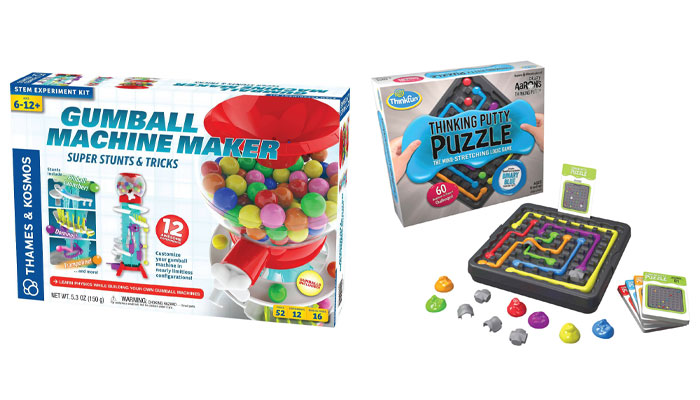 With those, do you set out to design something that is going to help kids develop certain skills, or do you start with 'Wouldn't it be fun for kids to build their own gumball machine"?
Designing an "educational toy" is a mistake. Sneak in the educational part inside the fun; we always start with fun. It's the trojan horse approach! Our most recent one with Thames & Kosmos is the Candy Claw Machine. It's a candy machine, but you're learning about hydraulics and gear ratios accidentally. It's snuck in!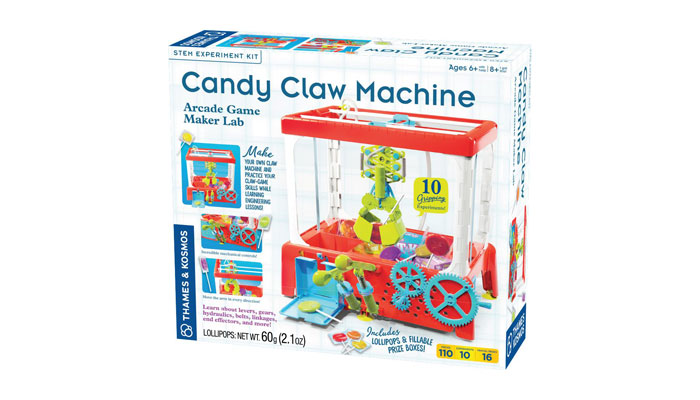 Circuit Maze, which we invented for ThinkFun, really is circuits 101. I started out as an electrical engineer in college, before moving to mechanical. If you go through all these puzzles, you'll have the intuitive nature for this that you'd get from a circuits 101 class at college, but it's snuck into a game.
We try to have a purpose behind our inventions, but some are silly and the purpose with those is simply to bring families together.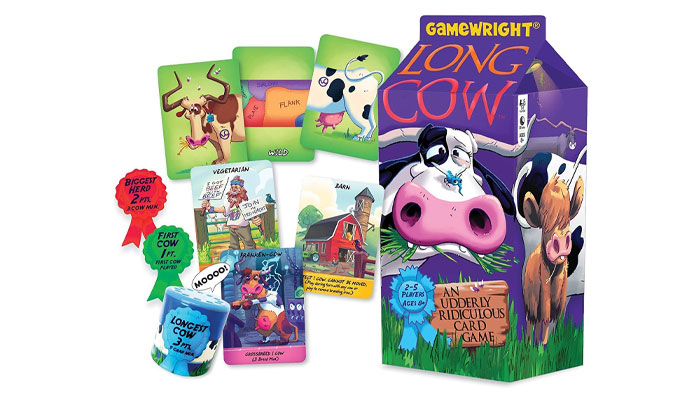 How helpful do you find wish lists?
Wish lists are a framework to say 'This is what our existing toys look like; now fill the gaps.' In my opinion, a wish list isn't a list of what they want; it's more of a list of what they don't want. If they knew what they wanted, they wouldn't ask for it. They help you spot the gaps in a product line.
As we're chatting, I'm trying not to make eye contact with the amazing Einstein mural behind you! If that's anything to go by, I imagine your workspace is a creative, fun one?
Ha, you should see it! We spend a third of our life at work so I want to be in an environment that I enjoy being in. I've painted a number of murals on the walls; I painted Einstein here one weekend.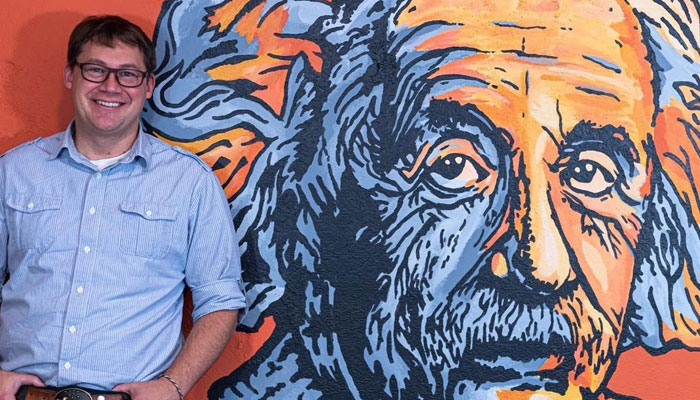 We also have a full prototyping shop which enables us to get our imaginations out as fast as possible and communicating that with people.
With regards to our team, I feel like Voltron. There's all these robots, and you put them together to create one super robot… That's our team here! We have such a great team of industrial designers, engineers, and game designers. Together we are able to attack everything, and we value open communication.
We also built a two-passenger wooden kit plane that we hooked up with RC controllers; they're actually garage door clickers and linear actuators so you can control the flaps. There's a ping pong room, lots of games and we have Nerf battles – there's darts pretty much stuck behind every piece of furniture. In the loft we have instruments set up for a jam. It's a fun space.
It sounds amazing!
There's also something about being in Montana that really speaks to our creative culture. We go on office ski days and do a lot of mountaineering and fly fishing. The Montana lifestyle is about being very active in the wilderness, and then being here on Zoom… I think we get away with both sides!
We've mentioned a few of your award wins, and at last year's TAGIEs, you were named Toy Innovator of the Year for your work on Educational Insights' Circuit Explorer Rocket, Circuit Explorer Rover and Circuit Explorer Deluxe Base Station. Diving into that range, what sparked the idea for that?
When it comes to imaginative play, we want to give kids enough of a framework to see their imagination quickly. In my childhood, I wanted to get my idea into my hands as fast as possible. With build kits, if you can give kids a sense of ownership over what it is they've built, I feel the play and the skills they're learning are imprinted deeper into the brain. They feel like they created it, even though we gave them the building blocks.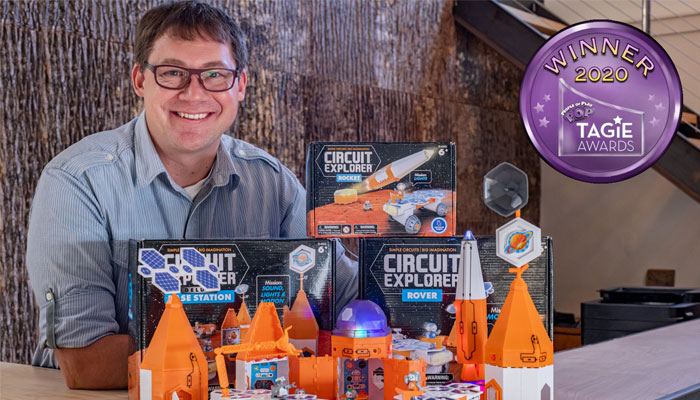 You're essentially doing what you mum did when she built your Creative Corner.
Exactly; that's the idea!
Where do you find ideas come from? What creative habits have you embraced?
Everybody has ideas; they're a dime a dozen. They're not really worth anything until you do something with them – and ideas show up to a lot of people at once because our culture informs our ideas.
Sometimes I'll have an idea because the culture is pushing that and someone across the pond will have the same idea. It's about who acts on it first, so the first thing I always do is write it down or draw it. Then it's not going to go away. It's like dreams – you wake up remembering a great dream, and you've forgotten it by the time you're eating your bacon. Every time I have an idea, I write it down. You've got to.
The other thing is that as adults, our imaginations are beaten out of us. It's deemed childish. I know that every one of my ideas and inventions came out of my imagination. Why on Earth would I give away my creative authority by growing out of it? I will playtest something in my imagination – it's the quickest and cheapest playtest! I encourage people to be proud of their imaginations.
David, this has been great. Before I let you go, we should mention your Hidden Role podcast. What should people know about this?
I came into this world of play and wondered how I hadn't heard these amazing stories. Getting to hear the stories behind the ideas and learn about the inventors' process – I suppose you do this as well; you're doing it right now! So I thought it would be fun to have those conversations and start recording them.
It's been super fun, along with my co-host Branson Faustini, we've spoken to the inventors of Jenga, Twister & Nerf, Bop It, Crazy Aaron's Thinking Putty, Rory's Story Cubes, Ice Cool, Beadle and Grimm's…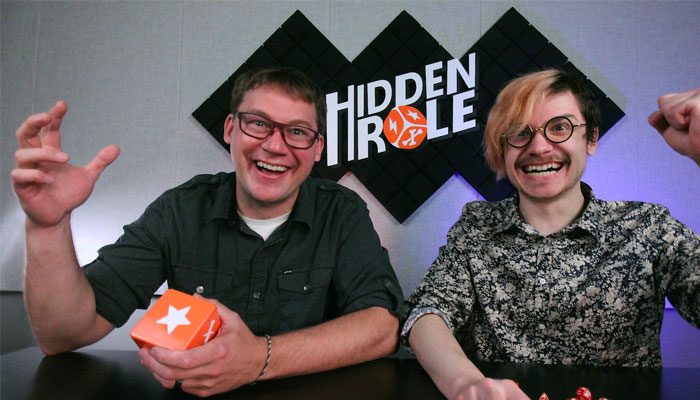 And folks can check those out at https://www.hiddenrolepodcast.com. Before we wrap up, how can companies reach out should they want to connect?
I'm the only David Yakos so I'm easy to find! But they can find our toys and games at http://www.streamlineco.com  or product design and engineering at http//salient-tech.com.
Great stuff. David, this was fun; I'm looking forward to catching up again soon.
—
To stay in the loop with the latest news, interviews and features from the world of toy and game design, sign up to our weekly newsletter here