Streamline Design's David Yakos on putting a fresh twist on a classic with Battleship Royale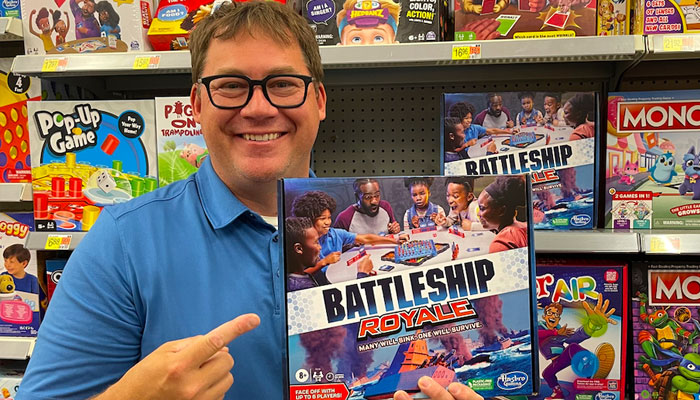 David, it's always great to catch up. You have a fun new game out with Hasbro – Battleship Royale. Talk us through how it plays?
Battleship Royale is an exciting twist on the classic game of Battleship, designed for a social and interactive gaming experience. In the original, you play only two players – and the way they play is what I call "together-apart".
"Together-apart"?
What I mean by that is even though you are playing a game 'together', you are hidden behind screens, don't even have to make eye contact and have limited social interaction… Hence 'apart'… It's like hanging out with your wife on the couch, sending each other Instagram videos!
It's the perfect term for that kind of game. I want it to catch on! But yes, the original Battleship does fall into the 'Together-apart' trap, so you wanted to change that?
Yes! In Battleship Royale you can now play up to six players all together in one battle royale. Each player takes on the role of a naval commander. They draw a few cards with pre-determined ships and locations on them, select the ships they want and place them in their card holder keeping them hidden. If your ship gets hit, you mark it on the card holder with a peg similar to the original.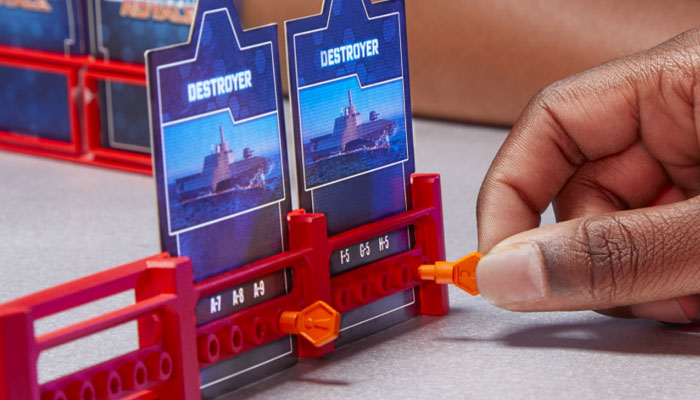 One big change is that instead of each individual placing ships and marking shots behind traditional grid blinds, we've introduced one large body of water in the centre of the table where everyone bombs each other! You can even have submarines below another ship allowing for double hits if you guess the correct spot. The pacing is much quicker than the original, allowing for multiple rounds of party fun. It's a total free-for-all… But there can only be one winner!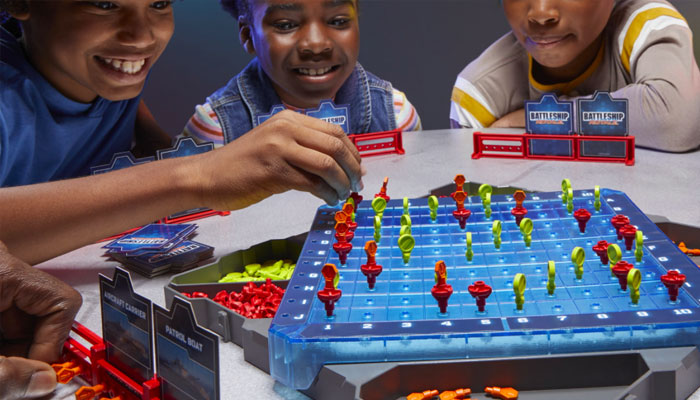 Sound like a lot of fun. Did this idea stem from wanting to bring something new to Battleship? Or did the Battleship connection come later?
The concept for Battleship Royale was indeed born from a desire to breathe new life into a classic and into one of my childhood favourites. Battleship never seemed to make an appearance during family game night, being only a two-player game. I wanted to accommodate more players and introduce a level of social interaction and strategy that wasn't present in the original.
It truly makes it into a party game now. Hasbro has done a killer job with the production design and I'm also very pleased they launched it being more environmentally conscious with "Plastic-Free Packaging"!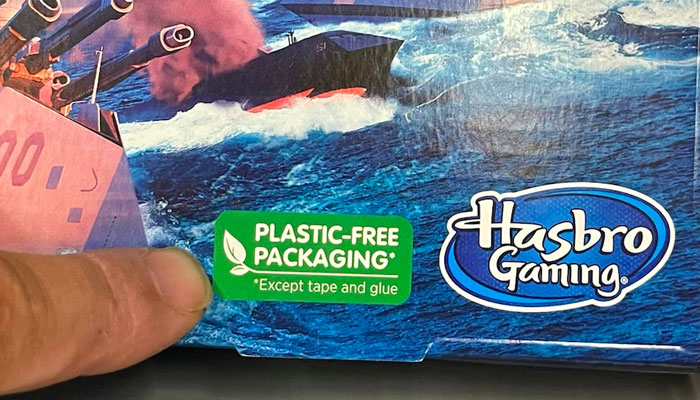 Absolutely – kudos to the team! Now, I can't imagine revamping a classic is easy, so what was the biggest challenge in developing Battleship Royale?
One of the biggest challenges was finding the right balance between strategy and accessibility. We needed to ensure that the game remained true to the brand, while being fun and engaging for both seasoned board gamers and newcomers.
To overcome this, we conducted extensive playtesting and iterated on the game mechanics until we achieved that sweet spot where everyone would enjoy it – while still providing depth for strategy enthusiasts. Hasbro did an amazing job with our concept and now it's making a regular appearance for family game night.
At the end of the day, fun was the most important factor. For instance, one new rule allows players with a submarine to scan a row or column once in a game to get the general location of an opponent. Everyone that has a ship in the called-out row or column needs to respond with a sonar-like "PING"!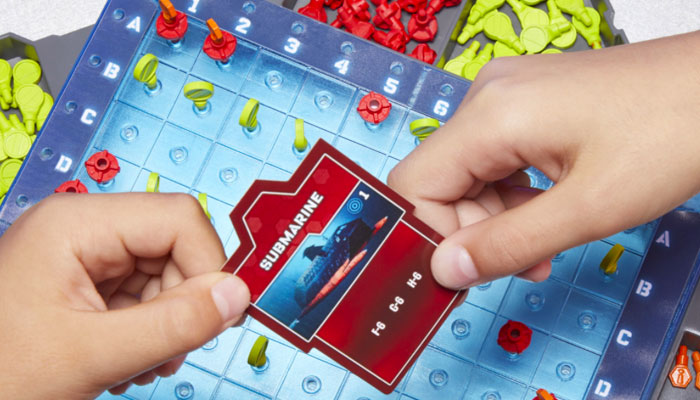 Nice! Is there anything about the original Battleship that makes it ripe for these kinds of playful evolutions? Why is it a rich sandbox for inventors to play in?
Some of the desired play patterns have shifted for players today. Today, people don't seem to want the commitment of a long set-up game. Anytime you can shorten or remove the mundane aspects of a game you make it more relevant for today.
The original Battleship's simplicity and core concept of hidden ships and strategic guessing made it an excellent foundation for playful evolutions. Its familiarity among a wide audience provided a comfortable starting point. Inventors can build upon the framework, while preserving the nostalgic and competitive aspects that people love about a classic game.
Looking at how you approach invention, do you often look to innovate around existing brands?
Even though this is a super fun exercise, I typically don't try to just innovate existing brands. I normally like to create entirely new toys or games. Trying to reinvent a classic is one of the more difficult sandboxes to play in…
Games that aren't tied into one historical intellectual property or company can be pitched to multiple brands and companies – and stand a much better chance at being licensed. When the idea is narrowed down to only one known game, if it doesn't work for that one company during the one pitch, it likely sinks right there. It is fun to do though, and I feel very fortunate that this one worked.
Away from Battleship Royale, are there any other recent launches from you and your team that we should check out?
Yes, absolutely! Our team has been hard at work on several exciting projects over the past year. We have about a dozen new games showing at New York Toy Fair. While I can't reveal all the details just yet, keep an eye on our announcements and stay tuned for more exciting launches in the near future!
Also, voting is currently open where I'm nominated 2023 Game Innovator of the Year for the TAGIE Awards for the games Battleship Royale from Hasbro and The Golden Solution from Identity games.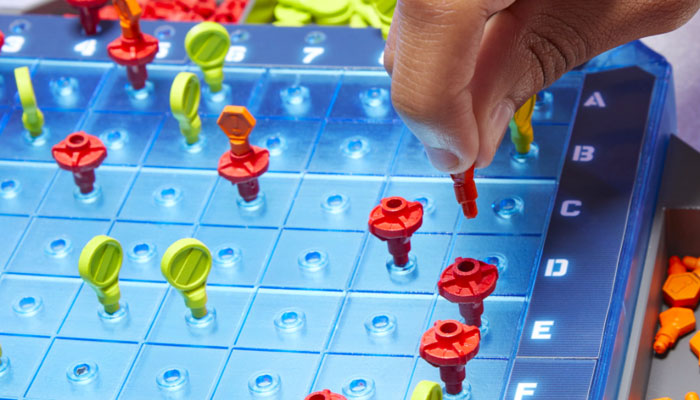 We'll put a link to that here. Good luck! Now, before we let you go, one last question: What would you say is your most underrated invention?
It's difficult to pick just one, but if I had to choose… I probably wouldn't say since it's likely an idea that hasn't seen the light of day yet! The path of the inventor is riddled with so much rejection, review trolls and 'what could have been' ideas. I try not to dwell on what some call 'the failures'. There is only so much creative energy we can output in a day, and I try to keep that aimed at the next big thing. Innovation is an iterative process and you need to be optimistic, persistent and resilient to be successful.
David, always fun to chat. Congrats on Battleship Royale and good luck at the TAGIEs!
–
To stay in the loop with the latest news, interviews and features from the world of toy and game design, sign up to our weekly newsletter here