Stuff We Loved: What are the industry's favourite toy and game launches of 2022?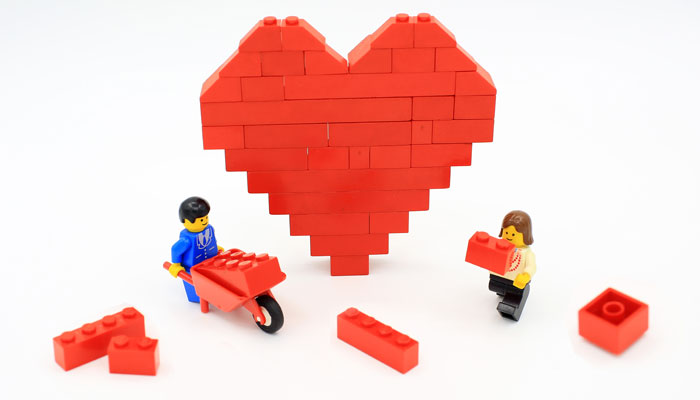 We asked figures in the industry for their favourite toy and game launches of the year. The only caveat… They couldn't choose a product they were involved in!
Here's what they picked….
Don Ullman, Owner, Ulco Toy & Game Co
For me, this would have to be Spin Master's Sink N Sand. I'm sure I'm not the only inventor who had 'quicksand game' written down in their notebook somewhere, but never figured out what to do with it. When I saw Sink N Sand, what struck me was the simplicity of the solution. I love the way the figures slowly fall through the sand. It's such a great effect – truly a great promotable game! It's the perfect use for Kinetic Sand because the properties of that compound allow them to get that effect. The gameplay even feels really familiar, another big plus! Pulling the sticks out feels a little like the classic game Kerplunk. I think kids around the world will have so much fun with this game – I wish I had thought of it!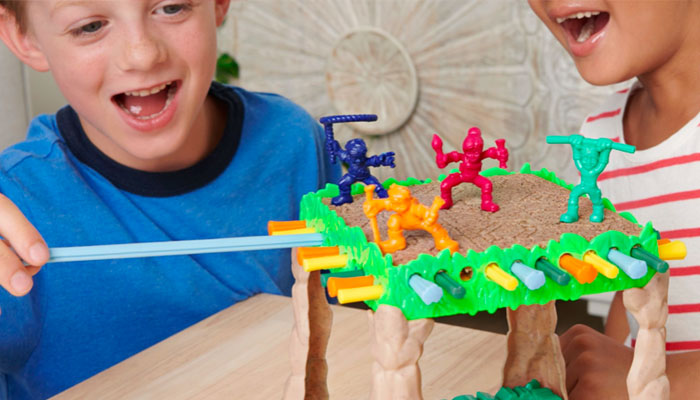 Rikki Devlin, Designer, IDEO
My pick is Magic Mixies Mixlings! Mini magical features with undeniably cute designs and an awesome story that resonates across genders.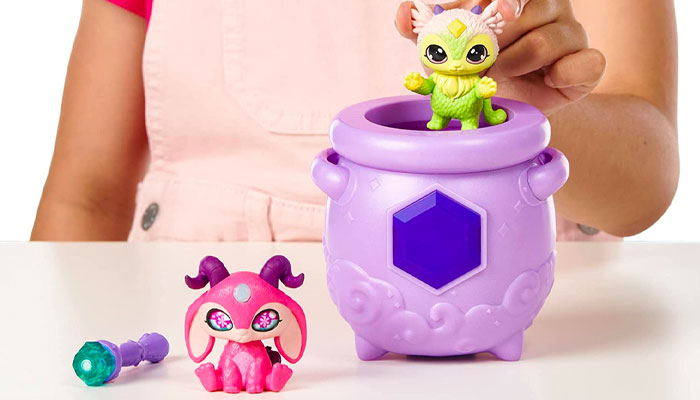 Westley Ciaramella, Partner, Catapult Concepts
My favourite new toy this year is Hot Wheels Skate. A simple innovation of connected sneakers ages down fingerboard play in a fresh new way! My four-year-old daughter loves it!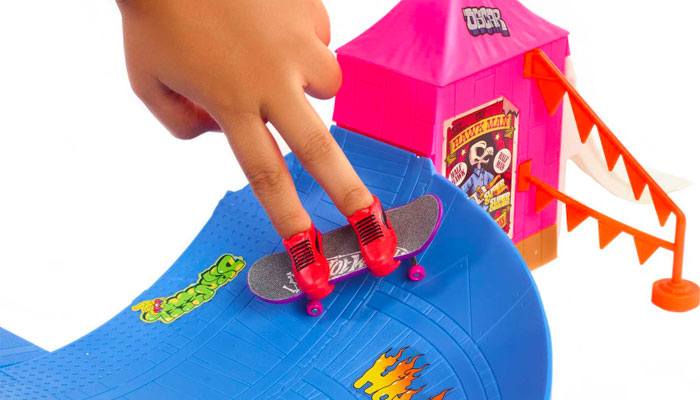 Jon Vanderbeek, Co-Founder, Sweet Spot Studio
GUND's Lil Luvs Fox in a Box, invented by G2 Inventions. It's pretty neat to see a real classic re-invented and branded so that it also makes sense for a classic, quality brand like GUND. This isn't necessarily a blow your mind toy, but it just nails it – and that age of child is absolutely taken by peek-a-boo play. Good Job Nick and Pete!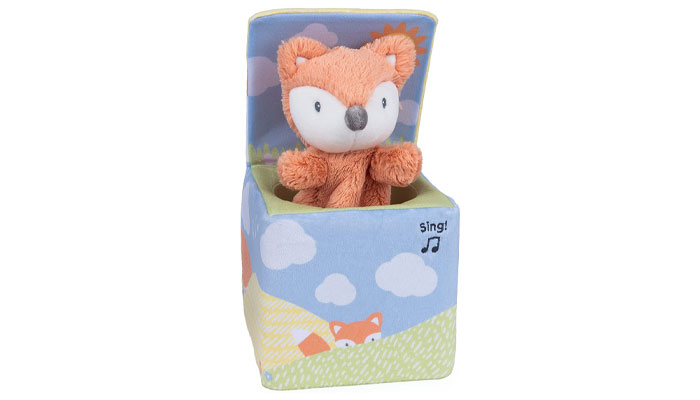 David Blanchard, Vice President, Business Development, GPI
I'd nominate Ken Gruhl and Jeremy Posner's Mantis, published by Exploding Kittens. At GPI, I see a lot of card games every day. Heck, we develop a lot of card games every day! So when I get home from work and my eight-year-old wants to play a game, it better be a damn good one! I was thankful that this year that game was Mantis. There were a few weeks where we were playing it every day, sometimes multiple times per day, yet somehow my family never got sick of it. Exploding Kittens obviously nailed the execution, building off of their signature look – and the little storybook that accompanies the deck of cards was an excellent touch. It might not have won the TOTY this year, but it was easily my family's most played and favourite game of the year.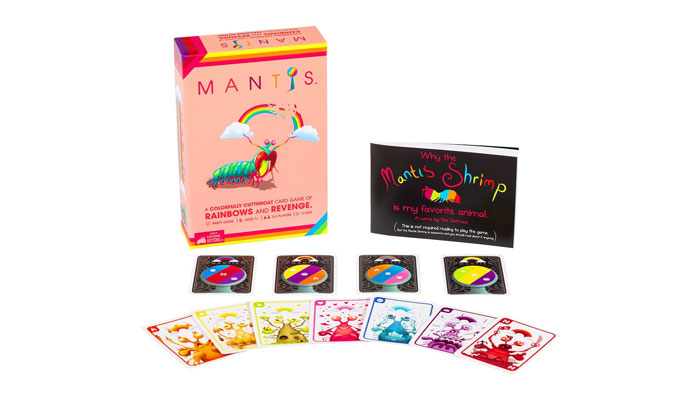 Fi Murray, Creative Director, Making Things Studio
I have two picks! T.A.P.E.S, invented by Fantastic Factory. It's such a fun interactive twist on 'guesstimating' things in silly ways. It's great for the whole family and the theming and graphics look so sharp! My other pick would be Connect 4 Spin, invented by IDEO. It's one of those products that's an instant get; that classic successful formula of 'familiar' yet 'I've never seen this before'. It aligns perfectly with the Connect 4 gaming experience and is executed with such a satisfying 'spin and stop' mech!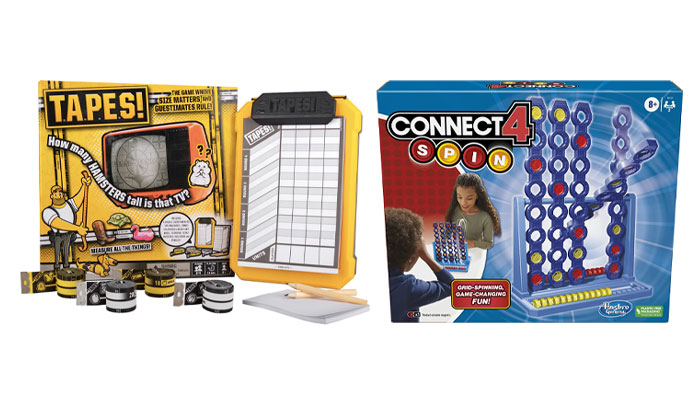 Boaz Coster, Partner, Theora Design
I'd say BUILDZI from Carma Games for being a fresh take on a skill game, Hasbro's Connect 4 Spin for being a lovely twist on a classic and Spin Master's Valor Kick Scooter Scooter – it's neat transportation in a tiny package. I'd also add TOMY's Stack, Rattle & Roll Blocks for its great design, unique appearance and operation.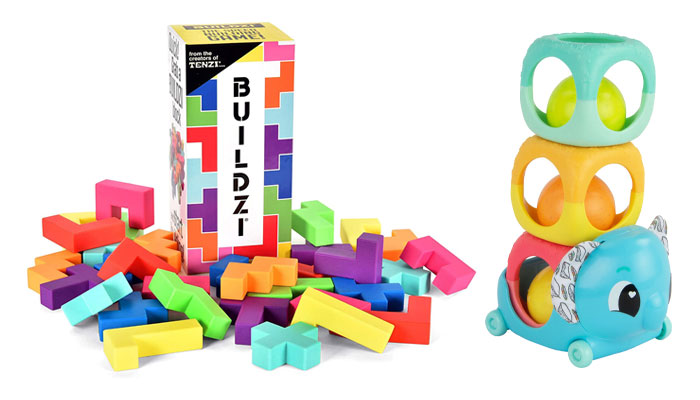 Carine Rosalia, Toy & Game Inventor, Lunch Square Studio
My favourite release was Connect 4 Spin. It's amazing how introducing gravity and luck to this classic game propels the play to new dimensions, literally! It just makes it really exciting and I have been playing it a lot with my family.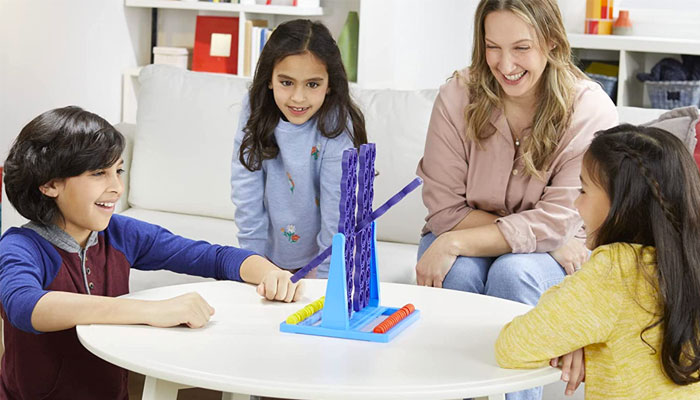 David Snow, Owner, The Fantastic Factory
I love the game Tug by the Confident team. I really like the way they have included the tug-of-war element in the packaging with the rope. I really like using packaging in games and wish I had come up with it. It reminds me of my past with a nod to PE at school, scouts, 'We Are The Champions' on the TV… Who doesn't love a tug of war?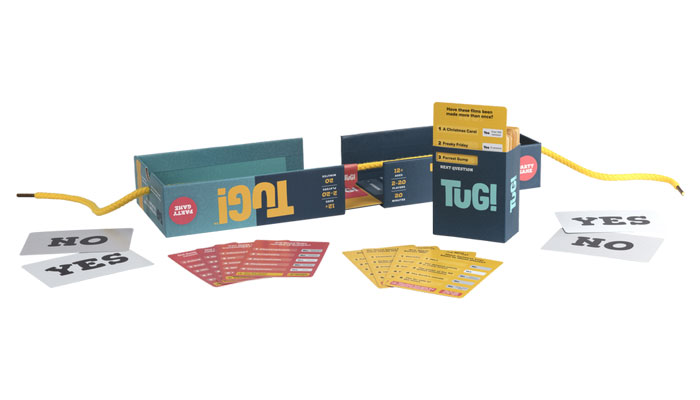 Jazmin Sines, Design & Invention Co-ordinator, So Sound
My favourite game this year is Cluedo: Treachery at Tudor Mansion. I had the pleasure of playing it at LA Toy Fair where Mark, Tanya and Jared from Hasbro showed it to us – super fun! The thing I loved most was the variety of the puzzles you have to complete. I also liked that there was a mix of individual and team challenges. Finally, adding parts to the board to expand the game's play space is great! I'd definitely recommend it.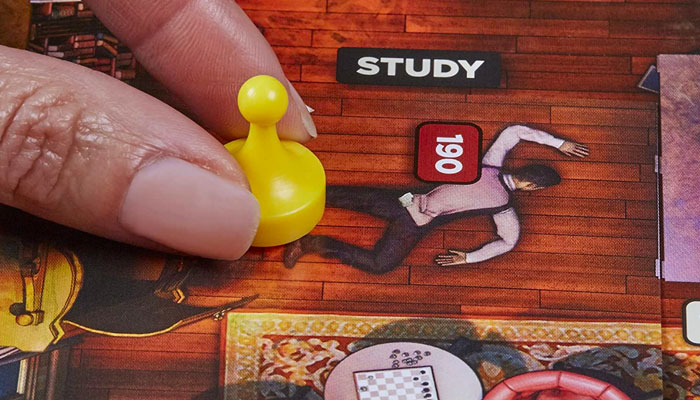 Chrissy Fagerholt, Owner & Inventor, EAP Toy & Games
I want to recognize Ami Baio of Pink Tiger Games. Ami is incredible game creator, who has mastered how to combine, sweetness, connection and novelty into her games. Mix her mechanics with beautiful, simple artwork and you have games you want to display on a coffee table for people to pick up and enjoy. This year, Ami's game Lost For Words combined over 300 words from over 70 different languages. What a unique way to incorporate languages and play?!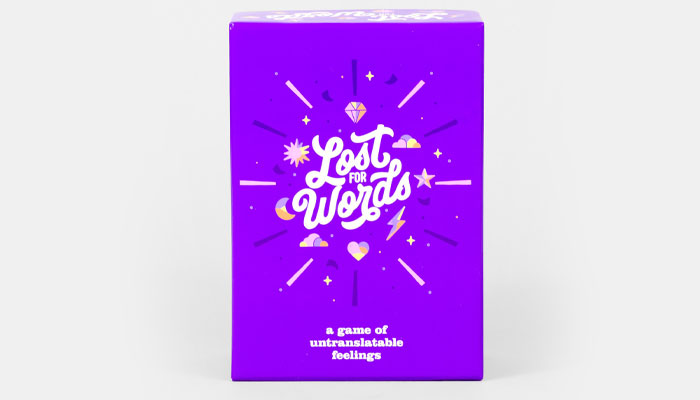 Jussi Lindberg, Principal Designer, Tactic Games
At the moment, my favorite game is Illusion. My colleague bought this little game from this year's Essen Spiel Fair and I had to get it for myself too. An arrow determines which colour is played. The cards on the table must be ordered so that the proportion of the respective colour must be increasingly higher in the direction of the arrow. The player must either play a card and arrange it in the row, or doubt the accuracy of the complete row. It sounds simple and that's what makes it so attractive – and challenging.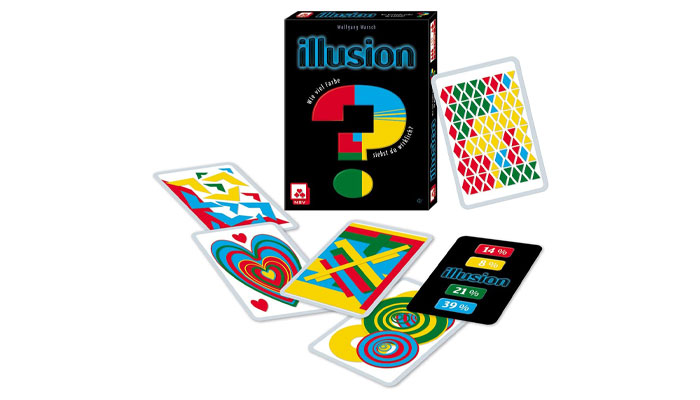 Richard North, CEO, Wow! Stuff
The toy – well, is it a toy? – that I wished Wow! Stuff had made this year ­– other than what we did make and which we're definitely very proud of – has to be Squishmallows. The brand gets better and better.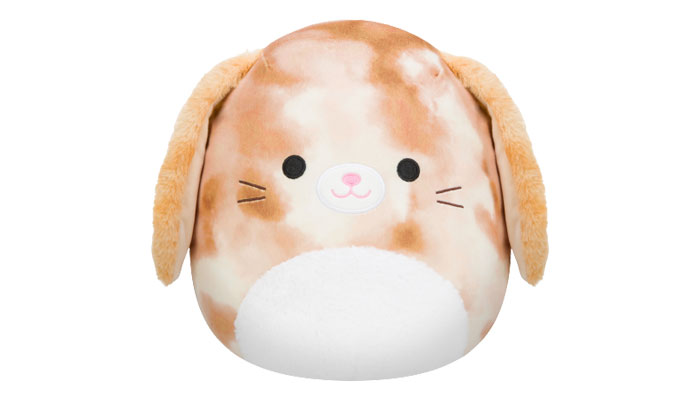 Gavin Ucko, The Happy Puzzle Company
I'd pick Head Spin by Project Genius, because sometimes you just wonder how nobody ever thought of this idea before!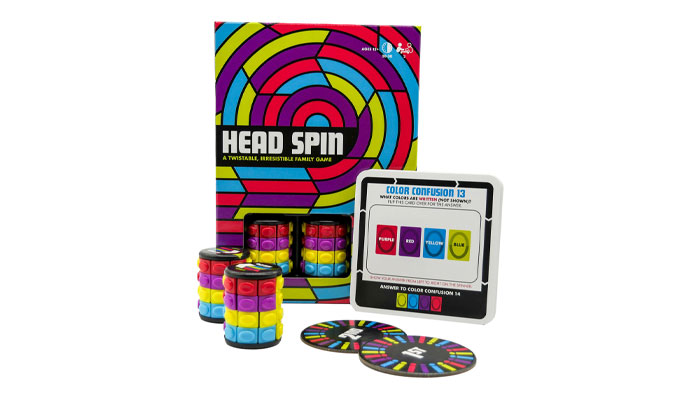 Evan Buzzerio, Chief Strategic Officer & Partner, Horizon Group USA
Hands down it's the Gel Blaster StarFire! Turn off the screens, get the family outdoors and feel your adrenaline pumping. When the sun goes down, the glowing gellets keep us firing on all cylinders. We love our Gel Blasters! It helps you destress and get outside as a family, reduces screen time and the gellets are mess-free as they are safe and biodegradable. Oh, and the styling of the Starfire is fresh and fun for the entire family!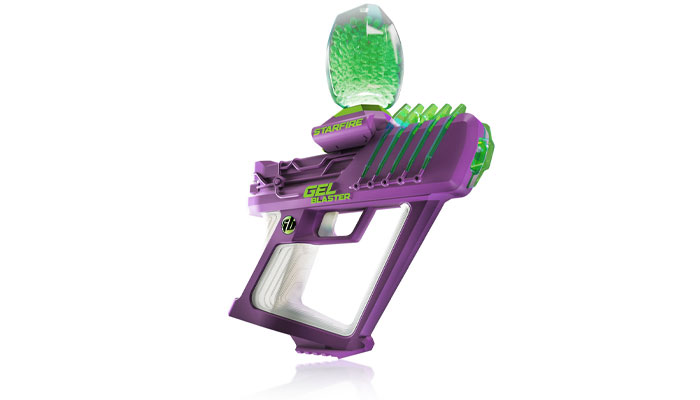 Adam Hocherman, SVP, Product Development & Innovation, Fat Brain Toys
I'll throw my hat in for Jeremy Posner and Ken Gruhl's Bluffaneer, published by Big G. This is a cool little dice game that I had seen in my prior IR role, but the way it was brought to life and for the price point (USD $9.99) is just amazing. Truly one of the most eye-catching packages I have seen.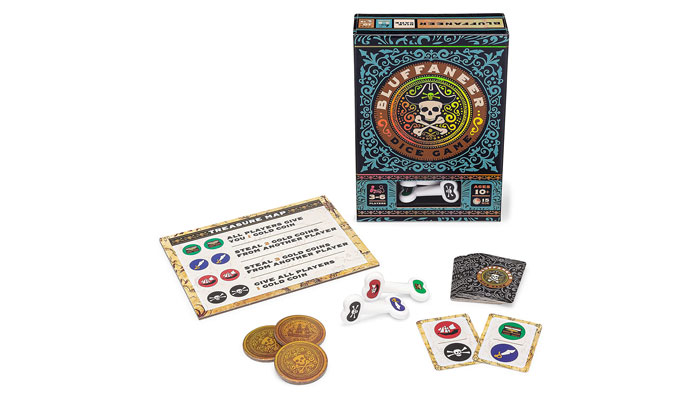 Alex Reynolds, Head of Research & Development, Casdon
I love the new Zuru X-Shot Skins range. It's such a visual shift from the norm in that space by placing art over the whole blaster, giving the child an assortment of skins available to pick their favourite colour and show-off their personality. Plus, Zuru's art on this year's release is awesome. From a commercial point of view, this gives Zuru the power to move very quickly on future trends or licences for speed to market… Very clever indeed!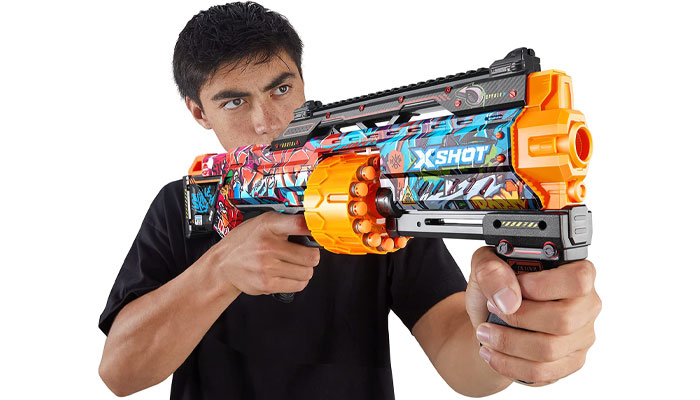 Darren Lee Phillipson, Toy and Content Development Architect, design_lead_play
My pick is Avalon Hill's HeroQuest board game that was launched on the Hasbro Pulse crowdfunding platform. The game itself is a recreation of a classic board game under the same name that was produced by Milton Bradley in 1990. I absolutely loved playing the original and Avalon Hill takes the game to a whole new level. HeroQuest is a Dungeons & Dragons-style adventure game which is extremely immersive and more accessible to younger players who might find D&D a little too complex. For me, the biggest draw is the fact that it includes tons of extremely detailed 3D miniatures and environmental pieces. It's just as much fun to admire the sculpting of the monsters and heroes as it is to play the game! They have also introduced some fantastic expansion packs to broaden the play experience. I'm just waiting for Hasbro to re-release the other 1990 Milton Bradley board game classic… Space Crusade!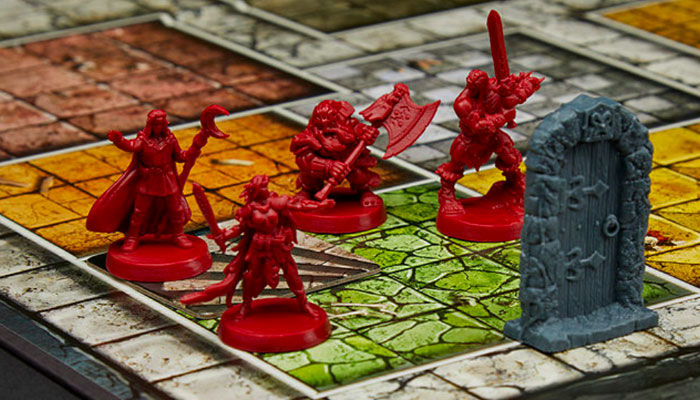 Tony Serebriany, Senior Director, Inventor Relations & International Sales, USAopoly
There's a few! First would be Wonderlands War. I've only played this game once so far, but it has an amazing table presence, beautiful art and stunning components. The game looks like it would be a bit daunting, but I am confident that I would be able to not only teach my family to play, but they would really like the game as well.
Then there's Ark Nova. This is a much heavier game than I normally gravitate towards, however I played with folks that had played before so they could teach as we all played. Although this game lasted over four hours, I was engaged the whole time, and was understanding more and more about the game and the choices one could make by seeing what the other players were doing in the building of their zoos.
Another pick would be Scout. This clever little card game has resonated with so many folks that I know, and it's one I want to play over and over. The theme isn't at all important in the game play, but the simplicity of the game play allows one to overlook this.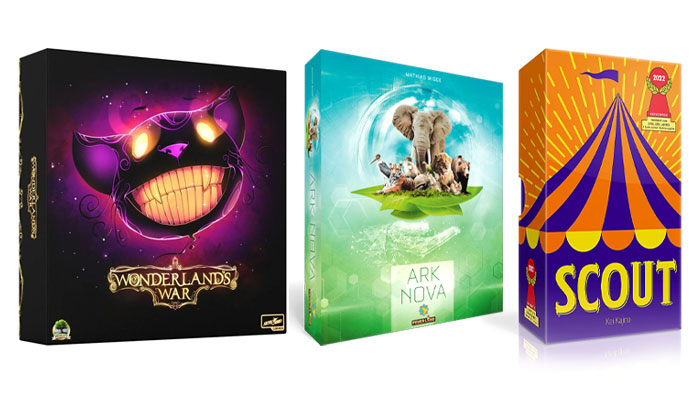 –
To stay in the loop with the latest news, interviews and features from the world of toy and game design, sign up to our weekly newsletter here