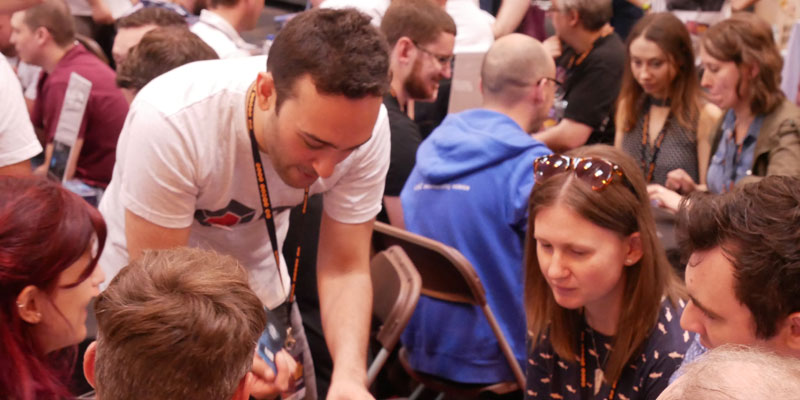 Inside the Box Games had a very good UK Games Expo. As well as demoing their titles to thousands of gamers, the London-based indie games publisher scooped two awards: Best Card Game 2017 for Statecraft and Best European Style Game 2017 for Sub Terra.
Sub Terra actually started life at the show last year, when creator Tim Pinder took the concept to Wyvern's Lair – a strand of UK Games Expo that puts designers together in the same room with individuals who make, publish and distribute games. It was there that Pinder met Inside the Box founder Peter Blenkharn and 12 months (and one very successful Kickstarter campaign) later, the game is readying to land in the hands of backers in November.
We caught up with Pinder at this year's UK Games Expo to talk about the brilliant reaction to his first published game and where he first got the idea for Sub Terra.
Is Sub Terra your first taste of game design?
Sub Terra is my first published game. I've been designing board games casually for the last three years now, but my main career is in the video games industry as an AI programmer. I've always been interested in board games but to go from making a prototype and playing it with friends to creating a boxed product is something I hadn't considered before. It's been a fun year!
Where did the idea for Sub Terra come from?
The theme is very similar to the film The Descent, and it certainly helped me solidify the theme once I'd got the concept in place, but I didn't set out to make a board game version of that film. I like challenges. With all the prototypes I was creating, I was never setting out to make a saleable product. I was never looking to fill a gap in any market; I was just satisfying my own curiosity.
I noticed that in my main play group, we played a lot of competitive games but we didn't play many co-operative games, and when we did, we only played them once or twice because we figured out how to solve them and then left them alone. Pandemic is a good example of this. Pandemic is a wonderful game for the audience it's pitched to, but for people that play a lot of games, once you've identified the main strategies involved, it loses a lot of its appeal. So I identified that making co-op games that have lasting appeal is difficult, so I wanted to make one that I would find entertaining for a long period of time.
I get bored very easily and when you get bored of testing your own game, that's usually the time I would stop and move onto something else. The nice thing about Sub Terra was that even having gone through several months of development and several different iterations of the game; I was still having fun with it.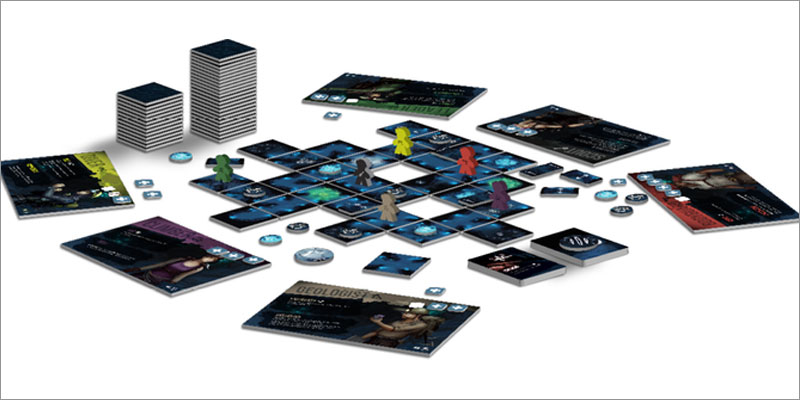 What part did last year's UK Games Expo play in making your concept for Sub Terra into a reality?
My brother had seen the Wyvern's Lair competition online [UK Game Expo's Wyvern's Lair aims to put designers together in the same room with individuals who make, publish and distribute games in the hope of helping concepts get made] and he said I should go and try my luck. Sub Terra was my best candidate for that and I paid attention to the brief that was given, submitted a one page pitch document and then the top ten finalists go through to the day. I got through the first round and then had to prepare a four minute presentation to try and sell my idea to the publishers. I'm not a huge fan of public speaking so it was daunting but it went pretty well.
I got a fair bit of publisher interest on the day itself and the audience seemed really enthused as well. It was really nice. I'd never had that kind of personal feedback to something I had created myself. I've worked on video games before that people have liked but they're always collaborative efforts, so it was rewarding to have that nice feedback.
After a few discussions with some publishers, I signed with Peter Blenkharn from Inside the Box Games and settled into a creative director role of managing the art direction and refining the core game concept.
What makes Inside the Box Games a great partner to work with on Sub Terra?
The wonderful thing about publishers is that they provide skills and resources you may not necessarily have as a solo designer. Kickstarter lowers the barriers to entry fantastically for anyone who wants to self publish their own game, but publishing is a whole different ball game. It's not as easy as 'I've got a great idea' and then a few steps later you have a boxed product. There's a lot more to it – manufacturing, distribution, marketing as well as getting the Kickstarter campaign set up and getting buzz around it. That's something I could not have done without the help of Inside the Box.
Sub Terra raised £368,256 from a goal of £16,500 on Kickstarter. Did its popularity on the site come as a surprise?
It was a massive surprise. From the feelers and pre-Kickstarter marketing that Peter had done leading up to the campaign, he was confident that there was buzz; people were excited and enthused about the idea. We thought we'd fund. We set a modest goal of £16,500 and Peter's best case estimate was that we might hit £100,000. I thought he was mad – utterly insane. His previous product, Statecraft, did about $40,000 over its run, which was really good, so I was hoping Sub Terra would do something similar to that. I'm still not entirely sure why we blew through that in the opening day of the campaign, and then carried on accelerating and ending up on that ridiculous number. I guess there are a number of different factors. We have fantastic artwork from David Franco Campos. We had Peter's experience from previous campaigns. We had a game that played really well. And I'm sure there are other aspects which I'm forgetting!
People responded to the game really well and I'm very grateful that they've been so nice about the whole thing. Most interactions on the internet aren't particularly friendly but this Kickstarter experience was a massive departure from that. Everyone was lovely. There are a few sensibly concerned people posting comments and we'd reply looking to clarify a few issues, but that's as bad as it got. It's been a wonderful experience.
With your day job in video games, have any colleagues approached you about doing a board game adaptation of a video game?
Not yet, but on the flipside, if they did, I wouldn't be able to talk about it!
What are you working on next?
With regard to board games, I don't know. I'm playing it by ear. I don't want to rush anything out that I wouldn't be proud of. I'm playing around with ideas in my spare time and if I stumble across something that I think is good, I'll definitely pursue that.
I know it's not even out yet, but have you got future expansions or spin-offs planned for Sub Terra?
We had three mini expansions included within the Kickstarter campaign that were finalised way ahead of time because I didn't want to rush expansion content through right at the end. I don't want people investing their money in a sub par product. We did them in advance so I could be sure that they were solid additions. But in designing those expansions, I realised there isn't much design space left in the core Sub Terra experience. The cave setting is fairly restrictive. The semi-plausibility of the setting is appealing and I didn't want to ruin that by just adding a load of crazy stuff in. Currently there are no plans to do any extra Sub Terra expansions, other than the three that are already there – Investigation, Extraction and Annihilation. But that doesn't stop us doing future games in a similar style but in a new setting. The core mechanics are generic enough that you could transpose them to another setting that might be a better fit for some crazy ideas.
Save