Tantrum's Steve Moore on collaborations, transformations and the 'Solo Inventors Union'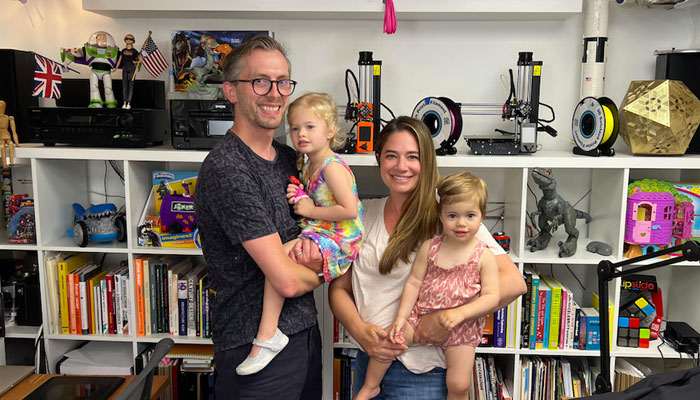 Steve, it's always great to catch up. We last did an interview in October 2019, just after you'd launched your own invention studio in Tantrum Innovation. Not long after we spoke, the world changed! How has the past few years been for you?
Well, when the pandemic happened six months after setting up, I was a bit concerned. It was pretty scary… Everyone around me, even at bigger studios like IDEO and at the toy companies, were trying to figure it all out – but being a one-man-band, I'd already gone social distanced! It was sort of business as usual, however sadly I wasn't seeing people at the weekend.
Riding the Covid wave, then Putin invading Ukraine, then the global recession… It's not been the perfect time to launch a new venture – but I don't think there's ever a perfect time!
Well, people always talk about Tantrum in glowing terms so I think it's all worked out! Was there an adjustment period to working solo?
I think so… I was at Fuse, then at IDEO; both big companies in the inventor space. By going solo, I stumbled across the 'Solo Inventors Union'. We all loosely compare notes on deal points or how we interact with certain companies. I really appreciate that support and sense of community.
Also, clients that I'd worked with for a long time in my previous roles have been fantastic since I set up Tantrum. The Barbie team – who knew me really well from when I worked at IDEO – have been particularly amazing and Mattel as a whole has been very encouraging and collaborative.
Spin Master, Jazwares and Playmates have also been incredible to interact with and have welcomed me with open arms, making me part of the core roster of who they'd see on sweeps, which has been amazing… I've been very fortunate.
You're based in the San Francisco Bay Area. Is there anything about the creative culture there that feeds into what you do?
When I left London, I knew I wanted to come to either San Francisco or New York. I wanted to move to a creative hub. A good friend of mine from my RCA class was already over here working at IDEO and told me about the amazing bubble of optimism in the bay. Companies are starting up in garages and becoming multi-billion dollar empires here. There's a tremendous drive to create new experiences and technologies.
I found living in the UK, if your business went under, it's like 'Oh, you've failed'. In Silicon Valley, it's like 'Oh, well you've learnt from that. Your next project will be better.' There's a level of confidence in 'why not give it a try?'
What was the first item you licensed as Tantrum?
The first thing I got away was the Rock 'Em Sock 'Em Robots: Blue vs Atrociraptor Jurassic World Dominion game.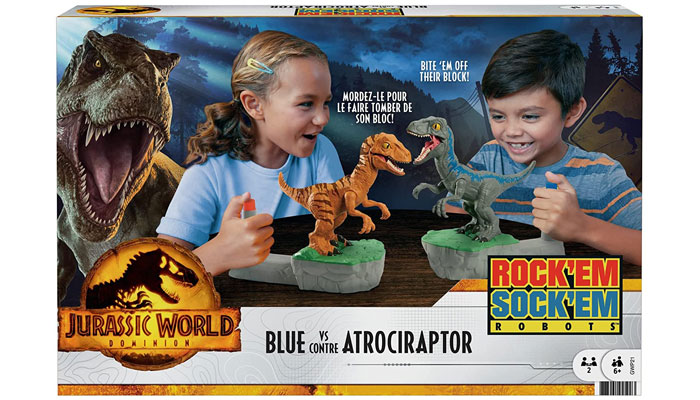 Quite a title!
Well, my original concept was called Monster Munch!
So it didn't start life as a Jurassic World idea?
Well, it didn't start life as a game! The very first model I made was pretty raw, where you would push down on its tail and its head would lurch forward and grab. The idea was that one jaw bite could envelope another and vice versa.
I made multiple much improved models after that one. I actually licensed it six or seven months after setting up Tantrum, but the Jurassic movie got pushed back because of Covid, so it only came out last year.
When I pitched it, it turned out Mattel had been looking to figure out how to do a Jurassic Rock 'Em Sock 'Em game. It was amazing timing. An idea is probably a third of what you need to get something licensed… You need a great idea, at the right time, with the right relationship – and a lot of luck. So it's more like a quarter of what you need!
And did the Mattel games team make the Jurassic link as soon as they saw the idea?
I was actually in an action figure meeting with Derek Handy's team at Mattel, showing them my fighting dinosaurs concept. I was pitching it as a whole line for Jurassic. They said: "It feels like a game, why don't you show it to the games team?"
I walked out and bumped straight into Naomi Brugnatelli, who was the IR person for Mattel Games at the time. I was a bit flustered and said "I think I have a game…" So she walked me straight into a quick meeting with her and Brian Yu, showed them the Monster Munch video and they liked it. I developed it a bit more and then they ran with it.
Was that extra development centred on making it fit with the Rock 'Em Sock 'Em brand?
When I pitched it to Naomi and Brian, I wasn't actually thinking of Rock 'Em Sock 'Em robots at all. They made that connection and they put it on the base and added the push button. They took my raw lunging and grabbing mechanism, put it on a base and did a beautiful sculpt. It was a great collaboration.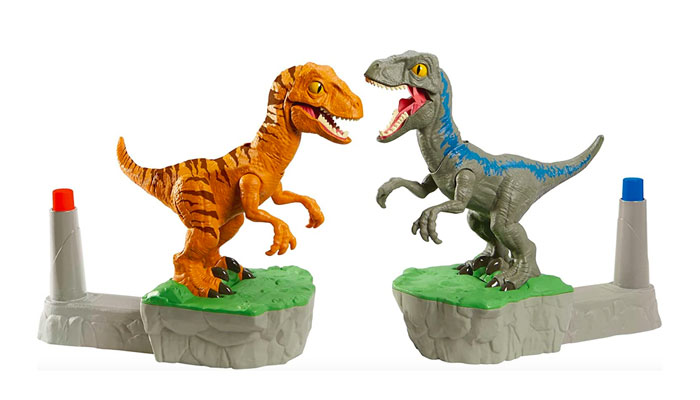 A great example of a team having the vision to see where a concept could go.
The best design teams are the ones with the imagination and willingness to work with you to push an idea. I'm really collaborative as an inventor – I get excited when a company wants to take ownership of an idea or really champion something, but also love to be closely involved to hone a concept to a specific need/opportunity. Brian and Ray Adler on the games team are particularly fantastic at that– they saw my idea and said "Let's go for it."
You've touched on it there but what do you think is key for good inventor relations?
For me it's transparency, giving clear feedback and not sugar-coating things. We as inventors need to understand what has gone into a 'No'. Is it a bad idea? Is it market forces? Did it test poorly with kids? Is it costing? If it's costing, give me two days and I'll come back with some ways to cost-reduce it. It's that collaborative approach that I love.
I've been most successful with companies where I can form a working relationship and a personal friendship with the design heads and design teams. With inventor relations, I want them to facilitate conversations, give detailed feedback and be on it when it comes to giving updates. As a solo inventor, you don't want to waste too much time chasing people.
How would you describe your approach to invention?
I spend most of my time on certain brands, so with those items, I can't really show them anywhere else because they're so brand specific. It can be a risk, but with companies where I have close relationships, I'll take the gamble. It can help build relationships too, and if it pays off, that's great.
With other ideas, I'll keep them more generic so I can show more people. But be honest, I only really focus on a few clients – I try and work with my friends.
Digging into that a little, what sorts of inventions do you find yourself working on? Or do you keep it deliberately varied?
I try to keep it varied. I am a mechanically skilled inventor at my core, however with key collaborators I'm playing in the animatronic feature plush, RC and connected toys/games spaces. It keeps things fresh and I'm always learning new skills.
For my solo invention work, I really love doing architectural inventions. I've created three Barbie campers. I worked on the Barbie smart house and the first Monster High school. I really love creating props for imagination, where children can tell lots of stories with the toy. Since setting up Tantrum, I created the Barbie Chelsea Playhouse, which came out last year. Utilising a simple transformation mechanism, there's so many potential story starters. I've created a lot of play-set mechanisms, which I always try to ground them in story.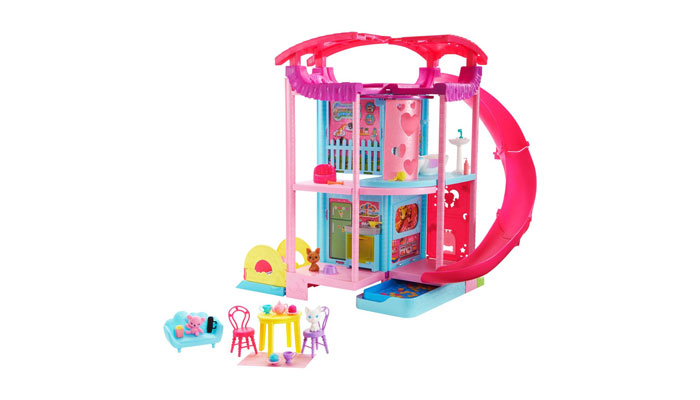 Like a lot of inventors, I love transformations. I invented the Miraculous Switch N Go Scooter which came out from Playmates. You press a button and it transforms from a yoyo into a scooter.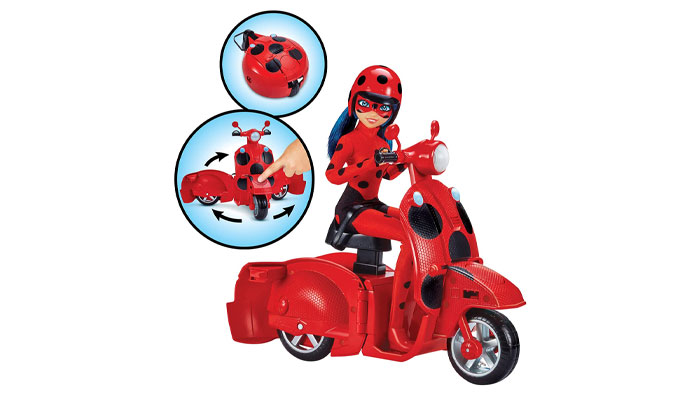 I also love to create high action mechanisms to stimulate play. I have a product called the Kick cycle for the new Turtles movie coming out this year, also with Playmates, which allows an action figure to jump up and kick bad guys while driving a motorbike.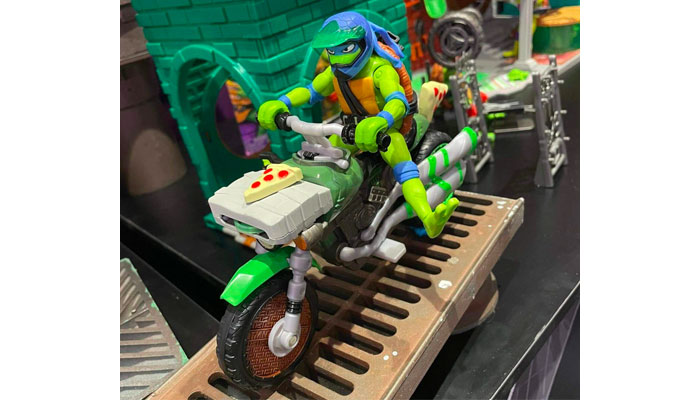 I also have a new pool game that just hit the market called the Mystery Key Treasure challenge with Goliath. It has a lock randomiser so you never know which key will open the chest to release the treasure. At its core it has a simple mechanism which unlocks a really fun new play pattern.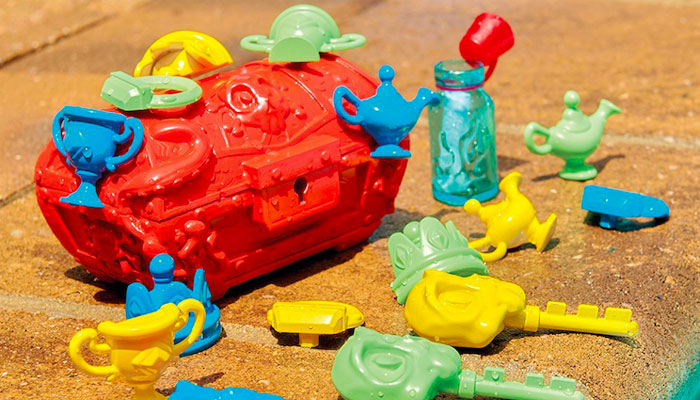 With transformation-centric inventions, what guides that process?
I learned a lot at Fuse and IDEO. Some of it comes from the story, like with the Miraculous scooter. That idea stemmed from the question: How can I make a ninja vehicle? That was it! Creating a vehicle where stealth was a key factor.
Sometimes it's more about looking at how to swap things around or asking yourself 'What would happen if it did that?' It's a lot of hacking things together and making origami mock-ups. It's very organic and just seems to happen. Sometimes nothing will come from it initially, and then a few months later I'll look at it and think 'Oh, that could work for Paw Patrol!'
Steve, before we start to wrap up, what would you say is your most underrated invention?
One I'm most proud of is Battle Cubes. Over 10 years ago, I came up with the very early iteration while I was at Fuse. It was an 'eat or be eaten' play pattern. I developed different mechanisms to do it and I was so excited when the idea first popped up. I remember I was sat next to Oli Morris and said "Oooo – check this out Oli!"
It was sold to Playmates as Kuroba first. It was battling for girls. Now it's with Eolo as Battle Cubes with the Marvel licence. The Fuse team created many iterations on the mechanism after I left, so it was very much a many hands team effort, but I'm so pleased it made it to market as it's such a break frame way of doing battling play.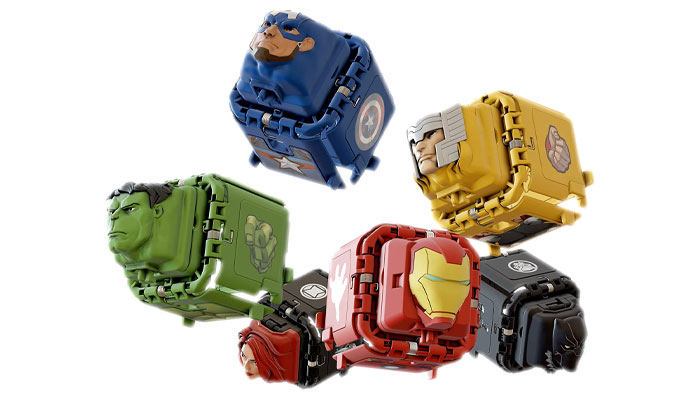 I also love the inventions that my kids play with again and again. They play with the Chelsea play house every day, which is lovely. I get a kick out of seeing kids on YouTube talk about my toys, but seeing my own kids play with them is really special. If I've had a rough day, filled with rejections, I walk upstairs and see Sophie and Eva playing with the Chelsea house. That's enough for me to think 'ok, I'll keep going.'
A lovely note to end on! Thanks again Steve, let's tie-in again soon.
–
To stay in the loop with the latest news, interviews and features from the world of toy and game design, sign up to our weekly newsletter here