Back in 2018, Jack Andrews – a design teacher at Simon Balle secondary school – and six of his students – Bailey, Billy, Dan, Fynn, Loui and Ross – took part in the Design Museum's Design Ventura competition.
Over 14,300 students from 271 schools across the UK took part in the initiative, built around designing something to solve an everyday problem. Jack's team won with a card game idea to tackle childhood obesity – Active Snap – and following their win, they worked with design studio Triple Double to develop the game further, before it eventually launched in Museum shop in June 2019.
A few months later, Jack took Active Snap to the Mojo Pitch, where the concept impressed TOMY's Alpesh Patel and the company licensed it. With the game now out on shelves, we caught up with Jack to find out more about the game's route to market, why TOMY was the perfect fit, and what to expect next from his team of teen design stars.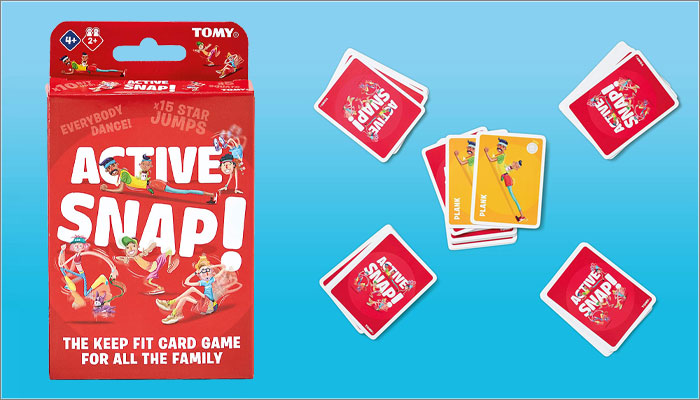 Hi Jack, how did you get started in the world of design?
When I was at Sixth Form, I did art and product design, and my art teacher really sparked my interest in art and design. I then went to Lincoln University to study product design, and on the course we did a project with a company called Slam who specialise in humorous novelty gifts. I designed the Claude bird feeder and that product actually launched with them. Basically, rather than the cat eating the birds, the birds eat the cat – a new twist on an old tale! I've actually got one hanging in my garden now!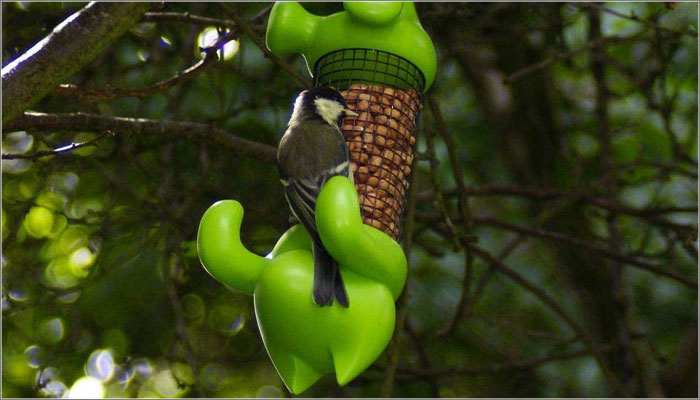 I liked the humour and fun of that project but once I graduated, I didn't see any jobs that took my fancy. I'd always liked the idea of teaching, and there was a PGCE course available in Cambridge, so I gave that a go. I wanted to try and do teaching and freelance design work at the same time, and that is where I'm at now; doing both and bringing that real-world experience into my classroom. It's the best way; practice what you preach!
When you're teaching, how much is it nurturing natural design talent versus trying to get talent interested in design?
It's both. It's my job to make it interesting, because if we were all just making bird feeders for seven years, the students wouldn't be interested. I've tried to marry design problem-solving with the traditional making side of it. We create cool projects that we hope will inspire students to embrace design, and then it's on them to have that drive and that ambition to want to do well.
So, moving onto your new game, TOMY's Active Snap; where did the idea for the game come from?
Active Snap was born as a response to rising childhood obesity levels and physical activity reducing in young people. The challenge was part of the Design Museum's Design Ventura competition, so there were a few constraints, like our concept had to retail for under £10.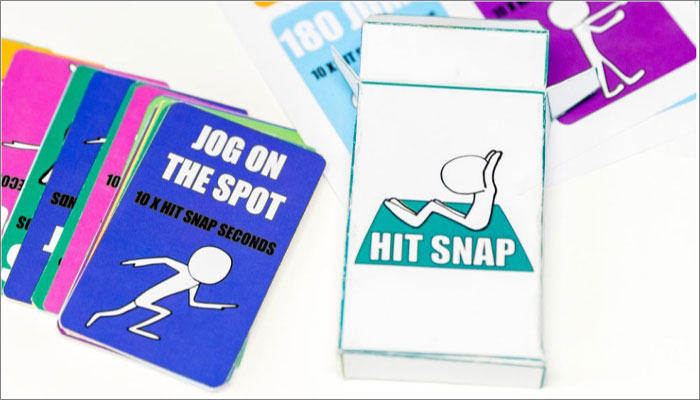 We started looking at simple games and one of the students suggested doing a snap game using different exercises. From there, we made some rough prototypes and found that the mechanism worked really well. You'd snap, do press ups; snap, do star jumps and so on and so on. So when two players snap on an exercise, everyone else has to do the activity and the winning player picks up the cards – the player with all the cards at the end wins!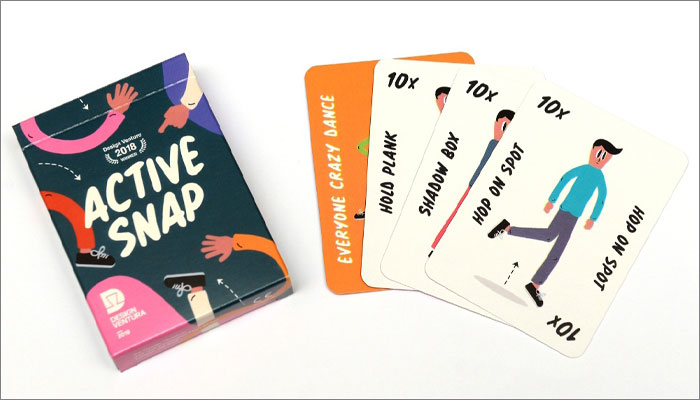 And you guys won the competition, and ended up as a real game sold in the Design Museum shop, so how did TOMY enter the scene?
Well you know the answer to this one Billy as it was through you guys at the Mojo Pitch! The Design Museum loved the product and Mojo Nation was doing some work with the guys at the Museum, so I think that's where we connected.
Absolutely right; they told us about a card game that won the competition and so I reached out.
Yes, we spoke and you told me about the Mojo Pitch, and so I got the time off school and came along to the Pitch. It was brilliant experience; I loved the day and loved the whole vibe of the event. We went into a pitch meeting with Alpesh Patel at TOMY, and he liked the game straight away. He was impressed with me and where the game had come from, and I was really impressed with him and his enthusiasm for the game.
Yes, and Alpesh actually spoke about your pitch meeting in a panel we recorded for this year's Play Creators Conference. He said some lovely things so we'll embed that moment here in case people wanted to check that out!
So we know that Al was blown away, but how did you think the Pitch went?
A few minutes in, I knew TOMY was the one and that Al really liked it. It was the first time I'd ever pitched, but you could sense in the room that things were going well. It was then in the following weeks pretty clear that they were going to license it. Al's enthusiasm for it has been brilliant and even on the day, I was drawn to him and it's been a pleasure working with him.
Absolutely, we too love Al and I'm not sure there's anyone in the industry who feels differently! He's a star.
Whenever I meet someone in the toy space and mention Al, all they have are good words to say about him. He's the sort of person who inspired loyalty in the sense that if you have other great ideas, you want to take them to him.
For sure; now, in case Al is reading this and getting embarrassed by all the love, we should change gears! I'm interested, during the Mojo Pitch, when you mentioned this game came from teenagers who were still at school, what was the reaction like?
Everyone was receptive to it and I think the story is part of the magic of the product. Everyone knows a teacher that has helped them get to where they are and teaching really does shape lives, so I think most people I pitched to respected that I was a teacher showing an idea from students.
Hopefully over the coming years, my relationship with the toy space grows and I can get more games from kids licensed and out on shelves.

We hope so too; and how did the kids react to the news that their idea was being made into a reality by TOMY?
The boys wanted it out in the world and were eager for a licensing deal! They were heavily involved throughout, in chats with TOMY after the Pitch and in discussions around the graphic design. TOMY did a really good job at keeping us all involved and in the loop, which was really nice.
The boys did really well at the start of the journey, pitching the game to a room of specialists as part of the Design Ventura competition. Had they not won the competition, would we have eventually reached TOMY? Who knows, so the boys need a lot of credit for creating the game and driving it forward. To this day, some of the boys are in Sixth Form so I see them on a daily basis and we speak about the game and the whole journey is now even used as an example in Business Studies lessons at the school!
It drives ambition because the kids can see what they can do; they can see that they can have an idea that's good enough to go into production with a company like TOMY.
I can imagine; to have a game on the market at their age must feel amazing! And has it sparked something in them to create more games, or look at the toy space as a career destination?
The kids like fun industries and some of them do now focus on toys and games. Now, I look at some of the things they create in a lesson and think 'hold on, there's genuinely something in that!'
We now have a model when I can set them projects and then connect them with the right people in the industry to see what they think. I've made resources for kids to use in lessons, and I've used those same resources to have my own ideas which I've then pitched to companies.
The parents of the kids involved must be excited too?
Yes, they've all been pushing it big time!
Have you done the local paper circuit? I can imagine a snap of you and the kids holding an oversized cardboard cut-out of Active Snap in true local paper fashion?!
Ha! That's the go-to image, and we've reached out so let's see what the local press say! I actually spoke to someone from Good Morning Britain, as one of the parents had a contact there, so we'll see!
I can see that happening; it's such a great story.
Yes, and to go back to the parents, they're so happy with it. We've met up occasionally to make decisions during the process and they've been really supportive. My kid is two and a half; she scrawls on a piece of paper and I put it on the fridge because it's the best thing ever! Imagine your kid has created a card game that wins a national competition and then gets picked up by TOMY for mass production; it must be the best feeling ever! They were also very supportive of me coming to the Mojo Pitch, as was the school.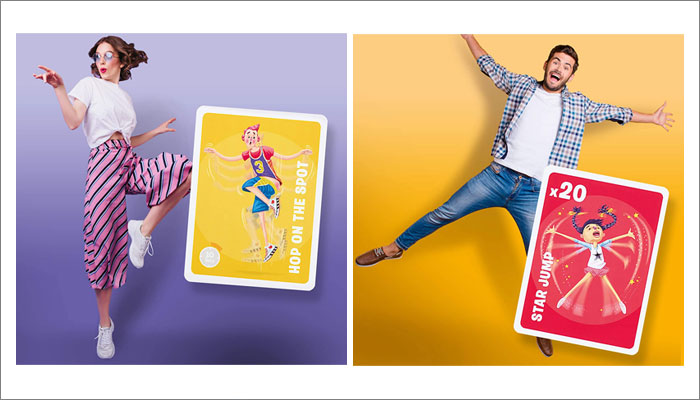 And looking ahead, will we see more ideas on the way from you and your students?
Absolutely; I currently have an idea under review with a company, and that was one designed by myself and a student. She's actually now in her first year at Kingston University and she's doing exceptionally well. We'll keep ideating together and the good thing about that as well is that when she graduates, she'll have a portfolio of things that she's done off her own back, away from the course.
That's great, and even away from students, you'll keep inventing in the toy and game space?
Yes. I would like to try industry at some point, but I'll never leave education completely. The dream eventually is to have an invention studio and be able to bring kids into it. It's not the reality yet but it might be one day!
That sounds like a great idea. Well thanks Jack; this has been brill. A big congrats to you and the students again and good luck with Active Snap!
—-
To stay in the loop with the latest news, interviews and features from the world of toy and game design, sign up to our weekly newsletter here