From Luke Skywalker to Land Rover… A look at LEGO's selective, effective approach to licensing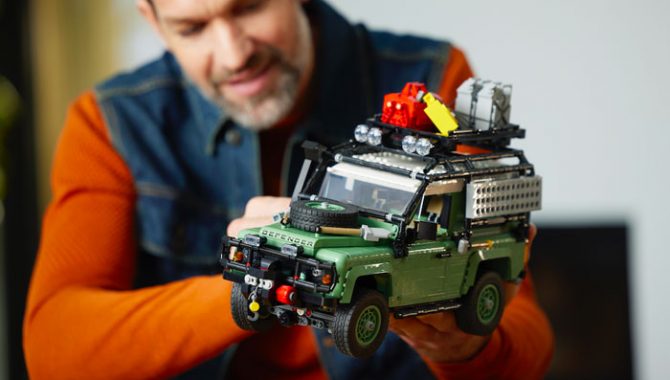 Start Licensing's Ian Downes looks at LEGO's innovative approach to working with brands, be it youngsters with DUPLO or AFOLs (Adult Fans of LEGO) through advanced sets.
A couple of LEGO's inbound licensing deals have been in the licensing news recently.
It was reported that LEGO have debuted a range of products celebrating pivotal moments from the Raiders of Lost Ark and Indiana Jones and the Last Crusade. Elsewhere, they also announced a tie-in with Land Rover, developing a Land Rover Defender 90 set to help mark the 75th Anniversary of Land Rover.
These two licensing deals demonstrate LEGO's commitment to brand licensing, but also the diverse range of licenses and subjects they access through licensing.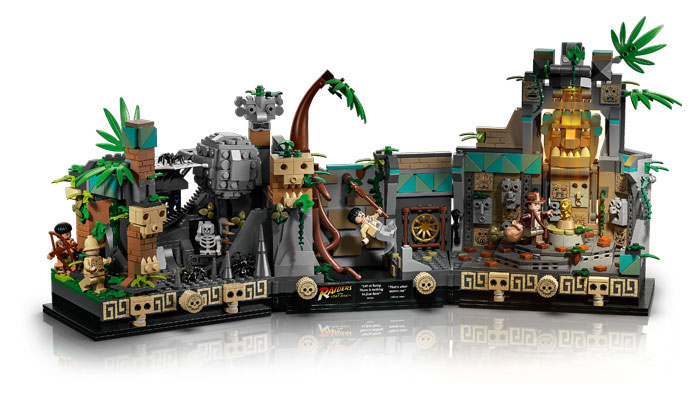 I recently picked up a copy of LEGO's January to June 2023 product catalogue in the LEGO store at Gatwick Airport. The catalogue and the store itself further reinforce the link between LEGO and licensing.
A lot of IP owners would regard LEGO as a highly prized licensing partner, not least because of the status of the brand, its distribution, its consumer reach and, of course, its creativity. I imagine this brings great opportunities for LEGO's in bound licensing team – but also creates a unique set of challenges.
One challenge would be filtering through and grading opportunities while managing production lead times and developing a balanced licensing portfolio. Of course, licensed lines have to sit alongside LEGO's own original developments and classic lines. Many companies have lost their identity through overuse of licences – seemingly LEGO are well aware of this risk and use licensing in a carefully managed way.
LEGO use licensing throughout the LEGO lifecycle, starting with LEGO DUPLO. Their current LEGO DUPLO range includes Buzz Lightyear, Mickey & Minnie, Cars, Frozen and Spider-Man. They also work with the Jurassic World license as well. These brands provide LEGO with a suite of classic character brands that resonate internationally with consumers – and also provide a solid base to develop innovative products from.
The Lego DUPLO range includes features such as a 'Light Brick' in the Frozen set and other character driven details such as a Spider-Man helicopter completed with a LEGO web slinger. It's interesting to see how LEGO lean in on a license and work hard to bring it alive creatively.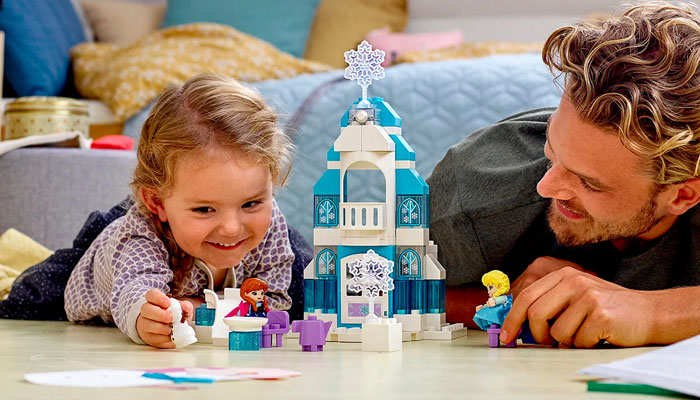 Disney is a core licensing partner for LEGO and features heavily in their 4+ offer. Here LEGO uses brands such as Mickey and Friends, Marvel, Frozen and Princesses. These lines sit alongside classic LEGO brands such as LEGO City. LEGO have also teamed up with Disney to join the Disney 100th celebrations, creating new kits to mark the milestone while also promoting signature playsets such as Disney Princesses' Castles and Rapunzel's Tower. Most of these sets are pitched at the 6+ age but interestingly, more detailed sets such as the Frozen Ice Castle set is pitched at 14+. Matching licences with complexity of kits must be a challenge for LEGO.
It is also interesting how they have tackled the 'on the go' challenge and have introduced portable sets such as Elsa and Nokk's Storybook Adventures in portable set formats. As well as being a convenient 'fun on the go' format, it also opens up new distribution opportunities for LEGO. It's also interesting to see LEGO available in a diverse range of retailers, from discounters to travel through to specialists. It's no longer confined to the toy channel.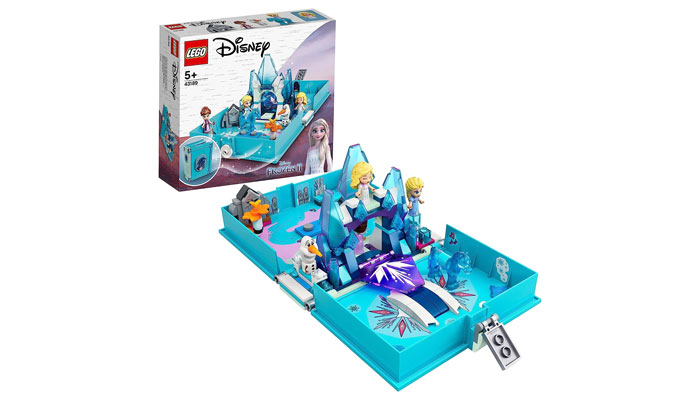 LEGO is a company that doesn't stand still and takes a very proactive approach to innovation. Licensing is very much part of this. A relatively new range for LEGO is LEGO Dots. This range is billed as an opportunity to 'show off magical self-expression' and licensing is playing its part in the development of this range. Harry Potter is a new addition to LEGO Dots, while Mickey & Friends are part of the range as well.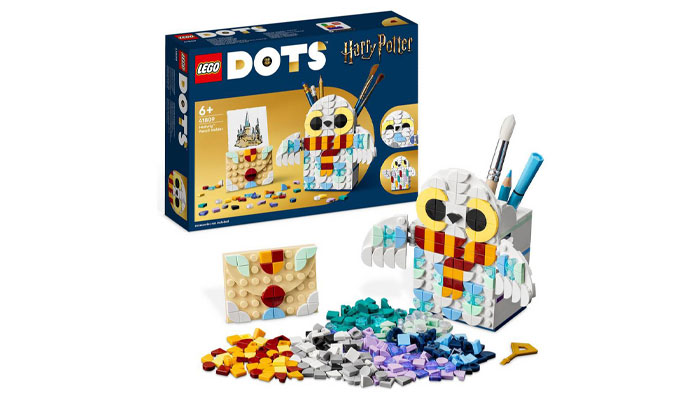 Licensing also features in the LEGO Creator series, with the likes of Lightyear having noteworthy ranges which feature signature lines from the franchise. Part of this range is pitched at the 4+ range and a product benefit highlighted in the catalogue is that it helps young consumers 'Learn to Build'. In this context, a well-established licence can help bring consumers into the brand, introducing the concept of LEGO building at a relatively early age.
A growth area in licensing in general has been the ongoing success of licensing programmes featuring computer gaming characters and franchises. LEGO hasn't overlooked this and they feature brands such as Super Mario. Interestingly, they have used licenses such as Super Mario to add a digital aspect to LEGO building.
The Super Mario range can be used in conjunction with a free LEGO Super Mario app that includes music and sound whilst also allowing consumers to connect figures to play together. The app also allows LEGO to explore further creative thinking and inspiration.
Super Mario has an extensive LEGO range stretching into character packs and expansion sets. The extent of the LEGO Super Mario range is a really good example of how gaming franchises are now a core part of the licensing landscape and the fact that character brands such as Super Mario have achieved evergreen status.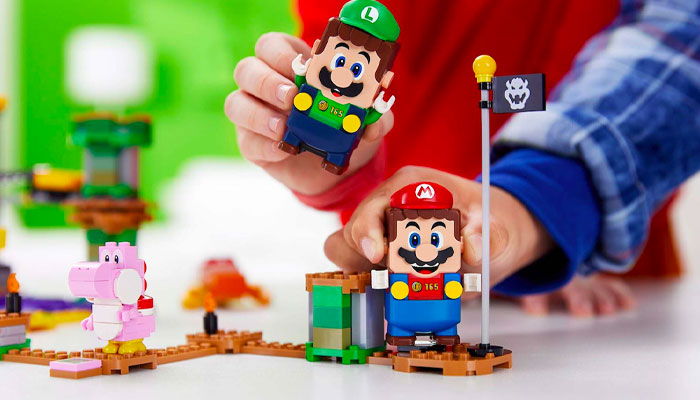 Another example of LEGO being tuned into the rise of gaming is their partnership with Minecraft. It's interesting to see how a toy company such as LEGO manages to bring a gaming franchise alive in its category and to effectively capture a brand such as Minecraft design-wise. This is a reminder of the need for toy companies to be aware of market moves ­– such as the rising popularity of gaming – and find ways of integrating these kinds of properties into their portfolios. This requires fresh design thinking and an openness to adapt their product development.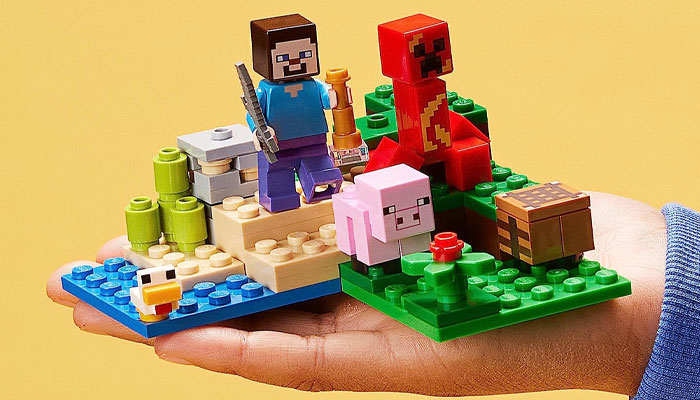 A key feature of LEGO's use of licensing is their attention to detail. The LEGO Wizarding World Harry Potter range is a great example. The range includes some super detailed sets such as Hogwarts Room of Requirement and Dumbledore's Office. These sets allow fans to recreate scenes from the Potter universe in detail and to build up their collections. There are also opportunities within the range to customise some of the products and good use is made of the cast of characters to encourage collectability. A similar approach has been taken with Avatar, Batman and Marvel.
Of course, as the Land Rover example show, LEGO are also very active in the world of cars, vehicles and motor sport. They have an impressive range of licenses in their 'motoring' portfolio and embrace different aspects of this category. Deals include ones with car marques such as Aston Martin, Ferrari, Lotus and Lamborghini – they also dip into film franchises such as Fast & Furious. Interestingly, here this involves dual licenses with brands like Nissan and Dodge.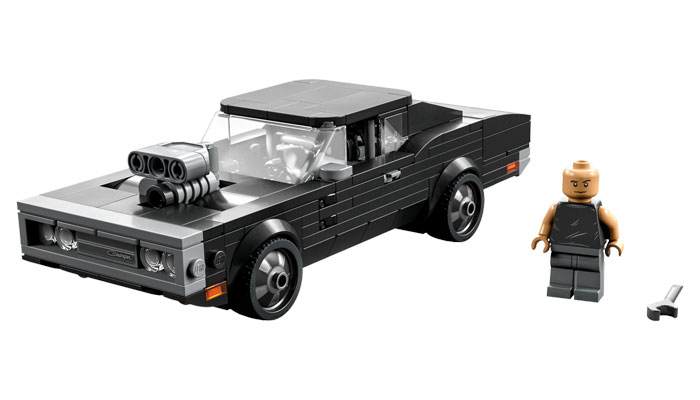 Rather like the licensing team at Corgi in this context, the LEGO licensing team have undoubtedly built up an enviable skill set in navigating the licensing waters and having an ability to thread together multi-partner deals. This kind of approach to licensing can be time consuming, but also rewarding, as LEGO are able to deliver very authentic fan friendly products.
Vehicles and car brands also feature in the Lego Technic range, with the likes of NASCAR, McLaren Senna and Bugatti in the range. This range also includes Light Brick functions – for example as used in The Batman Batmobile set.
Thinking back to the start of the LEGO journey with DUPLO, it's interesting to note that LEGO are catering for older consumers with equal diligence. The current catalogue includes a number of sets specifically created and marketed for adults. These fall into a number of themes including vehicles. Featured brands include McLaren, Ford and Ferrari. And rather charmingly, there is also a Vespa kit.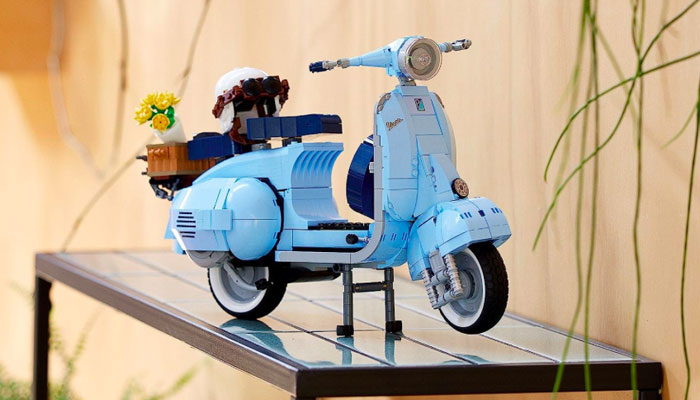 Another theme is Art and Design which includes floral designs and also art-based design such as Hokusai's The Great Wave painting. Other themes include travel, history, gaming and entertainment. Licences such as Star Wars , Marvel and Super Mario feature here as well, underpinning how brands like these have multi-generational appeal.
When selecting licences, one factor that LEGO weighs up is the age stretch of a brand and how it can work for them across their portfolio. In the adult range, Star Wars sets include Darth Vader and Luke Skywalker's helmets. Creatively, it's interesting to see how a brand like Star Wars can be deployed by LEGO to reach different ages and different styles of kits.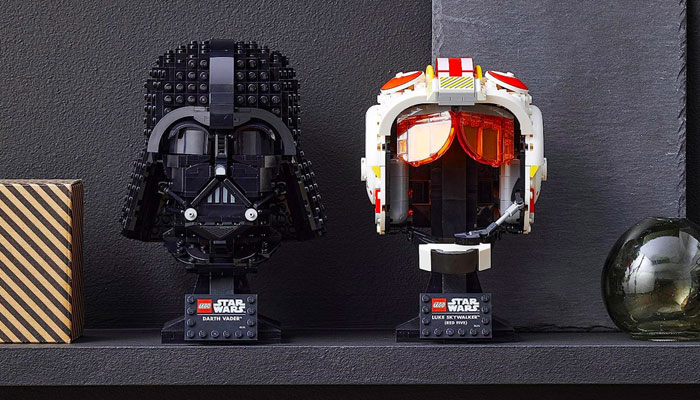 It is also interesting to note how LEGO invites consumers to suggest new ideas for kits. The company has developed a highly engaged consumer lead pitching programme through the Lego Ideas initiative. This scheme invites LEGO fans to suggest new ideas to their fellow fans, who can then vote on the concepts submitted. The concepts have to be presented in a pre-defined way, but essentially LEGO have managed to create a programme that motivates, involves and rewards fans, whilst also tapping into a highly motivated team of inventors. It's a great way of exploring new ideas and also a unique way of LEGO being able to listen to the market. It also reinforces the fact that LEGO is, at its heart, a creative brand that inspires consumers.
Current licensing projects featured on the LEGO Ideas platform seeking support include sets based on Wallace & Gromit, The Office, Bluey and SpongeBob Square Pants. One of the conditions of uploading an idea that features an Intellectual Property is to make sure the IP owner is in principle on board with the idea. For IP owners, being part of this programme can in itself help them with fan engagement and they can become part of the campaign.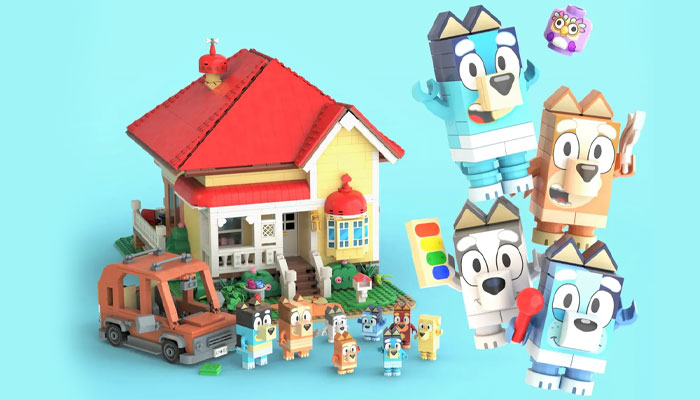 Finally, when assessing LEGO's role in the licensing world, it shouldn't be overlooked that they successful licensing out their brand to licensees and have a licensing programme that includes categories such as storage and stationery.
One category that LEGO are particularly visible in is that of apparel and in particular, they have been one of the leading lights in 'collab licensing' working on apparel ranges with other IP owners such as Star Wars. This has been a very effective deployment in licensing for LEGO, not least reinforcing their fan and pop culture credentials.
LEGO is a brand that uses licensing in a selective and effective way, but also chooses to use licensing throughout the LEGO journey – which increasingly looks like a lifetime one.