The Brand Radar: Topps, The Hundred and the untapped potential of cricket in collectables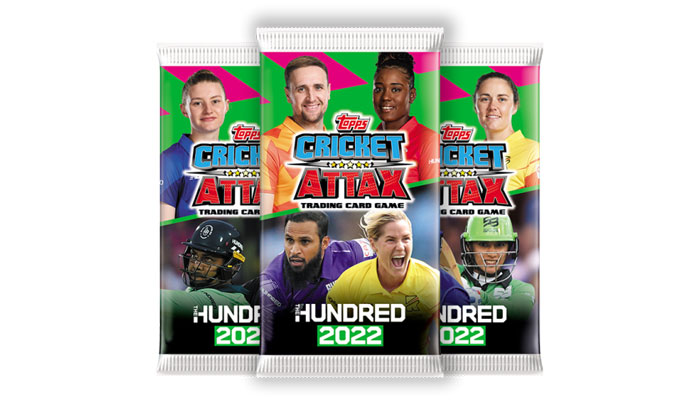 Topps are a company that have a long pedigree in the collectables market, with a heavy emphasis on sports and entertainment lead collections. Their products are generally sticker and card collections, and sometime ago they created Match Attax – a trading card game focused on football that blends card collecting with gameplay.
It has proved very popular and has enjoyed broad distribution across convenience stores, supermarkets, toy shops and other outlets like book shops. Last year they added cricket to the mix via a licensing deal with the ECB to create Topps Cricket Attax, based on The Hundred competition.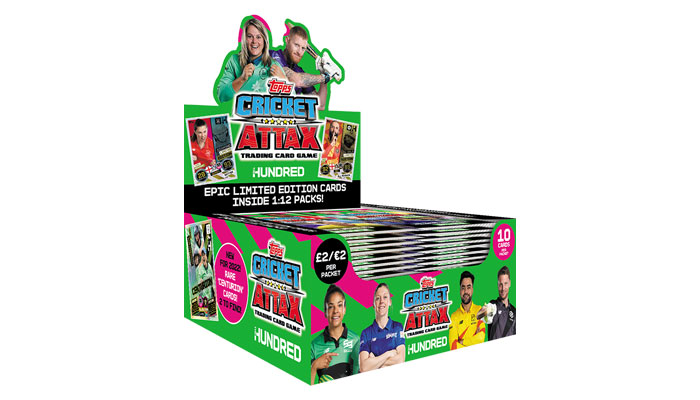 The Hundred was launched in 2021 and is a professional franchise cricket tournament limited to 100 balls per side. Broadcast on Sky and the BBC, it involves eight city-based teams with men's and women's versions running in parallel. The motivation behind the ECB forming and launching The Hundred seems to be to help attract a younger and more diverse crowd to watch cricket.
Limiting each innings to 100 balls means that matches only last around two and half hours. The emphasis is on quick scoring, lots of wickets and it's a format that allows the players to show a full range of modern cricket skills including very athletic fielding. It's a novel formula and format which has attracted significant press and publicity.
Some traditionalists within the cricket world have raised concerns about The Hundred on a number of levels, ranging from its impact on more established cricket formats like the County Championship through to its emphasis on 'star' players who – in lots of cases – play in other leagues around the world on a short-term contract basis.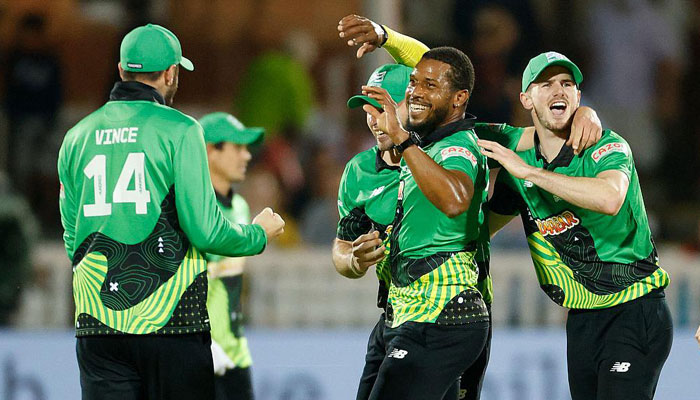 Cricket is relatively under-served in licensing terms, so deals like the Topps one are significant for the ECB. However, it would be wrong to say cricket and licensing don't have prior history though. A recent visit I took to Lord's included a visit to the Lord's Museum. At the time they were running a pop-up exhibition featuring a range of cricket board games and card games stretching back to the 1940s. There was also a feature area in the main museum centred on cricketing superstar Denis Compton. This included examples of licensed products developed under the Compton name, which included items such as jigsaw puzzles that were sold in the 1950s.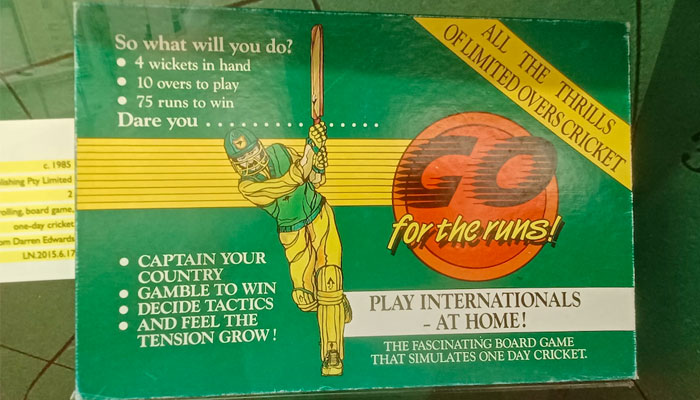 I also remember working on one of the Cricket World Cups during my time at Copyright Promotions. The competition was being hosted in the UK at the time. We managed to get a number of deals done but it was a tough sell. We tried to engage with a broad spectrum of companies and categories but there was a certain amount of resistance to the opportunity with concerns over awareness, timing and retail uptake.
Greg Lansdowne – Collectibles Advisor and author of Stuck on You and Panini Stickers: The Official Celebration – offered some great insight into the history of cricket and collectables which helps puts Cricket Attax into some context.
Greg notes: "There are examples of cricket cigarette and trading cards dating from the 19th Century, but in terms of the 'modern era' there have been a regrettably small number of cricket collectables released in the UK. Panini produced sticker albums in 1983 (World Of Cricket) and 1995 (Cricket '95) – covering English county cricket – but neither were a huge success.
"There was then a huge gap until an Australian collectables business, Tap 'n' Play, decided to take a chance on bringing out an official England Cricket trading card set in 2018. Having produced cards in Australia for several years, this was a brave attempt to introduce a cricket product to a British audience. As Tap 'n' Play's representative in England, I was close to that launch so can speak with some authority about how it fared.
"Unfortunately, the ECB were unwilling to give the collection any backing, so that pretty much put the death knell on it. When we managed to get the cards into venues for that year's Test series against India, they sold very well, but there just wasn't any desire from the ECB to add their weight to the product – even though it was the first ever to feature the England women's cricket team. Sadly, that was the end of physical card releases for Tap 'n' Play in the UK but they did bring out a digital collection during the 2019 Men's Cricket World Cup."
Greg reflected on the Topps Cricket Attax launch and the shift in support from the ECB, adding: "The next cricket product arrived in 2021 when Topps brought out a card collection for The Hundred. On this occasion the ECB were willing to throw themselves into supporting the release – because they need The Hundred to work – so there were cards distributed at the Dynamos youth cricket programme as well as at matches.
"The Cricket Attax set has just been launched to coincide with the 2022 edition of The Hundred. I've already located the starter packs and single packs in Sainsbury's and WH Smith – as well as having pre-ordered a box myself – so it should certainly be readily available once more to those interested in collecting."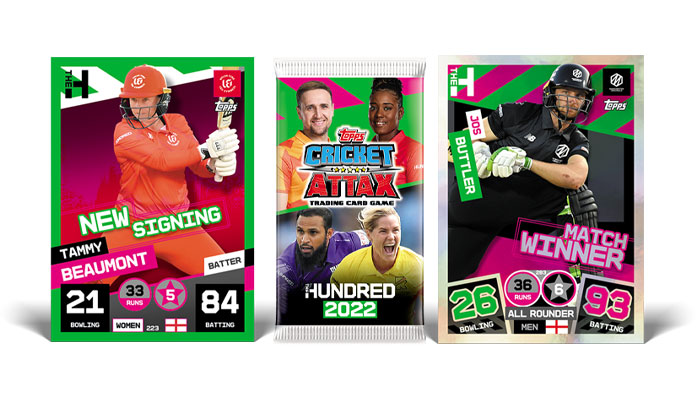 From the ECB's point of view, I think they will be delighted with the production quality of the Topps' product and the level of detail in it. It is very much on brand. For a competition that's seeking to develop a new audience for cricket, a product like this is very attractive… It puts cricket into the fast-moving world of collectables and has created a product format that encourages friends to play, swap and share together. Topps also bring great distribution to the table, which means The Hundred is visible across a broad range of retailers. For Topps, it allows them to build a relationship with another sport beyond football and extend the Match Attax brand.
One challenge is that The Hundred is still a new brand. Timing-wise, there may also be challenges as school holidays mean that the uplift that might come from cards becoming playground currency is lost as the competition is a limited one in all senses of the word – running for roughly a month.
Traditionally cricket hasn't been a major sport in licensing terms in the UK market. This is also a challenge but given the TV coverage The Hundred has and the raft of commercial partners on board there are some positives to 'sell in' to the licensing community.
Football has been the dominant force in terms of stickers and trading cards in the UK. Greg offered some further insight into this and also provided some analysis on the potential for other sports in the category. He tells us: "Football is king in the UK – and in most countries around the world – so it makes sense for the two biggest collectables businesses, Panini and Topps (the latter now owned by Fanatics) to devote a large portion of their budget on that sport… Just go to a supermarket and look at how football dominates in the stickers and cards section.
"On a side note, it's probably going to be even tougher for other sports to get a look-in from now on as one can expect women's football cards and stickers to have more prominence on the back of England's Euro success. I've been expecting more women's football products for several years, especially a WSL releases, but surely there are no excuses now.
"As far as Cricket Attax is concerned, it's a product to suit the fledgling competition and the ECB's intentions for how they want it to evolve. Cricket Attax is a fairly basic product, designed to introduce the format, the franchises and the players to its target audience – many of whom had little to no awareness of professional cricket before The Hundred began.
"These cards are about getting them into the hands of a new, diverse, younger audience than inveterate cricket fans. From that perspective, I would imagine one of the desires is for as many youngsters as possible to get those cards signed by The Hundred players as a lasting souvenir of their day at the cricket. In that respect, I can see these cards being a success.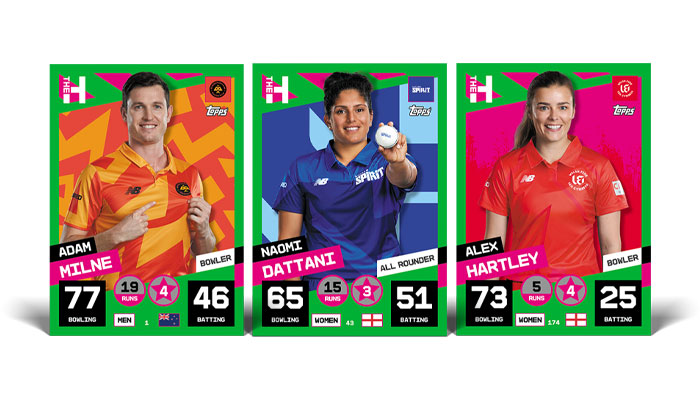 "I don't see them being a huge money-spinner in themselves but I am sure the ECB will view the cards as being of great value in raising awareness of a competition they need to be a success. Obviously Topps will have a different outlook.. Ultimately it needs to be financially viable, but I am sure they will be keen to make a success of their Cricket Attax cards.
"A sign of how difficult it is to make a success of cricket cards can be found from the period Topps produced IPL Cricket Attax cards in India… After a few years they were discontinued. That Topps haven't brought out any IPL cards for a number of years – to support the most popular cricket competition in the world – tells its own story.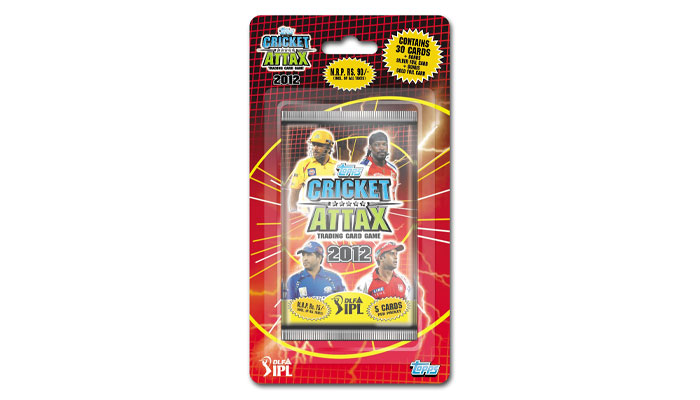 "I do believe cricket is a hugely untapped market for collectables. If basketball and F1 can have a thriving market for cards, then there's no reason to think cricket shouldn't. A good quality card set, to coincide with the summer of cricket, has been released each year in Australia since the 1980s. Outside of Australia the number of card and sticker releases for cricket has been lamentable.
"It's not a market that is going to explode on these Cricket Attax sets alone, however. There needs to be sets to appeal to all types of collectors – especially the established collectors who are willing to spend big on product if there is a potential to get a rare card featuring one of the greats of the game. Imagine the interest in signed Sachin Tendulkar, Wasim Akram and Ian Botham cards, or memorabilia cards for Graham Gooch, Richard Hadlee, MS Dhoni and Dennis Lillee… And that's just the tip of the iceberg.
"In a nutshell, there needs to be something for everyone to really capture a market – as there is with football. There needs to be affordable sets that appeal to a younger audience – as the Cricket Attax cards do – but you also need to excite older collectors if you really want to gain traction in an embryonic market for cards. This is what Topps did for F1 and now it has taken off in a big way."
Sports licensing and promotions consultant Simon Gresswell of SGLP offered some further insight into the international landscape of cricket, referencing India and Australia. Simon tells us: "Whilst cricket here seeks growth, reach and revenue, cricket in India is driven by finance, franchise investment and operates in a very different manufacturing and retail landscape.
"Without getting into the debate about the formats of cricket, the British audience for cricket is definitely benefiting from the combination of pay and Free To Air TV coverage. We saw that around the World Cup last year and will see with The Hundred. Access is everything to sports trying to grow their reach and revenue, in all aspects of the commercial pyramid.
"Sports licensing, which is much more about merchandising and retail, is part and parcel of this, especially as delivery of product now encompasses everything from in-person (on-site) to digital (ecomm and scomm) to virtual (metaverse). Key licensees are much more likely to be specialist sports retail operators and commercial partners who deliver value to the mix – in a specific window -via co-branded products and marketing support, rather than traditional categories that may seek broader retail listings.
"Knowing how this mix works is critical to successful 'sport licensing' as it's generically referred to… Sports licensing, merchandising and retail are all tightly intertwined. In Australia, where cricket is the number three sport behind AFL (Auusie Rules football) and NRL (Rugby League), the commercial development in Licensing, Merchandising & Retail (LM&R) benefitted from Free To Air coverage until 2018 and established a pretty comprehensive mix of relevant and smart product development and retail. Cricket Australia then opted for a combined pay/FTA deal with Foxtel and Seven and their Big Bash League with its strong franchise model and timing around Christmas holidays. It has continued to develop the LM&R strongly, with brilliant on-site activation from brand partners and more of the sort of fun we associate with US and Aussie sports crowds and we see growing here."
Simon also offered a note of optimism for cricket's future prospects in commercial terms. He tells us: "Cricket isn't an easy sell, but it's on the up globally and with the US introducing Major League Cricket in 2023, commercial signs are positive."
So it seems Cricket Attax might be well timed. As cricket formats evolve and a new audience develops, it may well be the time for licensing and related industries to give cricket a second look commercially. It will be interesting to see how The Hundred and Cricket Attax perform this Summer – and whether this new style of cricket inspires a fresh raft of product development and innovation.