The Bride of Frankenstein gets the Monster High treatment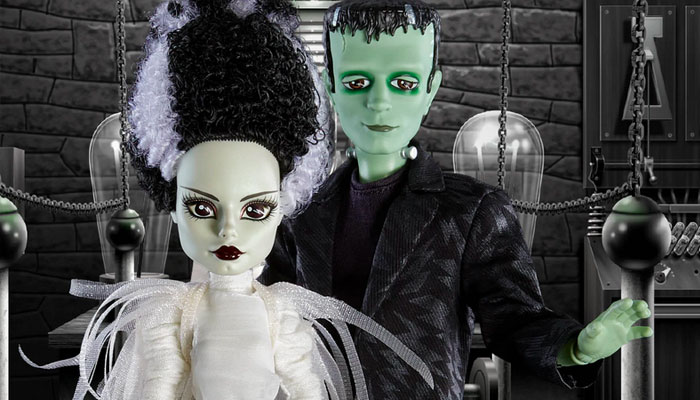 Mattel Creations has debuted the latest collaboration in its Monster High Skullector series – a set of dolls inspired the Universal classic, The Bride of Frankenstein.
The Skullector series sees iconic characters given the Monster High treatment, with previous launched in the range taking inspiration from The Shining, It, Beetlejuice and Gremlins.
The Frankenstein doll features signature details including neck bolts, a dark suit with a lightning-bolt print and thick chunky boots, while the Bride of Frankenstein boasts an iconic black hairdo with white lightning streaks and a white flowing gown.
The Bride of Frankenstein's heels are also decorated with Dr. Frankenstein's lab vials, beakers, and hidden ballerinas, while the packaging is inspired by a scene from the 1935 film.
"For the Bride's cape, we used a sparkly, sheer tricot fabric and laser-cut thin strips sewn on the back of the gown – with the curling of the strips, we achieved a worn, eerie, wispy look!" said Alyssa Leach, textiles engineer and product designer at Mattel.
"Frankenstein was fairly straightforward, but one of the coolest things about his suit is that the lightning bolt foil on his jacket and pants is not actually black. We used a clear foil on black fabric so that it picks up and amplifies the exact black colour from the fabric."
The Bride of Frankenstein Skullector Dolls are available on Mattel Creations from October 14th.
–
To stay in the loop with the latest news, interviews and features from the world of toy and game design, sign up to our weekly newsletter here