Thorpe Park's tea cup ride to be rebranded as the Dobble Tea Party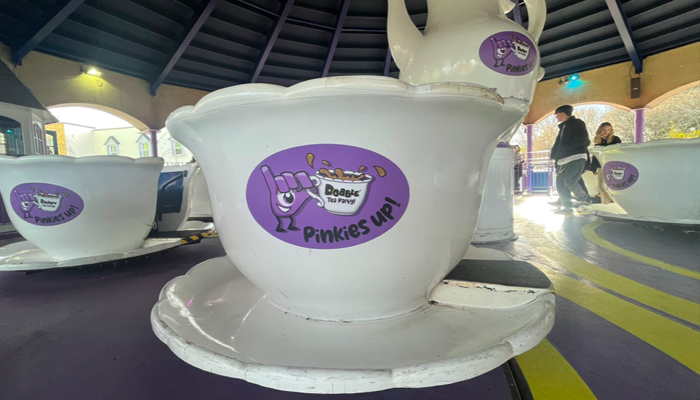 Asmodee has partnered with Thorpe Park to rebrand its tea cup attraction as the Dobble Tea Party ride.
The ride will 'reflect the fast-paced nature of the game' and feature Dobble branding throughout.
As part of the partnership, Asmodee will launch a Thorpe Park Resort edition of Dobble, featuring symbols of the theme park's rides and events such as Stealth and the Halloween Fright Nights. These exclusive packs will be available on a complimentary basis to guests staying at Thorpe Park Resort's on-site hotel, Thorpe Shark Cabins.
"We are so excited to welcome Dobble to Thorpe Park Resort," said Natalie Dilloway, Thorpe Park Resort's Head of Marketing.
"We're always on the lookout for new experiences and partners that fit our brand, so combining our classic teacups ride with such an iconic game is a great opportunity. Plus, introducing an exclusive Thorpe Park Resort Dobble edition to our on-site hotel Thorpe Shark Cabins, later in the year is the perfect way of truly integrating both brands in a fun way!"
Jo Shapley, Asmodee's Nationals Marketing Manager, added: "We are delighted to be launching the Dobble Tea Party.
"As the UK's most thrilling theme park, Thorpe Park Resort is the perfect partner for Dobble and we are excited to be bringing these two family brands together to offer the ultimate experience this season. The partnership marks the next step in the Dobble journey, as it continues to grow, we hope to bring more experiential opportunities for consumers to interact with this well-loved brand".
The Dobble Tea Party launches on Saturday March 18th March for Thorpe Park Resort's Passholder preview day, before opening to the general public on March 24th.
It marks the second time that Thorpe Park's tea cups has had a brand partner, following Tetley's prior sponsorship of the attraction.
–
To stay in the loop with the latest news, interviews and features from the world of toy and game design, sign up to our weekly newsletter here