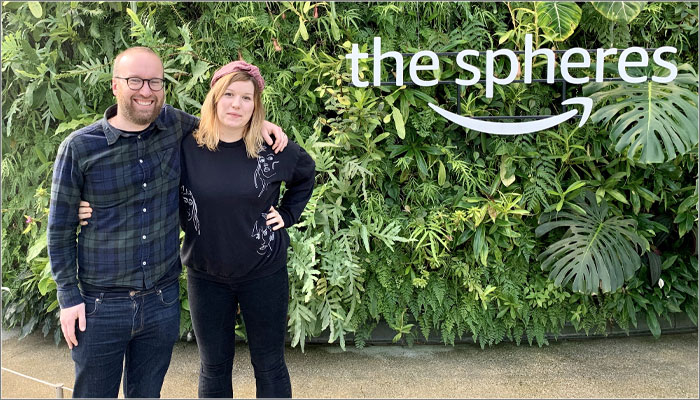 I've recently returned from Amazon's HQ in Seattle, where my teammate Dave and I spent three days as part of our prize for Gamely Games winning the Amazon UK Small Business of the Year award.
While there were many highlights – including meeting some of the 800,000 real human faces behind the online giant, experiencing the novelty of visiting an Amazon Go store (where cameras track what you take from the shelves and automatically charge your Amazon account) and having my mind completely blown by the complexity of a robotic fulfilment centre (with hundreds of scurrying robots moving shelves around like the most complicated sliding tile puzzle ever) – the three main thoughts that stand out from our trip are:
1. Cracking the USA is not impossible
In January we'd really been wondering whether the USA was just too big a nut for our little team to crack, and we'd been really tempted to try and license our games to a bigger company. However, shortly before we visited Seattle, Amazon.com started pulling in UK reviews – which is huge for us. No more struggling for those first 10 reviews! And in Seattle, as we chatted to Amazon people who understand the platform inside out, I really started to feel more positive.
The possibility of getting an account manager (tip – in the USA, this means being able to escalate issues with seller support) and digging into extra reports, among other things, really gave me the thing I was most needing: a fresh burst of enthusiasm. Selling games in America can feel like a brave new (and very big!) world from the UK, but our trip gave me the energy to believe that investing time into this is worth it.
2. Tech is great when it brings people together.
We spent some time hearing about the latest developments in Alexa technology, which was both terrifying and exciting. While the vision of the future where people have Alexa within their glasses or rings (no, really!) might sound bizarre, it did get me thinking about how many people already enjoy the benefits of voice technology.
Interestingly, I learnt that games are some of the most popular apps (or 'skills') for Amazon's Echo (Alexa) devices, and creating a basic skill is apparently not too difficult. This got me thinking about developing a companion skill for one of our games, and how we could potentially use tech to enhance people's experiences of connecting together.
Although we're all about getting people to put down their screens to spend quality time together, tech itself isn't the enemy, and it can be used for good. Working on developing this is not a top priority for us at the moment, but it does present an exciting possibility for the future.
3. The space you work in is so important
While in Seattle we visited the Amazon Spheres. Think: the Eden Project meets a lovely, light, open-plan working space! It was an amazing and unique building which Amazon employees are all free to work in. With a 4,000 square foot plant wall stretching over five floors, it certainly took office plants to the next level!
We love working in Platf9rm, our beautiful shared office space in Brighton, but seeing people working in the spheres really re-ignited my passion for changing up our workspace. We love getting out of the office as a team and often have our best ideas when we are out in the fresh air. We've now vowed that we'll be getting out at least one afternoon a week to head to the beach, sea or South Downs.
Our trip to Seattle was a lot of fun and eye-opening in many different ways. Now the real work begins again, as we try and use what we've learnt to spread the Gamely joy in the USA and bring more people together to have fun.
Look out for an update in the future, when I'll be able to share how we get on!
Hazel Reynolds is founder and CEO of Gamely Games, the board game firm behind Randomise, Soundiculous, The Pretender, Frozen Unicorns and Jibbergiggle. She can be contacted at hazel@gamelygames.com.
—–
To stay in the loop with the latest news, interviews and features from the world of toy and game design, sign up to our weekly newsletter here