Tim Sharville on designing Gunpowder Studios' first children's game in Rabbito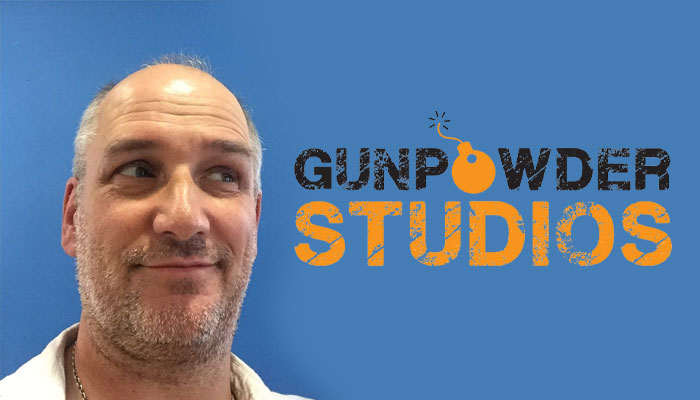 Tim, it's great to connect. Before we dive into your latest game – Rabbito – talk us through your history in the tabletop space. What prompted the launch of Gunpowder Studios?
As long-time gamers, we've been toying with the idea of designing our own games for years. The genesis of Gunpowder Studios was a simple card game – Kastles – that I designed with my kids, George and Rose, from a standard deck of cards while camping.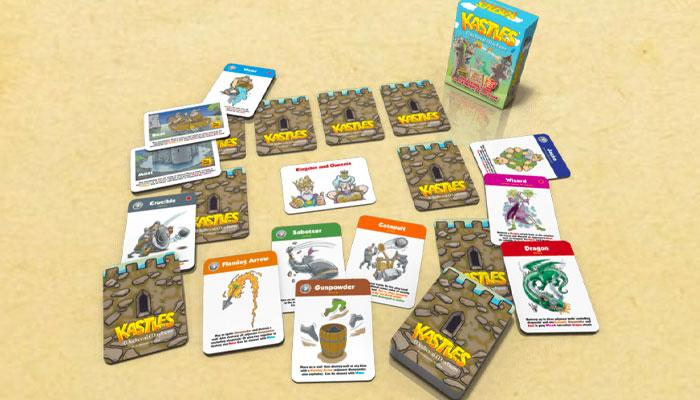 Kastles made some reasonable sales and I'd enjoyed the process, so I was keen to do something else. That became Bag of Dungeon, which has been our biggest success to date, with a system which we're now starting to develop into a bigger Bag of Dungeon family. It was Bag of Dungeon that made us ramp up into the studio we are now.
And without wishing to state the obvious, this is a dungeon-crawler game that comes in a bag?
Yes! I'd had an idea to create a very simple dungeon-crawler that reminded us of our early days of gaming – the old-school sessions playing games like Tunnels & Trolls, Sorcerer's Cave and Talisman. Graphically, I guess it could be likened to the trend for 8-bit styling in today's video gaming community.
I wanted Bag of Dungeon to be accessible and simple enough that it could sit on the family games shelf, yet reminiscent enough of the games that got us hooked so that it would appeal to the gaming community. We also wanted it to be portable so that it would make it into the family holiday suitcase or be kept in a gamer's rucksack. Hence, a dungeon in a bag.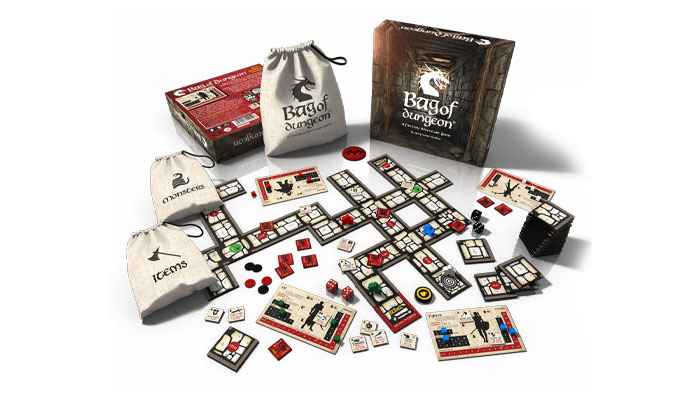 Like it! So a few games down and Gunpowder Studios was born…
The transition from me and some ideas to full-fledged indie games studio is down to the team we now have. I'm the CEO of Gunpowder Studios and the only full timer, but the heart of Gunpowder is myself, my brother Paul, our friend Russ and our brother-in-law, Mick.
One of the big advantages, and the springboard for growth, has been the experience and skills we each bring from our other working lives. I'm a graphic designer and illustrator, and have spent many years building websites, designing brands and products, and buying print, so have been able to set-up a professional studio – ok, it's my loft – for prototypes and game artwork.
I've built good relationships with our manufacturers and understand their processes, which helps with creating production briefs and optimising costs and timescales. I also bring experience in setting up e-commerce channels and social media marketing.
We launched, funded and delivered – on time – our previous game, 7 Moons: Heroes of Dragon Reach, at the tail end of peak pandemic and during the global shipping crisis, so I've inadvertently become slightly geeky about international logistics.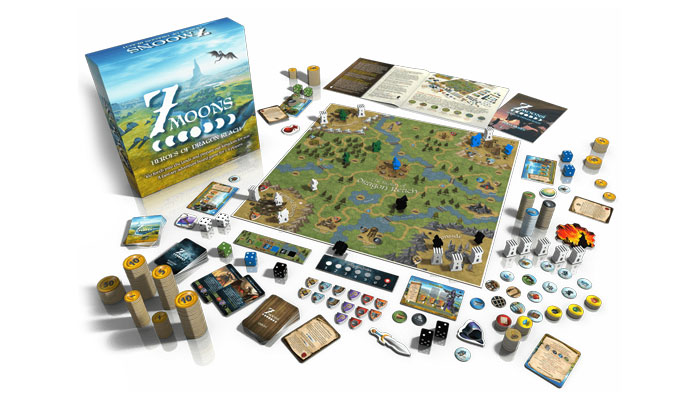 How do you divide up game design duties between the team?
Ideas tend to start with me, although we're very open about anyone in the team bringing an idea, and there are a couple of games on the whiteboard that have come from either Russ or Paul that will definitely see the light of day in the not-too-distant future, where they will each be game director for their idea.
Russ is a professional illustrator and animator, so has a strong eye for the aesthetics as well as being a bit of a mechanics genius. His ideas and systems run through all our games, and they'd be less without his skill and experience. He's also able to stay awake longer than the rest of us during late-night playtesting sessions.
Paul has been a professional commercial writer for over 30 years. He writes and oversees all our content, and has a talent for bringing our games to life and adding an immersive feel to the concepts we create. Paul has also been a playwright, designed and operated two successful escape rooms and has designed and run game-themed team-building events, so he brings yet another perspective to our game mechanics.
Mick is the only non-gamer, but his financial acumen has been a cornerstone of our survival and growth. Both his long-term insight and his attention to cashflow has allowed us to reinvest our sales revenue in the development and marketing of a new title and order further print runs to meet demand, without compromising our cashflow or putting an additional financial burden on any of us. It's also given me a small salary so that I can work full-time at Gunpowder, which allows me to keep everything moving forward. We think Mick may actually be a wizard.
Let's not rule it out! Now, is there a through-line between all of the games Gunpowder designs?
A hallmark of all Gunpowder games is ease of play. In our experience, people most often want to play a game that can be up and running and understood in less than 30 minutes, and even quicker after the first game. We put smart mechanics in an accessible game, and we try to have as little game 'admin' as possible for the players.
That said, we also operate in the lower complexity band of the board gaming hobby, where we've got lots of tabletop gaming fans who also play the more hardcore titles. They recognise many of the traditional mechanics – resource economics, combat, trading, hand management and so on – and Bag of Dungeon in particular frequently makes an appearance at the gatherings of 'serious' gamers we know.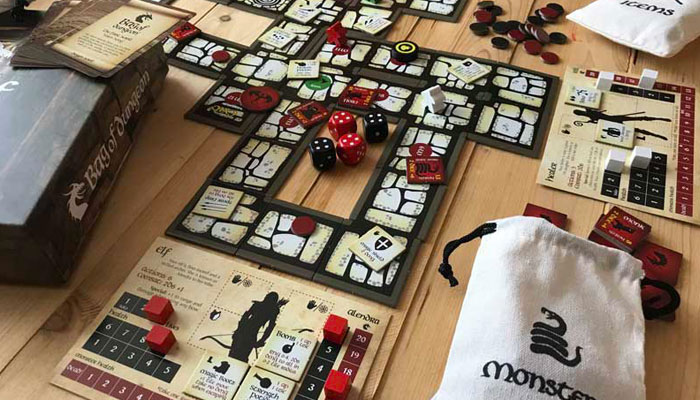 We're getting much more into theme as we design new games, mostly because those are the kinds of games we like to play. Bag of Dungeon is likely to expand into more of a modular system that will have a narrative through line, with each title adding to the world of the game.
7 Moons is set in a kingdom bestowed on the inhabitants by the ancient dragons, and is set in a peaceful land just before a major invasion by the evil Shadow Army. We've infused it with background lore, story and dramatic narrative tension which, while still keeping the game pacey, also gives an escapist, immersive feel to what is, at its core, a roll-and-move trading and adventuring game.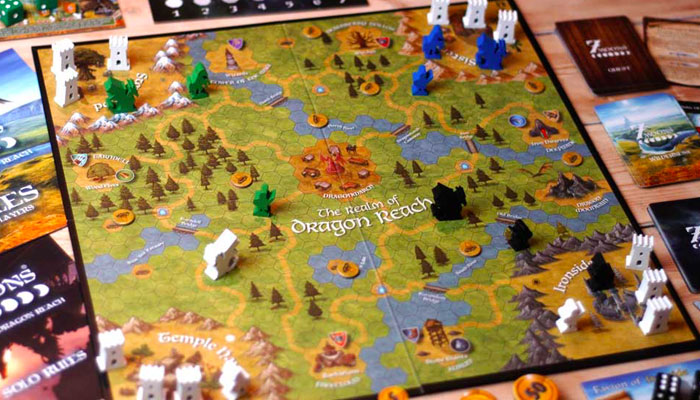 Even Rabbito – our new children's game – celebrates the arrival of a long-awaited spring and summer and hopefully a period of growth and sunshine for all of us after what has been, and continues to be, strange and difficult times. We felt that we just wanted to make something cheerful and uplifting. It's not quite 'Bunnies against the Bomb' but hopefully it will bring some light relief to people.
Yes, let's talk about Rabbito! For anyone new to the game, talk us through how it plays?
Rabbito is our first foray into designing a children's game, although that may be something of a misnomer; it looks like a kids' game, and it can be played by young children, but it's a neat little strategy game that we've tested successfully on adults and experienced gamers. Our target, however, is primarily the family games market.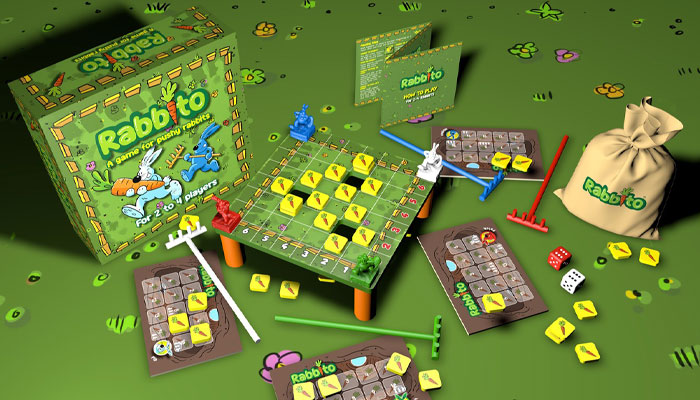 Four rabbits – the players – must race to reach the carrots that are popping up in the carrot patch, then push them down the warren holes where they can stash them on their burrow cards. The winner is the first player to collect 14 carrots. Players can also push their rabbit rivals down the holes, sending them back to their rabbit hole – the start position – and stealing a carrot from them.
Lovely stuff. And the board is elevated, right?
Yes, the board is a wooden 6×6 'carrot patch' grid bounded by a fence and mounted on four sturdy wooden legs. This creates the 'under board' area where the carrots fall. Each turn, players roll a red and white dice, then place a carrot on the grid where the two dice numbers intersect. They then move the number of spaces equal to the highest of the two dice rolls, and must choose the best route through the carrot patch to push the greatest number of carrots – or other rabbits – down the holes.
Players use a special rabbit rake to gather up the carrots from beneath the board. We never once questioned why rabbits would need rakes to gather carrots. We wanted rakes. We were always going to have rakes.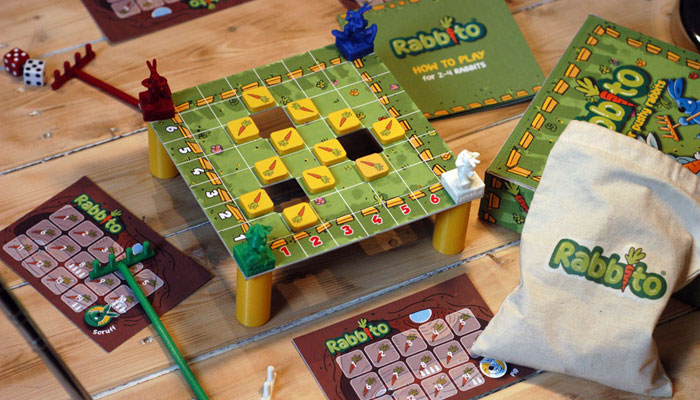 I like the rakes – no complaints here! This is a bit of a gear shift following the more tabletop nature of your previous games, so where did the idea for this come from?
After the enjoyable but quite heavy workload of Bag of Dungeon and 7 Moons, I wanted to design a game for kids that was tactile and involved pushing things down holes. Rabbits and carrots seemed like a natural choice. Everyone loves those cheeky little critters, so we just fell in love with the idea.
It turned out to be almost as big a project as the other games, but it felt fresh to be working on this light-hearted, colourful production. One of things we like about Rabbito is just how hands-on it is. That was especially important to us if we were going to encourage children to spend a little less time in front of a screen and a little more in the world of lo-fi tabletop gaming.
The rabbits are big and chunky and nice to hold, the rakes are fun to use and for younger players there's a lot to enjoy, not to mention making a small contribution to their basic counting, decision-making and hand-eye skills development. The board is quite unique too, raised up as it is, which adds to the joy of unboxing and setting up.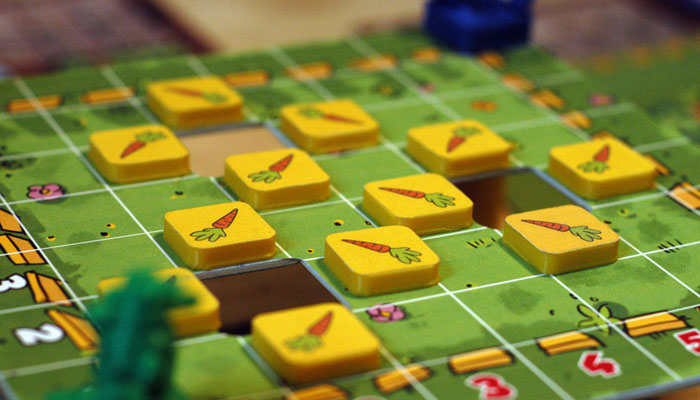 Looking ahead, is the mass market games space an area you're looking to get more involved with?
We want Rabbito to be a go-to family game, which means retailing in the more mainstream shops and channels. To be honest, other than designing smart, fun games that we want to play, we're not wedded to a particular market, though a success in the mass market of family games would be amazing, if only to help fund the development of more Gunpowder titles.
We probably understand the gaming market better, so we feel more comfortable in that space. One of the challenges of Rabbito has been how we get wider exposure, because this isn't an area in which we've had a lot of experience, but we're fast learners and confident that Rabbito will do well if we can succeed in making it more visible.
So far, everyone we've shown it to loves it, including people who we know will tell us straight if they don't think it's a goer. Our biggest challenge at the moment is getting exposure to the right buyers, which we think are probably mums, dads and grandparents for the most part.
Rabbito is currently on Indiegogo. Why opt for crowdfunding?
We use crowdfunding sites to 'seed' the cost of our first retail production run. The economies of scale for making the games mean that several hundred funders can achieve our campaign target, get their copy – including some exclusive supporter add-ons and bonuses – and fund a sizeable print run that gives us a healthy retail stock ready to go online and to shops.
We're not certain that crowdfunding is going to be as successful as it's been for our other titles, for the simple reason that we suspect crowdfunding sites are not the usual destination for the mass market wanting to buy a game, not to mention the extended wait time to receive a game once the campaign is successful.
We switched from Kickstarter to Indiegogo because we think it might be more successful for a small game like Rabbito, but let's see how it goes. We have some back-up plans to make sure Rabbito hops its way into shops and websites one way or another.
Did you ever consider licensing the concept to a mass market games company?
We've discussed between us the idea of selling a game to a publisher, and that could be a good move at the right time, but it would also mean we'd miss out on all the fun and creativity we enjoy developing our titles in our own studio, so we're not convinced on that strategy just yet.
Tim, this has been great. Before we wrap things up, I have a two-part question for you… Part one: What fuels creativity for you?
Russ and Paul refer to me as the 'engine room', and I do seem to be enjoying moving at pace with the Gunpowder brand and products, but it comes down once again to the energy of the team and our collective 'brain'.
We are constantly riffing on ideas and solutions, and we could as easily spark a WhatsApp chat at 6AM as we could come up with whole new idea in the pub. We're great friends and we love spending time together, and we've all got a lot of collective gaming knowledge and reference info. That sparks group creativity, which is very powerful; the sum of which turns a whole load of good ideas into great ones.
And on the flip-side, what kills creativity for you?
Frankly, not much. We're very energised right now, so even the hurdles can be fun, or at least interesting. Maybe spreadsheets, but thankfully we have Mick for that!
Also, themes and genres we're just not that into. We appreciate the cleverness and challenge of a good Eurogame, but it's unlikely we're going to get fired up by anything too abstract or that features too heavily on economics, as those games are just not in our wheelhouse as designers.
I also feel that if we let a game drift during development – for example, we leave it too long without working on it – it can fade on the drawing board and it can be hard to bring it back to life. Even the simplest designs require you to keep a lot of information fresh in your head and in notes, so it's important that we get all those ideas and mechanics into a playable game as soon as possible for playtesting and refining, otherwise they seem to get easily forgotten.
That's why we tend to focus on one game production at a time, with a pipeline of one or two games that we know we're going to move to next. We're always talking about the next game, and there are always ideas being chucked around and discussed. When it looks like something is shaping up, we have a few whiteboard days together and divvy up the tasks. And off we go.
We're also not precious about our ideas. We've got loads, so if something isn't working, even if we've done a fair bit of development, it goes. There's no point in trying to force an idea to work, especially when we have workable ideas that need our time and energy. We like the 'fail faster' approach and believe that everything, including bad ideas, is another step towards a successful game.
Thanks Tim, and good luck with the game! Anyone interested in Rabbito can find it on Indiegogo here: https://www.indiegogo.com/projects/rabbito-a-game-for-pushy-rabbits-free-delivery#/ Or on the Gunpowder Studios site here: www.gunpowderstudios.co.uk
–
To stay in the loop with the latest news, interviews and features from the world of toy and game design, sign up to our weekly newsletter here