TOMY bolsters Screwball Scramble range with card game and Level Up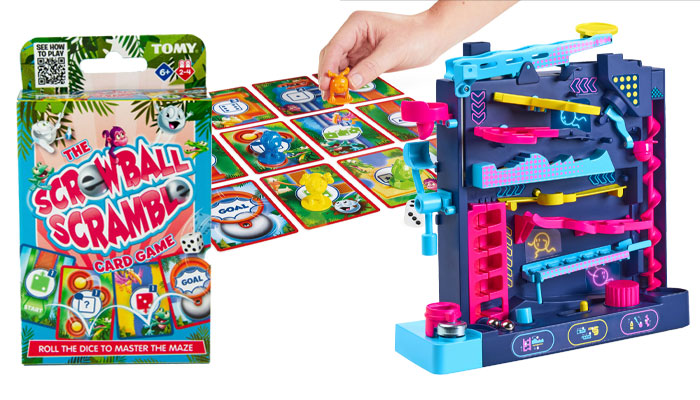 TOMY is expanding its Screwball Scramble brand with two new games.
Screwball Scramble: The Card Game sees players lay out cards to form an obstacle course, before frantically rolling dice to match combinations shown on the cards to progress through to the finish first.
The card game also includes a 1-on-1 mode as well as an Extreme variation which gives players the freedom to design their own course.
Also new is Screwball Scramble Level Up which puts a vertical twist on the classic game.
Starting right at the bottom, players need to make their marble climb up the frame, tackling over a dozen pieces of apparatus, visiting some of them twice. This includes inching up the Corkscrew, hopscotching over the Bridge, snaking up the Ladder and tip-toeing over the Saw Blade Bridge.
Players can take on the game solo to set a time and then beat it, or go head-to-head with family and friends as fastest up the maze wins.
–
To stay in the loop with the latest news, interviews and features from the world of toy and game design, sign up to our weekly newsletter here