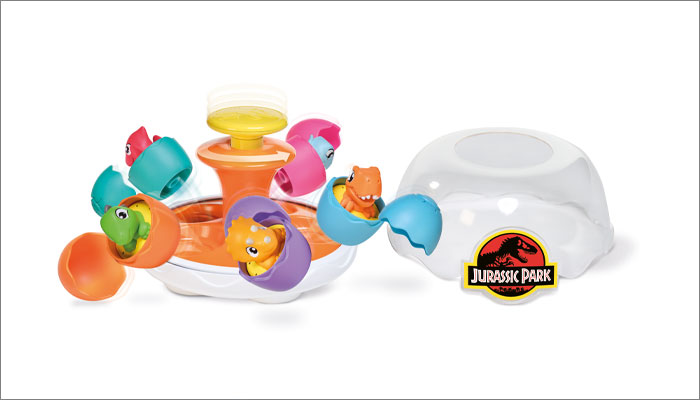 TOMY has teamed with Universal Brand Development on a line of pre-school toys for its Toomies brand based on the Jurassic World franchise.
Launching in June 2021, the line will include Chase & Roll Raptors and a Dino Rescue Ranger, inspired by the iconic vehicles in the films. There will also be a twist on Toomies' bestselling Hide and Squeak Eggs with the Spin & Hatch Dino Eggs, as well as a Pic & Push T-Rex.
Pop Up Pirate will also get a Jurassic World revamp with the launch of a Pop Up T-Rex in July. The
"Dinosaurs are an evergreen toy trend, reaching multiple age points including pre-schoolers, and with our Toomies success in this market, dinosaurs seemed like a great fit for our next collaboration," said Mary Wood, General Manager UK at TOMY.
"We're thrilled to be partnering with Universal to introduce this fantastic range – combining our expertise in pre-school toys with the worldwide phenomenon of Jurassic World, this is going to be a major focus for the business for next year and into 2022.  Feedback from retailers across all markets has been nothing but positive"
The Toomies brand has seen exponential growth in recent years, with its toy range up by 33% at retail vs 2019. The brand's ever-popular Hide & Squeak Eggs are also up by 25%, with the full range including the Spring 2020 Hide & Squeak extension items and AW20 additions contributing to 81% of EPOS sales year to date.
—-
To stay in the loop with the latest news, interviews and features from the world of toy and game design, sign up to our weekly newsletter here