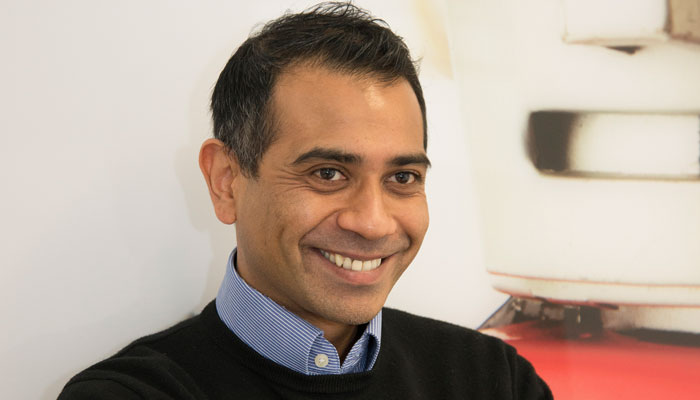 "I love my job – it's challenging, hard and creative."
Alpesh Patel is head of R&D for US and Europe at TOMY, and in his 18 years in the industry, Patel has worked at Hasbro and Disney, as well as with the likes of Vivid, Golden Bear and Mattel back when running his own consultancy, HotFresh Design.
2013 saw Patel swap Disney for TOMY, where he started off on boy's and vehicle brands, before working his way up to become the firm's head of R&D. We caught up with Patel to discuss his design journey in the toy space, the creative culture at TOMY and how he assesses the state of creativity in the industry today.
Can you talk us through your history in the world of toy and game design?
I was desperately looking for opportunities within the toy world and saw a posting in Design Week for assistant designer at Hasbro working on Micro Machines. It was my calling – I love toys and I love cars!
I'm really thankful for the people who believed in me 18 years ago (Sally Jacobs, Richard Gamble, Chris Burt) that allowed me to start my career. I wasn't a particularly amazing designer at that time, but meeting other talented designers (e.g. Rob and Luc of Triclops Studio) inspired me to better my skills and try new art forms.
After Micro Machines, I moved onto Action Man. At that time, we were working on some really amazing things and charting a new direction of how kids would play with action figures and the vehicle play-sets.
After Hasbro, I started my own consultancy. I worked with lots of different companies – Vivid, Golden Bear, Mattel, TOMY and Disney to name a few, working on very different types of toys and licences. Disney was a big account for me and at that time, they were looking for a boy's product development manager to work in-house.
I joined the team and had six amazing years there working hand-in-hand on toy development from our core EMEA partners. I got to travel the world, go to movie premieres, see actors on set – it was all really cool stuff.
I then wanted to further my career and move into manufacturing again – I missed the feel of making things. I was lucky enough to head-hunted by TOMY at the time, by a close friend and ex–boss, Ed Duncan.
I was put in charge of the boy's and vehicle brands at TOMY. Over the years, my portfolio of brands continued to grow and I now head up all of the toy brands outside of Japan. I love my job – it's challenging, hard and creative. I have a fantastic team who really know how to make great toys and experiences for kids.
How would you sum up the creative culture at TOMY?
The creative culture here is great, and I am always actively looking at ways of how we can be even more creative and have a culture where we are even more inspired.
I have a design team in two different countries and three different locations, as well as R&D support in Japan and Hong Kong.  As a Japanese company, you can only imagine the level of creativeness and often craziness of toys that come through. We also have a back catalogue of decades of awesome toys. We often use this as creative inspirational tools in the toys we develop today.
How do you personally stay creative?
I'm very lucky and get to travel throughout the year – the first thing I do is check into my hotel and get out to retail straight away. Toys in Japan, Hong Kong and China can be so different to what's going on in the international markets at home and are a constant source of fresh inspiration for me.
I also have two young kids, aged six and three. For me, they are the key to staying creative. Seeing them interact with toys, learning about how they play and what they are watching all helps me stay creative.
How do you assess the current state of creativity in the toy market today?
I personally think it's better than it's ever been in my 18 year career. We have had many years where licensed toys ruled and it's really refreshing to see home-grown IP hitting the top spots in the NPD Charts, where you have to be creative and original for the product to have a chance of success. I love the fact that packaging is also creatively becoming much more of the experience of playing with a product.
At the same time, we also have big challenges. With rising manufacturing costs and low price point expectations from retailers and consumers, it can be very challenging to deliver a truly creative solution every time. I often think about how the toy industry can improve the messaging of the importance of children playing with really good toys and the value and benefits that it brings in allowing development and fun for children.