TOMY's Chris Huisman on the global design approach to Ritzy Rollerz, the firm's new collectible girls brand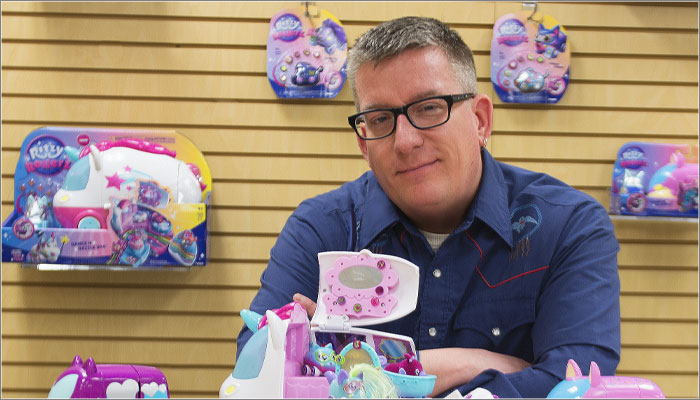 One of the highlights of this year's Toy Fair season came from TOMY in the form of Ritzy Rollerz.
Launching later this year, Ritzy Rollerz is an all-new collectible, vehicle-based line featuring a range of cute animals on wheels, each boasting their own unique hair, fur and shiny chrome.
Tapping into on-trend play patterns like the ability to accessorise, fun textures, and secret surprises, the range spans collectible character vehicles, and feature-filled play-sets, including Heelz on Wheelz (a mobile shoe shop filled with ritzy charms), and the Dance n Dazzle Spa Playset (where Ritzy Rollerz can roll in for posh charms and before showing off on the Dance n Dazzle stage).
At US Toy Fair, we caught up with TOMY's senior concept and design manager, Chris Huisman, to learn more about the design process behind Ritzy Rollerz, and why "the sky's the limit" when it comes to the brand's future.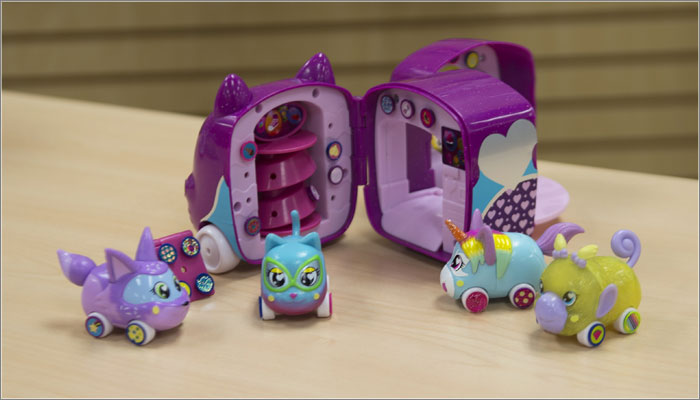 What's your history in the world of toy design?
I started as a designer for a pewter manufacturer. I eventually made my way to a company called Racing Champions where I started as a licensing co-ordinator and also package design, which evolved into toy design. Over the years I learned the market well, trying to get a good grip of what everyone else is doing so you don't copy them; you innovate or make things better.
How would you describe your new brand, Ritzy Rollerz?
Simply awesome! It's an amazing new collectible girls brand where kids really get to play with all the little things they love.
Ritzy Rollers combines, collectability, fashion, a mixture of amazing materials and finishes, a surprise element, a small storage space called the booty trunk for the charms and, most importantly, the world is all on wheels!
We took the time to design really appealing characters, play-sets and the cutest small charms that snap onto the wheels to customise the character to whatever you feel. All the charms have special icons and are finished in cool glittery effects.
If kids want their character to live a superstar life, they can add lots of charms to the wheels to make them bling or if their character loves doughnuts, they can customise it that way. The charms are also key to customising play-sets and accessories.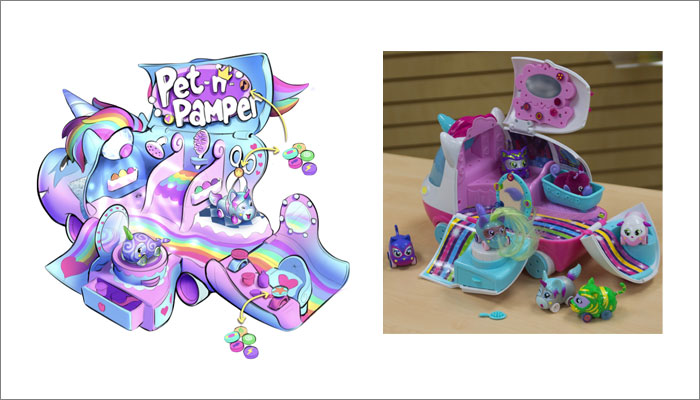 Where did the idea for Ritzy Rollerz first come from?
We felt there was a need in the market for a new type of girls (and boys) line that was really wasn't being fulfilled. We know girls love vehicles, but so often they are "girlified" versions of boys vehicles that simply have just had the colour changed.
We wanted to take it a step further by really understanding what girls loved so much when playing with their collectables and combine that thinking into a package that was more customisable, appealing and fun to play with for girls.
We wanted a variety of characters, colours, finishes, different types of paints and with the customisation element, we gave the characters real personality. They're fun, lively, funny and adventurous and we developed a world in which the Ritzy Rollers live, via three truly amazing play-sets.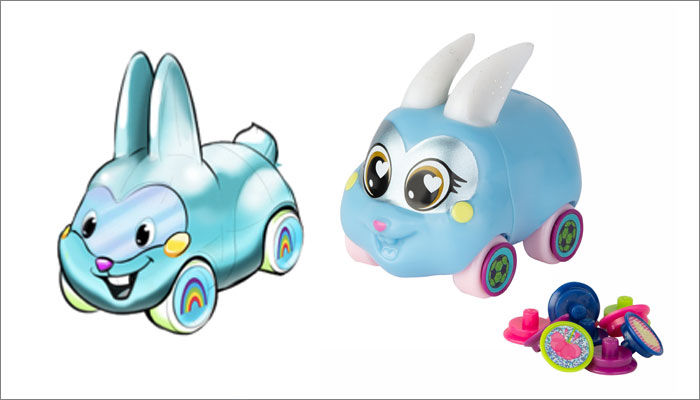 Did the concept change much from initial idea to what's heading to shelves?
It's been pretty much a straight shot all the way through. There have been some variations, and one of the innovative things we've done is open up the back hatch – what we call 'the booty trunk' – where kids can store a lot of their charms.
Across the development process we gave the cars a little bit more personality than they had before, but all in all it's been a straight shot from what we first envisioned.
Part of the appeal of Ritzy Rollerz is that we ensured we had a global team working on it, to ensure it appealed to all tastes. We used the talents of product designers, packaging and graphics designers and engineers from the US, EU, Japan, HK and China as well as some fantastic outside vendor talent from the UK (Design By Touch).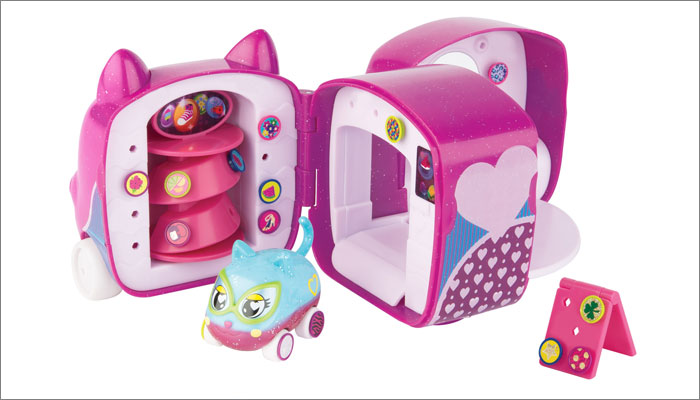 Looking ahead, are there plans for further lines?
Yes, it has enough depth that the sky's the limit. Right now, we have pets, wildlife and a smattering of really popular animals that we know girls love. We did a lot of research into what appeals to that market.
We have big news coming next year that'll help propel the brand even farther, but that's top secret for now… I'll share more in next year's interview!
Is there anything in Ritzy Rollerz that is intrinsic to TOMY's approach to design and what the company does well?
Absolutely. What we try and do with a lot of our toys is provide innovation where we can. Sometimes too much innovation can be detrimental and people just don't get it, but if you don't have enough it'll just look like everyone else's products. So it's what we call 'TOMY magic'.
You add just enough of it to make a little kid smile and say: "That's the best toy ever". That's what our ultimate goal is. We pride ourselves on making toys that kids really enjoy playing with, that enhances their imaginative play and adds an element of surprise and fun. It's been in TOMY's DNA for over 90 years.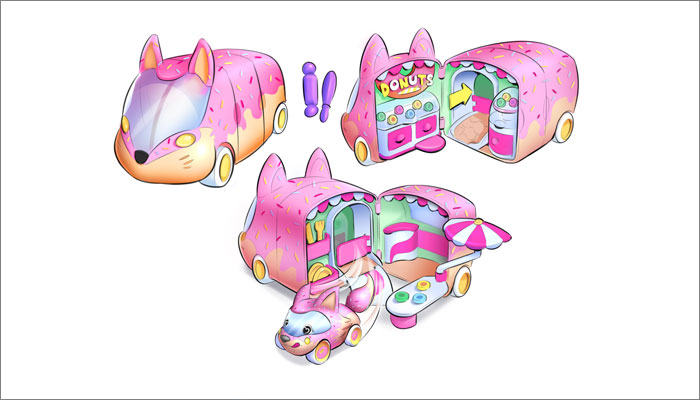 Is the toy space in a good place creatively at present?
Well, an easy solution in design sometimes is to just add technology to a toy to get it to do something its never been done before. Or you add a really hot brand to it to get people to buy it. There's a fine line where it becomes innovative and fun without relying on tech or a brand to help sell it. That's key to identifying what a hot toy could be. A lot of it is to do with timing. It might not have been a hot toy five years ago but someone kept at it and at it and next thing you know it's one of the hottest toys globally.
How do you stay creative?
A lot of times I'll present myself with a problem or a challenge to what I'm looking for. And this will sound stupid but my best ideas will always come when I'm taking a shower in the morning. I don't know why but I'll figure out the issue in the shower and it usually ends up working out pretty well.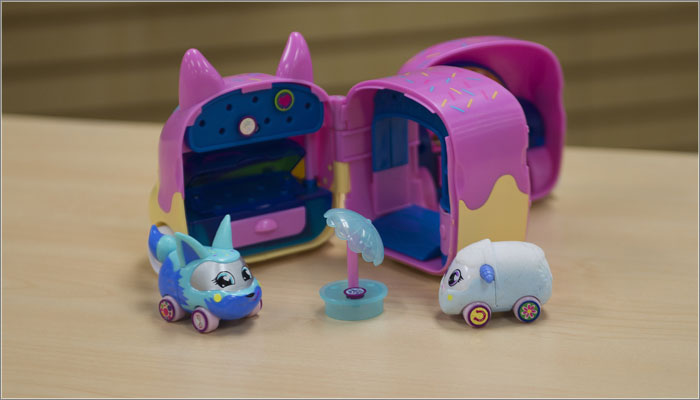 I've always been a creative person, but it comes down to experience. You can learn a lot in school but as an artist, a lot of what you do is intuitive. The key is to take that intuition and pair it up with experience to get to where you want things to be. It takes time.
I tell young designers, learn everything you possibly can. Go out and play with every toy. See what they're doing right and what they're doing wrong. Break it down and figure out what the need is that you're trying to fulfil. Don't just say 'I'm going to make a doll' – that's an easy answer.