Tonies co-creator Patric Faßbender on the origins of his playful, screen-free audio device for kids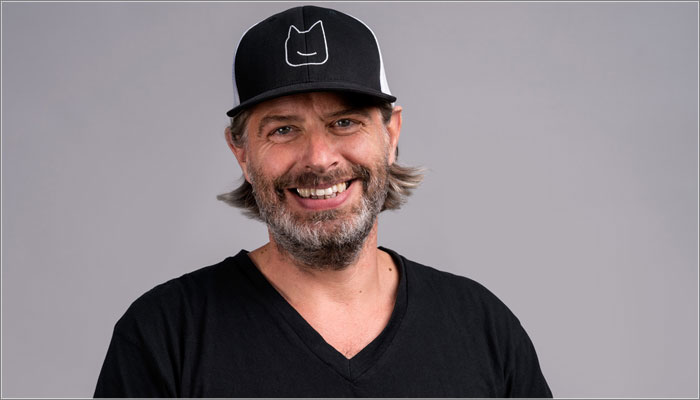 Back in 2014, confronted with a mountain of scratched audio-book CDs, Patric Faßbender decided to try and find an exciting new audio device for his kids.
When the search didn't throw up any great results, Faßbender teamed up with Marcus Stahl to create Tonies and the Toniebox, a playful, screen-free audio device for kids.
Tonies are hand-crafted, hand-painted figures that when placed on top of the Toniebox, the device instantly starts playing a story related to that figure.
There are a range of original characters and stories available, as well as licensed Tonies (including The Gruffalo, The Snowman and The Little Prince) and Creative Tonies, which allow kids and families to record their own audio adventures.
Since launching back in 2016, Tonies have become something of a sensation. There have been over 2.6m Tonies sold to date, with over 130 characters released in Germany; and that number looks set to soar later this year with the arrival of a range of Disney Tonies.
We caught up Faßbender to learn more about where the idea came from, and what the future holds for the Tonies brand.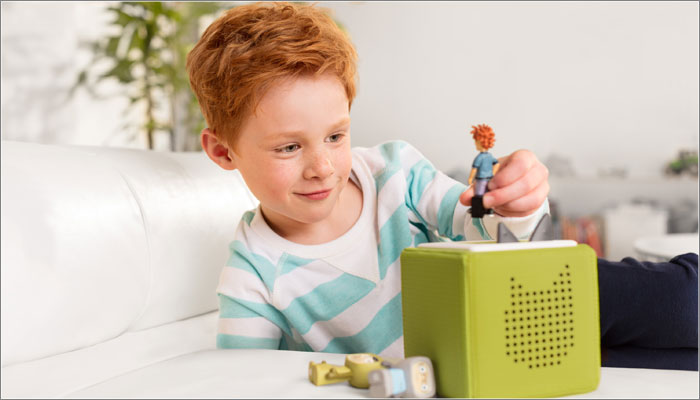 What's your history in the world of design?
At the age of 13, growing up in Düsseldorf, I came across typography because my brother in law is one of the best lettering artists in Europe – Frits Jonker. He lived in Amsterdam with my sister and every time I travelled to visit them, it filled me with creative energy. That was the starting point of discovering my creativity and interest in working in graphic design.
After school I lived in Amsterdam for a year to do lettering for several different publishers. These included different comics of Don Lawrence, a great illustrator and unbelievably productive person. After a while I realised I wanted to do more than lettering comics all day and I decided to study graphic design back in Düsseldorf.
During my studies I worked for different agencies, which opened the doors for me to start working for one of the first digital agencies in Germany, after my studies. Those were really exciting times, working with a completely new medium, that seemed to have no rules … a great blue ocean of undiscovered possibilities. This agency was later bought and integrated into Ogilvy.
After years and years of working as a creative director for different brands and products I decided to work on my own brand and product – best decision of my life!
Where did the idea for Tonies first come from?
Everything started at home when my wife and I tried to find a new audio-device for our kids. We had many scratched, lost and broken CDs of audio books and music at home; a medium which therefore seemed unfitting for young children.
Although we're very digital in some ways, we didn't want to give them a smartphone or tablet as an alternative, so this left us without a solution that matched our expectations. I saw this as a great opportunity to start something completely new; a child safe, intuitive, playful and screenless audio device for kids; in the end – for my kids.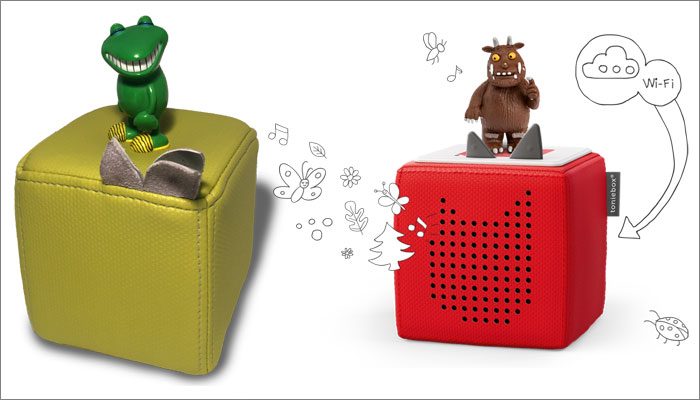 Can you talk us through any key changes from that first prototype (pictured above, left) to what's on shelves today?
To be honest, there are not so many changes. The shape, the feel and the whole user-experience is pretty much the same as my prototype.
The main changes can be seen on the top of the Toniebox. We needed a stronger and more stable connection between the Tonie – the audio characters – and the Toniebox – the audio system. This changed the manufacturing on the top from fabric to plastic. This also gave the design the advantage of defining a more distinct space for children to place the Tonie.
How do you fuel your creativity?
Travelling is always a great opportunity for me. I love being in cities like Hamburg, Berlin, London and, of course, Amsterdam. You can see and feel creativity everywhere in these cities. That's something I really love.
If I have the time, I also go to museums, completely open minded to whatever is shown there. The last two museums, for example, were the Kunstpalast Düsseldorf, with an exhibition on car design from the fifties to eighties, and the National Gallery in Berlin showcasing art from the nineteenth century until now.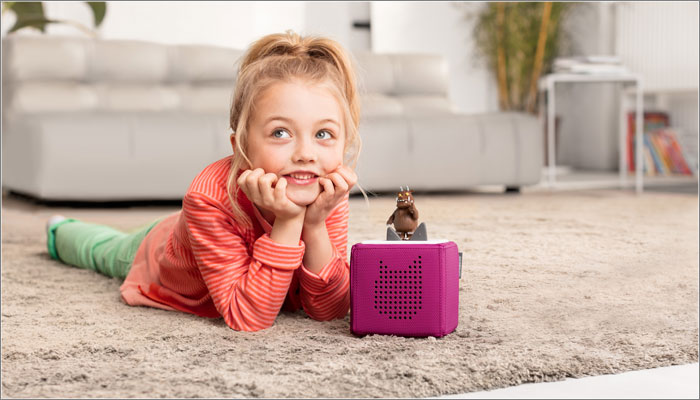 What does the future hold for the Tonies brand?
Hopefully, we have a great way ahead! One of our biggest strengths – and I totally believe in that – is that our whole team believes in the product and works passionately everyday to realize our vision to become part of every kid's room. You can really feel that when you experience our brand – from package design to a chat with our customer care team.
Our biggest challenge will be to expand this experience in the future, and also moving forward to different markets. All our ideas of new Tonies, new products and new services are based on passion, curiosity and a pinch of light-heartedness. That is what you will see in the future as well!