This year sees board game and puzzle publisher, USAopoly (The OP), celebrate its 25th anniversary.
Alongside a new logo and fresh website, the milestone is being marked with a slate of more than 50 new games, including family titles Astro Trash and Furry Foodies, the first ever Die Hard board game Die Hard: The Nakatomi Heist and brace of new licensed versions of Talisman.
We caught up with Tony Serebriany, Director of Inventor Relations and International Sales at The OP, to learn more about the creative culture at the company, including why the firm encourages colleagues from all departments to pitch game ideas and to provide opinions and insights about games in development.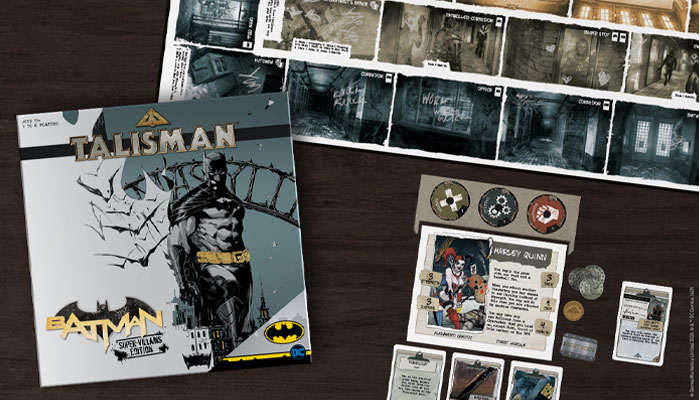 How did you get started in the world of game design?
I have loved gaming my entire life. I grew up playing classic games like Pay Day, This Game is Bonkers, Sorry, Uno, Clue, Risk, Monopoly, and my favourite, Can't Stop.
In fifth grade, my gaming perspective expanded when I had the opportunity to play Dungeons & Dragons for the first time. This experience, coupled with my friend's dad using their basement for tabletop war games, changed how I defined gaming and eventually sent me down the path of game design.
It wasn't until much later in my life that I actually discovered this path, when I landed a Production Assistant job at USAopoly. Now, over 20 years later, USAopoly has become my second family and has allowed me the creative freedom to express myself through games.
I've held numerous positions in the company across multiple departments, affording me with the opportunity to learn the different facets in gaming, including graphic design, game development, production, sales and new business development.
This year sees The OP celebrate its 25th anniversary. How would you sum up the firm's approach to game design?
Whether we are adding our own flavour to an existing game brand, translating a pop-culture IP into a tabletop experience, or creating a brand-new game for fans, our primary goal is to create immersive experiences that fans will want to share with their friends and family.
We know that the next great idea could come from anyone, so we don't limit our early brainstorming sessions to just the product and creative departments. We tap into our entire team's deep well of personal interests and expertise to make the best game possible.
We encourage colleagues from all departments to pitch game ideas and to provide opinions and insights about games in development. This provides us with good checks and balances and helps us to remain agile and exploratory with game design.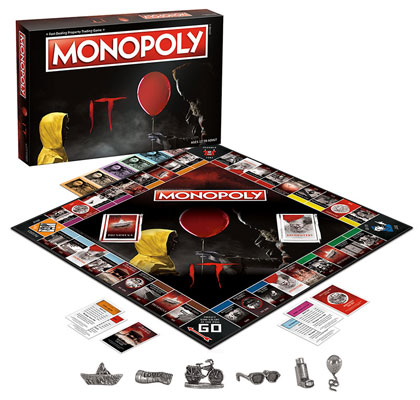 Has this approach evolved much over the years? If so, how?
Our process and approach have evolved with our product catalogue over the past 25 years. During the early years of The OP, when we were focused on licensed city and states editions of Monopoly, creating games required more research than design. Now that our line-up includes an array of licensed, original and co-branded products, we have to approach things a bit differently.
Quality remains our cornerstone and there is still a substantial amount of research conducted, especially for licensed products where the attention to detail is imperative to properly translate an IP into a tabletop experience, but we've also grown more experimental.
We utilise in-house talent and outside game designers, internal and external focus groups, trend forecasting, and more to develop games that are fun and captivating. With such a diverse product mix, we don't take a singular approach to design.
How closely do you work with the brand owners when it comes to giving classic movies and TV shows the board game treatment?
We have been with many of our licensing partners for over 10 years, and we try to work as closely as possible with them because they have a wealth of knowledge and historical data about the property.
Sometimes we get to work directly with the creators or artists of a property, as was the case with Bob's Burger line-up, Steven Universe games and Court of the Dead: Mourners Call. Other times, we rely on our brand partners, focus groups and research to guide development.
The level of engagement varies partner to partner, but it is our responsibility to learn the intricacies about the IP so we can create a compelling board game experience that accurately represents the source material.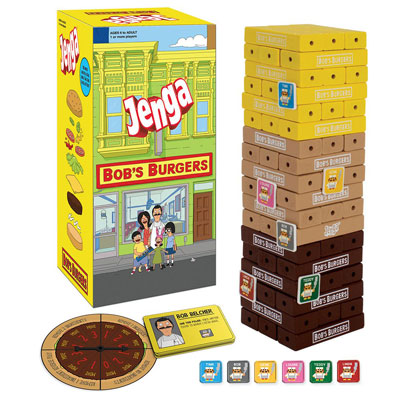 How important is the design community to The OP?
The international game design community has been a great resource for The OP and for the gaming industry. The more ideas we can source collectively, the better our odds of finding the next great game that creates positive, lasting memories.
Our in-house game design team and I work closely with the inventor community to refine content and turn ideas into polished and immersive gaming experiences. Their value is undeniable. In fact, the inventor community is responsible for some of the most popular games on the market to date! It's important to us as publishers – and as gamers – that we continue to help foster a growing and collaborative environment with them.
How would you describe the creative culture at The OP?
It's easy to see that we love what we do. As gaming enthusiasts ourselves, much of what we make is just as much for us as it is our fans. This translates to some amazing collaboration between departments.
Each week we host "Workshop Wednesday" for the entire company, so that all employees can help playtest and provide feedback on active projects. We also utilise outside play testers and focus groups regularly to gain more objective feedback. This 'all-hands-on-deck' approach allows us to have an iterative creative process and nurture a broad creative culture, inclusive of those team members who may not see their role as 'creative' or 'development' related.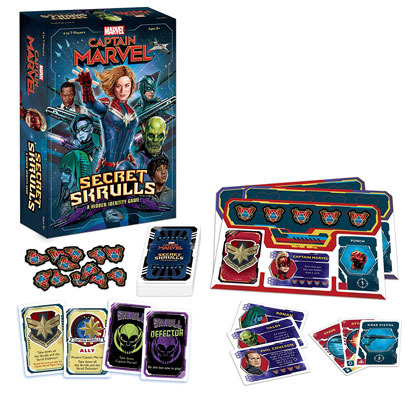 Can you talk us through some of your big launches for this year?
2019 is a big year for us! Not only are we celebrating 25 years in business, but we are also releasing over 50 new products (games, puzzles, playing cards).
We kicked off the year with the launch of the hidden identity game Captain Marvel: Secret Skrulls, and we are adding a handful of family-friendly, original IPs to our portfolio this spring and summer: Astro Trash, Furry Foodies and Blank Slate.
We have also expanded our co-branded line-up to include two licensed versions of Talisman, a Kingdom Hearts and Batman: Super Villain edition.
We most recently announced the first-ever Die Hard-licensed game, Die Hard: The Nakatomi Heist, and we have so much more to come, including a new signature game inspired by the horror heavyweight IT and three new Harry Potter games.