Top Dog: Why WowWee's new robot toy blends tech with trends… A chat with Sydney Wiseman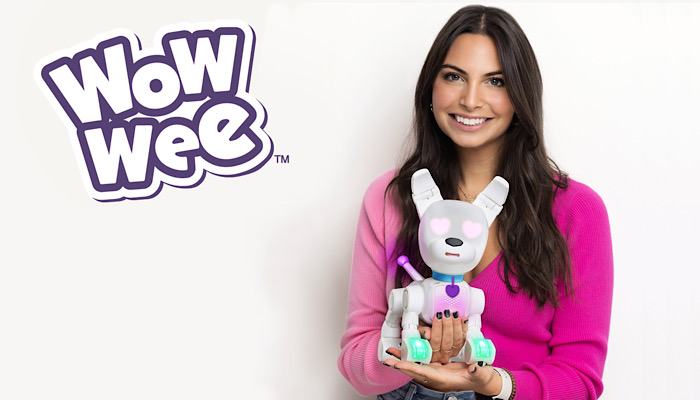 Sydney Wiseman, you're VP of Brand Development and Creative Strategy at WowWee. For those not in the know, who are they?
WowWee is this amazing, cool company that perfectly blends cutting-edge technology and imagination into award-winning toys and gadgets, such as Robosapien, MiP, and Fingerlings. Since it was launched in 1988, WowWee has become an industry leader in creating and distributing tech toys for kids of all ages. Innovation sits at the very heart of everything we do, as we continue to WOW people all over the world!
Great answer! Thank you. While I remember to ask, what were your favourite toys growing up?
I was a big Polly Pocket and Barbie kid! My grandfather had an expression: "You can't spoil a good thing." And I was a good thing! So I got to go to Toys "R" Us with him almost every weekend to buy a doll. I'd say he's responsible for nurturing my love and passion for toys from a very young age.
How did you come to be in the industry, then?
I was born into it actually – although I wasn't sure from the beginning if I wanted to join a family business… My uncles – Peter and Richard Yanofsky – started WowWee 35 years ago or so.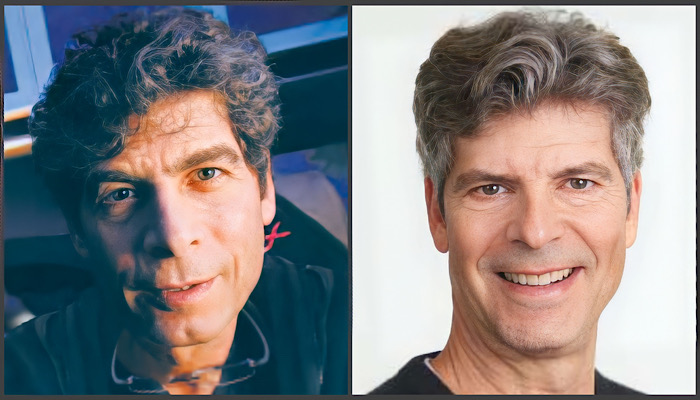 Is that right? What did you want to do if you didn't join the family business, then?
I wasn't sure… I studied business at the Desautels Faculty of Management at McGill University in Montreal – but all my projects turned out to be kid or toy-related. So my teachers encouraged me to join my uncles and start a new division! Soon after finishing school, I became a part of the WowWee team, overseeing all-things-creative.
I don't think I really need to ask this… Did you make the right decision?!
100 percent yes! I think I've probably got the best job in the world! I love to come up with ideas for toys, as well as the play pattern that guides how kids will play and interact with them.
And on that point, I think it's safe to say, Sydney, that you and your team have created some really fantastic products over the last 10 years… What are some of the highlights?
FINGERLINGS! It's probably the most rewarding thing that's happened to me to date.
I'd've been shocked if you'd said anything else! What made that special?
To see a toy you work so hard on resonate on such a huge level with the public – worldwide – was incredible… And really unbelievable! I'll give honourable mentions, though, to our Got2Glow Fairy Finder. I think that's one of the most magical toys in the market today. And My Avastars Dolls are a personal favourite… I've always wanted to create a doll line. Last year, we did it – and it seems to really be resonating!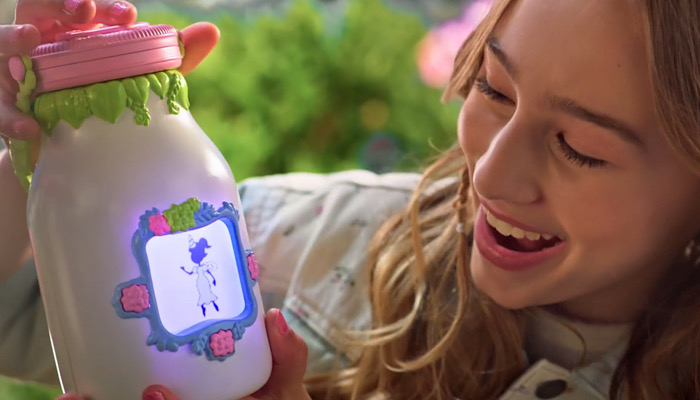 You're clearly very passionate about toys… Out of interest, then, what unites all of these lines? What's the X factor in Fingerlings, Got2Glow Fairy Finder and My Avastars Dolls?
I think it's a "WowWee touch" that unifies those, and all our toys. As a company, we're quick and nimble… We love to play with trends, and we don't do anything 100% traditional. We always try to add something innovative or different to every single toy we make. It's the "WowWee way"!
The WowWee way! Love it. And on that note… Your latest launch is the MINTiD Dog-E, The One in a Million Robot Dog. What the deuce is that?!
Ha! Dog-E is a smart, app-connected robot dog that's MINTiD just for you! We just launched it at CES 2023 in Las Vegas – and the reactions from everyone that's seen it have been absolutely priceless. There are no words to describe the pure joy and excitement that lit up their faces when seeing and interacting with Dog-E!
Strewth! You're quite the salesperson, Sydney; I'll take two! What makes it such a sensation? Walk me through it?
The robot itself starts off white with some black accents. Once it's powered on, though, it guides you through a 'minting' process. That reveals a unique combination of colourful lights, sounds and personality traits, which makes your Dog-E truly one in a million!
So it doesn't just end up looking unique? It ends up behaving in a unique way, too?
Exactly… Every MINTiD Dog-E is unique, and every one allows multiple members of a family to mint, save and load individual profiles with the companion app.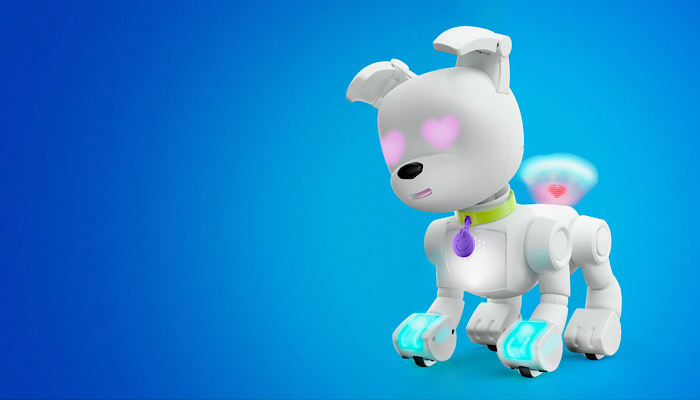 So one Dog-E can have different personalities programmed for different people?
Yes; that's one of the things that I think makes it incredibly special and groundbreaking…
Well look, I said I'd take two but it sounds like I only need one!
You do only need one! I think people also love the dog's 'Persistence of Vision' tail… That displays icons and messages to communicate… In other words, Dog-E can "talk with its tail"! To me that is so unique; it's really a showstopper moment! Then throw in his puppy-like motion and life-like-movements, coupled with audio and touch sensors… It's just an incredibly special pup!
Okay, I'll take three! Tell us a little about its development, Sydney… How did Dog-E come about? What was the process behind it?
We started by looking at the current state of the toy industry, and coming to the realisation that the robotics category has shifted… It's almost becoming a trend of the past.
I hadn't given that any thought… You mean companies aren't really focusing on it?
Right, but that's not to say that the category's gone completely… It still exists, just not to the extent it used to. There was a time when many 'Toy of the Year' awards would go to some sort of robotic innovation.
Right…
We also saw a huge growing trend in 'reveal' and 'blind purchasing'… So we took a step back and thought: if we're going to bring robots back, is there a way to combine spectacular tech with the amazing feeling of not knowing what you're going to get? And I think we really achieved that!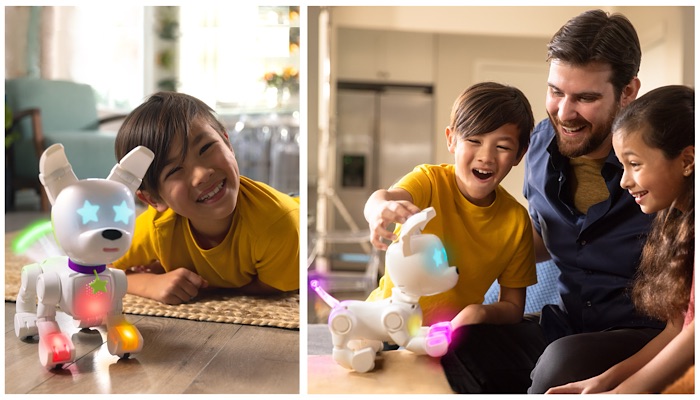 That's when the idea for MINTiD Dog-E started to be shaped. Then we took one step further, looking at the Web3 space and just riffing off pop culture, combined with the idea of something 'minting'. We thought it would be a really clever concept for us to use and to build the MINTiD brand around that, and the idea of creating a robot dog that was one in a million.
I can tell you're enormously excited about the finished product! Let me ask you this, though… At what point in the development process did you feel most excited?
Oh, quite recently; when I got the first working prototype! I was like "Wow! We did it! This is going to work and it's going to be awesome!"
Brilliant. Where can people see this, Sydney? Nuremberg Toy Fair?
Yes! We'll be showing Dog-E at the London Toy Fair from the 24th to 26th of January; Nuremberg Toy Fair – the 1st to 5th of February… I'll also be bringing Dog-E to 'The Play Date' organised by the toy Association in New York City on March 8. One more important thing to add!
Go on…
Dog-E is available now for pre-order at dog-e.com. Pre-order customers receive a bonus accessory pack of four collars in a variety of colours – exclusively for their Dog-E. Then, the product will be available at retailers and online in the US and Canada in full 2023 MSRP, at the price of $79.99 – and $99.99 CAD.
Great stuff. Thank you so much for making time to tell us about it. It really does look like the bee's knees… Do you have that phrase in the US? The bee's knees?
Yes!
Okay, just checking! Final question, Sydney: what's the most interesting object in your office or on your desk?
Probably the Swarovski embellished Fingerling we custom-made for the GRAMMY's Gifting Lounge… Or my Sydney Olympics Barbie.
Fantastic! Hey, listen; I enjoyed this enormously – thank you so much for making time.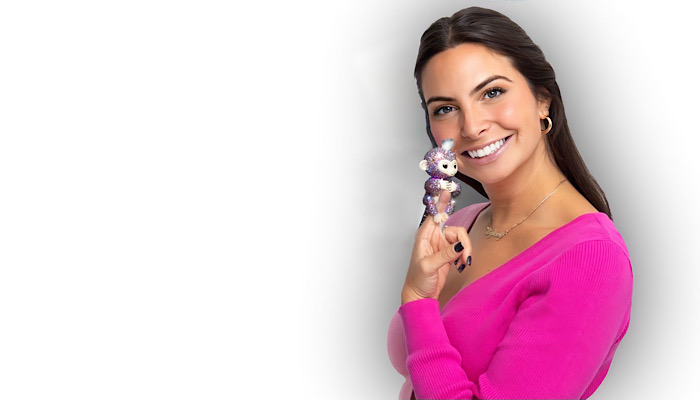 –
To stay in the loop with the latest news, interviews and features from the world of toy and game design, sign up to our weekly newsletter here