How toy firms can help stop the death of design education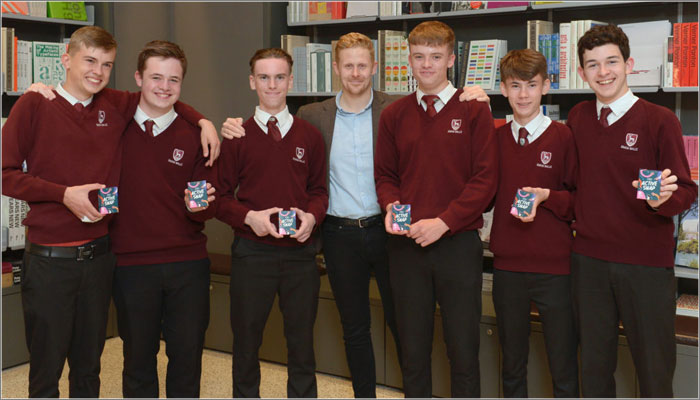 Creative design and problem solving is, and always has been, at the core of humanity's progression.
Originality, innovation and flair are key components in any creative development, whether that be technological, scientific, literary, artistic or toys and games; but are we losing those creative opportunities and high-quality design thinking in secondary education?
Nationally, at secondary school level, creative subjects such as the Arts and Design & Technology are being squeezed out because of the EBacc structure which the government has put in place focusing on English, Maths, Science, MFL, History and Geography. As a result, data shows a national decline in students opting for subjects outside of these core focuses.
The numbers participating in design, and the quality of design education in each school, is different depending on both the mentality of senior leadership and the expertise of the teachers who represent each department. I am very lucky that my senior leadership team are supportive of creative subjects overall and in my own department, we have a strong and inspirational group. This means we are oversubscribed at GCSE and hold strong numbers at A-Level.
We, as secondary staff in the UK, teach students for up to seven years – through GCSE and A-Level – and we can have a massive impact on the design thinking and skill-set of a pupil aiming to go in to the design industry. As a school, we seem to be getting a lot of things right as we set students up for higher education design courses and beyond.
In contrast, if we look nationally, it seems that many schools are reducing lesson time given to creative subjects and in some cases, cutting them from the curriculum completely.
You also have the major issue of a lack of specialist teachers within our subjects, as there are simply not enough applicants for ITT (Initial Teacher Training) from students leaving degree courses.
The question also lingers as to whether the financial packages on offer are enough to entice those that are in the design industry to take a year out and train as a teacher. Respectively, being a great designer does not automatically make you a great teacher and the value of teacher training courses cannot be underestimated.
There are several key issues which now threaten design education, primarily being the funding on offer to prospective teachers for training and whether schools are being supported to give design enough time within the curriculum to thrive.
There are other issues regarding the 'relevance' of curriculum and the content being delivered by departments, but this can be quite subjective depending on individual stances. On this, I find the following Einstein quote to be very true: 'If you always do what you always did, you will always get what you always got'.
I was lucky enough to receive a significant bursary when I entered my teacher training. I had achieved a first-class degree in product design and so was eligible for the maximum available. However, as of next academic year, the government has removed the bursary for Design & Technology completely from university-based courses. This could be catastrophic for the subject because of teacher recruitment and the quality of training. I know that if this was the case when I trained, I would not have been able to do so for financial reasons alone.
Design and Technology has been a shortage subject in teaching for the past seven years, if not longer, and without the financial support I worry that potential candidates will be deterred. The knock-on effect of this will be even more subject closures, as schools struggle to employ specialists and thus see the subject as being redundant.
If a student receives seven years education in an outstanding design department, they will go to university in the best possible position, but how do we ensure that the teaching quality is high?
I was lucky enough to gain a place at the University of Cambridge to take on my ITT (Initial Teacher Training) under Bill Nicholl, a recognised literary in the field of creative design education. During my product design degree, I learnt the skills I needed to be a designer – gaining experience from live briefs and company placements and even having my first product manufactured – but it wasn't until I studied at Cambridge that I was fully in control of my own design thinking. And yet I know for a fact that this course's numbers have brought into question its existence over the past five years and it would be a catastrophic loss to design education if it were to close.
In order to thrive, design education must now be supported by government – and potentially industry – to ensure high quality teachers are trained and enter the profession ready to raise the bar for design education, keeping it progressive and relevant. Financial support must be offered for this training to take place and to allow university courses to grow and attract credible candidates that will keep the subject moving forward.
If government are not able or willing to support, could industry step in to help fund these places in their own best interests? If not fund, could industry – including toys and games firms – provide CPD (continuous professional development) and create inspiring resources for teachers to deliver to students and learn from themselves?
The potential ramifications for industry are simple: with a lack of trained, specialist design teachers at secondary schools, there is an inevitable reduction in the pool of future designers that have the expertise to make an impact and be disruptive in differing industries. With this, who knows how many potential iconic toy and games we could eventually miss out on.
The D&T Association has recently launched the Protect and Promote Design and Technology Campaign. To find out more or to support the campaign, please click here.
Jack Andrews is a designer, educator and head of department at Simon Balle School. He and six of his students are also the inventors of Active Snap, a new card game launching from TOMY later this year.
—-
To stay in the loop with the latest news, interviews and features from the world of toy and game design, sign up to our weekly newsletter here