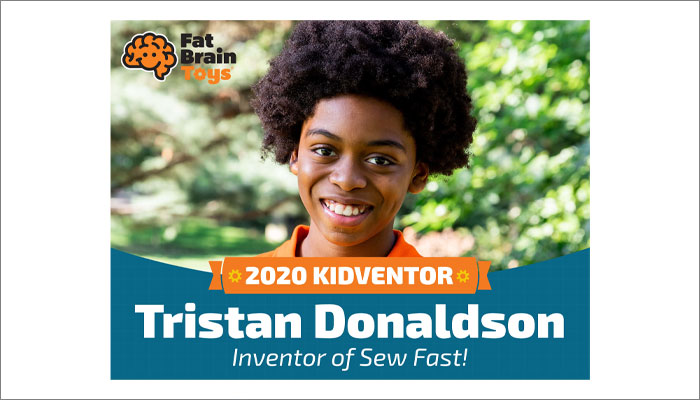 10 year old Tristan Donaldson has won Fat Brain Toys' 2020 Kidventor Challenge thanks to his Sew Fast game invention.
Sew Fast challenges players to sew specific shapes into "sew boards" full of random holes, and as the winner, Tristan will receive a $2,500 scholarship, a license agreement that offers ongoing royalties, $500 in toys from Fat Brain Toys.
Tristan will also receive round-trip airfare and hotel accommodations for two to attend the 2021 New York Toy Fair, where Sew Fast will be showcased to buyers from around the world.
"Now in its fourth year, Kidventor 2020 really brought out a number of outstanding toy and game concepts from some seriously creative kid inventors," said Mark Carson, co-founder of Fat Brain Toys.
"As challenging as it was to pick an overall winner, we applaud Tristan's innovative new twist on sewing."
This year's panel of judges included Co-Host of NPR's Wow In The World Podcast Mindy Thomas, President of the Parents' Choice Foundation Claire Green, and Fat Brain Toys Co-Founders Karen Carson and Mark Carson.
The runners-up for this year's Kidventor Challenge were ten-year-old Gia for her invention of Breeze Blaster, a leaf-blower turned explore-and-experiment adventure, and six-year-old Grant for his invention of the Ball Launcher Challenge, a ball-run target game.
—-
To stay in the loop with the latest news, interviews and features from the world of toy and game design, sign up to our weekly newsletter here