Trivia with a twist: Ceri Price and Natalie Podd on the origins of their debut game, Confident?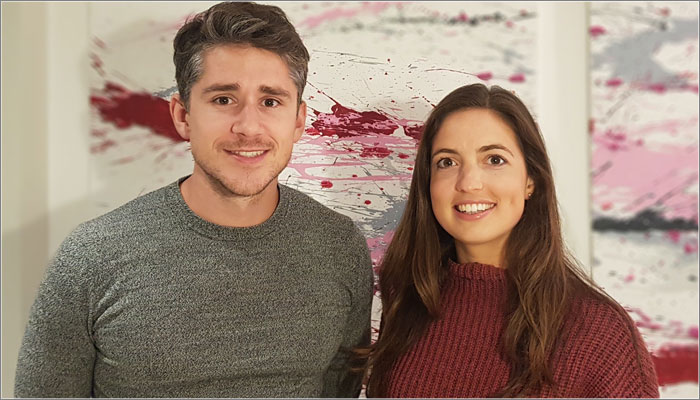 The bikini: in what year was it invented?
If you're like a lot of people, you'll be saying you really don't know while still trying to figure it out! But what if you're allowed to answer with a range of dates? And what if the smallest range with the right answer wins? That's the universally-popular idea behind the new trivia game Confident?…
We caught up with first-time inventors Natalie Podd and Ceri Price to hear how their idea went from not quite to just right in under a year.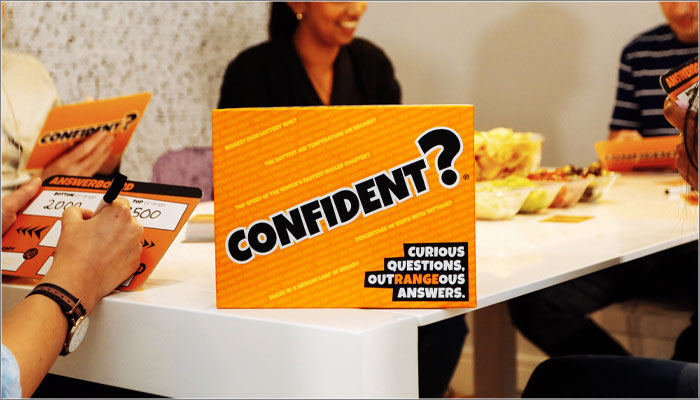 Thanks for joining us… We love Confident? – great idea. Where did it come from?
We were on a trip in Brazil… One afternoon we were drifting through the Amazon rainforest in a canoe and, being big quiz fans, started asking each other questions about our experiences – like, "How many people do you think live in Brazil?". Without the internet, we found ourselves answering each question with a range: "Between 50 and 150 million". It made for a fun game – seeing how small a range we could give while still feeling confident…
It's probably worth our mentioning that you're both actuaries, right?
Yes! And actuaries routinely deal with measuring and managing uncertainty, so using a range is a familiar concept… So the idea for Confident? combines three things we love: trivia, travel and statistics! We quickly developed that idea into a blueprint for a party game that we thought would be great for groups of all abilities because everyone could have a go.
And how did you go from that blueprint to where you are now?
We developed the rules and scoring system, and created primitive prototypes to playtest with friends and family. We also attended sessions with a Meet-up Group called Playtest UK. They gave us some harsh but valuable feedback. For example, originally players lost lives and ultimately got knocked-out if they didn't get the answer in their range. The playtesters pointed out that this was negative and would lead to people just sitting and watching – not fun for a party game!
Yes; that's not easy to hear, but it's spot on…
So then it evolved until we got demands for a printed version, and decided to get it made on a relatively-small scale to test it in the market. We juggled our full-time jobs with coming up with hundreds of questions, finalising designs and negotiating with manufacturers. In November 2018, the games arrived and we started selling them on amazon! We launched a marketing campaign and sold most of our copies before Christmas.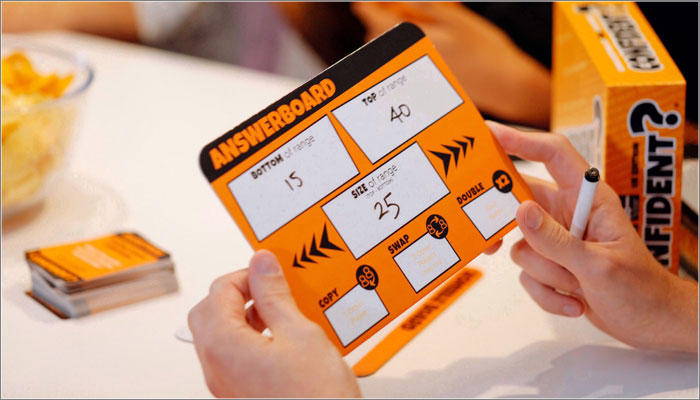 Brilliant. You also showed the game to retailers… What was their initial response?
We got our hands on the contact details of a game purchaser at a national retailer and sent them a copy of the game and an email. Luckily, they gave us a chance, played it in their office, and agreed to meet us. They gave us great feedback and thought it could be a hit in their stores. They suggested that we refresh the design to make it look more contemporary on shelves. That bit was hard to hear but it was exactly what we needed – for our second edition, we created a new look and got the retailer's feedback as we went.
Smart! And at the time of writing, 97% of the Amazon reviews for Confident? are rated five-stars… Why is it so solid, do you think?
The reviews often mention how it's fun for everyone, with different ages and abilities playing together. It's a more even playing field: we've heard stories of ten-year olds playing with seventy-year olds – and both loving it, which is quite rare…
We've also tried to put our personalities in the game with intriguing questions, funny comments and interesting facts. They tend to stay with people long after everyone's finished playing. We also thought about all the possible points of frustration – taking turns, someone else getting better questions or it taking ages to learn – and tried to fix those.
What are your thoughts on other trivia games? Do you still play them?
We love other trivia games, and yes – we do play them: we never know the answers! Every game is different with its own special features, but we feel like we've stumbled onto something great with the ranges approach.
 
What's next for Confident? Are other games on the way?
We're focusing on the Confident? range for now – we've just released our second edition with a fresh look, and an expansion pack of extra questions. We've also just launched our personal expansion pack where players answer questions about each other like, "How fast do I think I'd run 100m?". It's a new twist that we're testing and it's a great way to find out something unexpected about friends and family.
That sounds terrific! Love it. Two more questions: if you had just one piece of advice for new inventors, what would it be?
Lots of people said that we should playtest a lot and we're really glad we did. Getting feedback from a wide audience was crucial in developing the game and predicting the response. That said, we could easily have fallen into a trap of refining forever, so we launched when we were about 90% happy with it…
Also, our first edition could have looked better, but it was good enough to sell and allowed us to prove the concept and get more feedback. We'd also recommend reaching out to the board-game community: people are wonderful: very generous with insight and advice.
Finally, when was the bikini invented? We're saying 1940 to 1955 – a range of 15 years…
Then you score points! It was 1946. It came about partly because of material rationing after the Second World War!