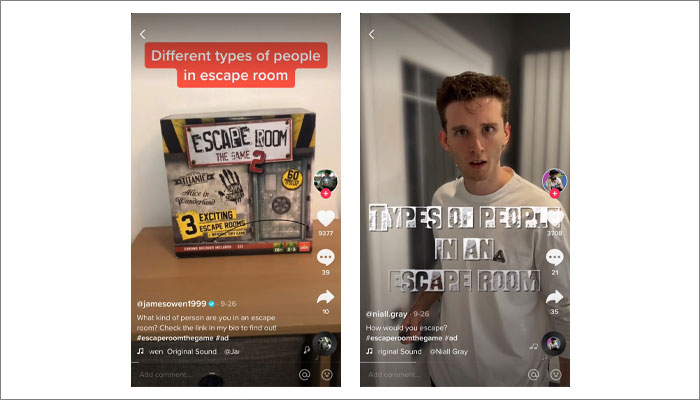 To support the launch of Escape Room: The Game 2 and new expansion packs, Vivid has teamed up with a number of TikTok creators to celebrate the different personalities involved when trying to solve an Escape Room.
The campaign was developed in partnership with Norton PR and KidsKnowBest to provide a fun insight into the stereotypical traits that emerge when people get together to play Escape Room: The Game, including the 'one who solves everything', the 'lazy' one, the 'panicker' and the 'scared' one.
The campaign is designed to tap into the growing demand for family games, especially those targeting a slightly older teen demographic, and the fact that the game can easily be played by up to 6 players within a household.
"Working with TikTok creators really brought the game to life among this Gen Z audience, appealing to their sense of fun, self-critique and group game play" said Lucy Vaughan, Assistant Brand Manager at Vivid Toy Group.
"Escape Room: The Game brings out a number of different personalities when played under pressured, challenging conditions against the clock so giving people the opportunity to laugh at themselves and identify with the traits shown on TikTok has generated some hilarious video content which can run and run across the key Christmas buying period".
—-
To stay in the loop with the latest news, interviews and features from the world of toy and game design, sign up to our weekly newsletter here