What Do You Meme?'s Christian Castro on the importance of inventors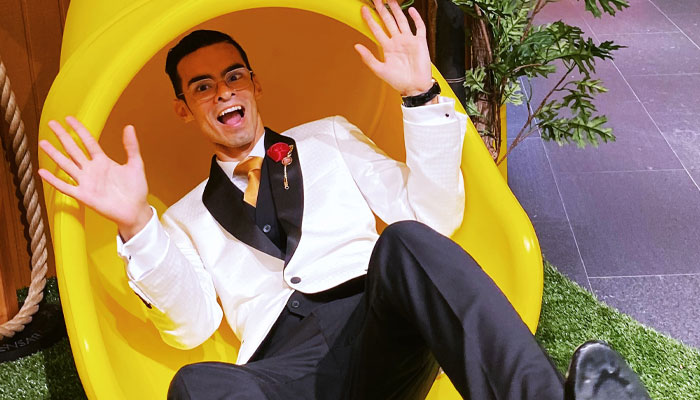 Christian, it's great to catch up. Let's start at the beginning. What set you on the path to toy and game design?
My journey was a bit structured in that I studied toy design at the Fashion Institute of Technology, here in New York – but I actually studied illustration first. I originally wanted to be a comic book artist or a children's book illustrator.
I went to FIT for illustration, and upon graduating – like most art school graduates – I couldn't get an arts job, so I got a job in retail at FAO Schwartz, the oldest toy store in the United States. I was a toy demonstrator, so my job was to play with toys and games and sell to the children, their parents and to tourists. I was good at it, so I needed to find a way to combine the two things I was good at: selling toys and design. That's when I went back to FIT to study toy design.
While there, I got an internship at Nickelodeon, within the consumer products department. I was designing toys for Ninja Turtles, SpongeBob, Dora the Explorer… And the rest is history.
Demoing toys in a toy shop must give you a unique insight – and skillset – that I imagine you still dip into today?
Definitely. It made me notice how different certain customers were, and what they look for in toys. If I saw a grandma, she would most likely just want to spoil her grandkids. I would talk to her differently than I was speaking to a kid, or a parent. Kids want something fun; they don't care if they'll only play with it once, or if it'll make a mess. Parents would care about all of those things. Customers on their way to a friend's baby shower would solely look at packaging design. Does it look expensive? Will it show that we care enough?
That's fascinating.
I also used to demonstrate games that had a lot of pop culture references, and often they wouldn't really resonate with tourists. Whereas Asmodee's Spot It was our favourite game to demonstrate because it was just images, so it was universal. I could play that with people who didn't speak English and they'd get the game perfectly.
Going back to your time at FIT, everyone we speak to that came through that Toy Design course speaks incredibly highly of it. What makes it special?
Me and my FIT friends describe it as a boot camp of sorts. It's intense, and was a stressful two years of my life, but it was also the most beneficial two years. It's a very immersive experience and you learn so much more than design. You learn basic engineering, patternmaking, sewing, child psychology – anything that has something to do with the toy industry.
You get an internship within a toy company, but at the same time you also have a once-a-week internship working at a day-care centre, helping take care of three and four year olds. That was an eye-opening experience. I learned as much working there as I did at my Nickelodeon internship.
I can imagine! What sort of things did you learn at the day-care centre that shaped you as a designer?
I was working in the room with the four year olds, and then one week I had to go to the room with the three year olds… You couldn't help but notice a huge difference in dexterity and motor skills between the age groups. I remember there was a three year old that didn't know how to jump, and I knew that in a year she'd be able to do it.
We do mostly adult party games at What Do You Meme?, but in my previous jobs I'd always think back to that little girl and consider how a three year old might play with something I'd designed.
It sounds like three incredible educations – at FAO Schwartz, FIT and the day-care centre… A perfect cocktail!
Yes, talking to you now, I'm surprised at how much I've learnt outside of the classroom!
Fast forward to now, and you're now Director of Product Development at What Do You Meme? Talk us through your history with the company and what your current role involves.
Well, I started at What Do You Meme? as a Product Designer and I was employee number five. I was the only designer at the time. I started the design department, eventually became Design Director and hired four very talented designers that are still here today. Recently, I switched to a brand-new role – Director of Product Development – and it's a new department that I'm starting from scratch. I am focused a lot on game development, concept ideation and inventor relations, amongst some other things.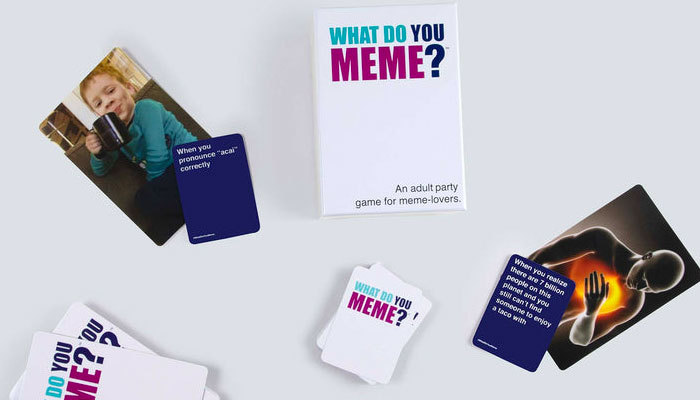 The scope of what you guys put out now is actually more varied than what people familiar with just the core What Do You Meme? game might think. How would you describe what the company is currently in?
What Do You Meme? at its core creates products for its audience. It doesn't necessarily have to be an adult party game, but it has to resonate with millennials and Gen Z while having potential to go viral. As you mention, we've branched out into plush, toys, children's games… For us, it's about creating products that are designed to bring the internet-style, shareable humour from your phone to your living room.
How do you assess what makes something go viral? Is it about launching a product to start a trend, or engaging with a trend early?
It's a tricky thing. Lots of people don't know they're starting a trend when they start it; these things often just start off as a bit of fun. That said, we do keep an ear to the ground of what's popular and what's trending. My colleagues are constantly on TikTok and Instagram, myself included!
What makes those sites so influential design-wise?
Well, I love TikTok and Instagram because even if you're not researching board games or party games, if you can see people having fun – and that's being posted and shared again and again – you know there's something there… It's then about trying to reverse-engineer it. It might be that tons of people are really into unicorns, so we dissect that and look at how to bring it into product, rather than waiting for a competitor to make a hit product and then jump on that bandwagon. Sometimes it works and sometimes it doesn't, but you have to be observant.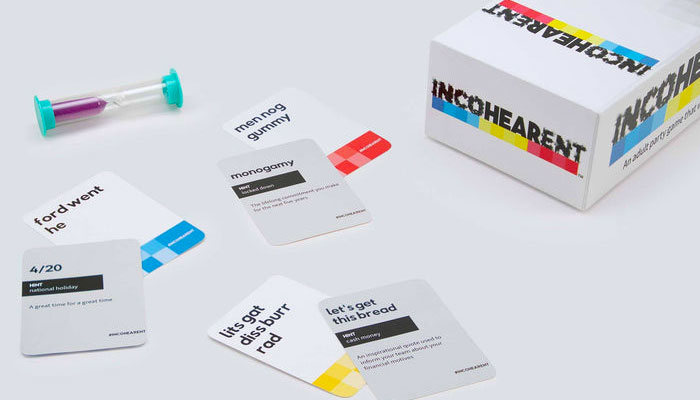 With lots of companies and inventors looking to TikTok for trends, do you also see value in the 'left field'? Maybe launching something not tied to a trend in the hope that it cuts through that way? Zigging where everyone else zags…
Definitely. I love speaking to people from different countries and seeing what games they played with growing up. There could be a play pattern that's been around for hundreds of years that's not mainstream within our culture. You could dissect that and turn it into a game.
For example, I grew up in Queens playing a Korean game called Gonggi. It's like the Korean equivalent to Jacks. I thought that was a common game growing up, but there's really nothing like that in the toy and game space. I'm Colombian-American, so I also grew up playing Parqués, which is very similar to Pachisi. I think about games like that all the time, so getting inspiration from things in the past is my version of zagging when everyone zigs.
A very smart approach. Now, What Do You Meme? is operating in the party game space, which is very competitive at the moment. What do you think is key to designing a great party game?
Well, people tend to disagree on what makes a good party game – and also what defines a party game! I'd say it should be a game that's easy to explain. We create a lot of games for people that don't normally play games. Lots of people tell us that What Do You Meme? is the first card game they've purchased. People can be intimidated or easily overwhelmed by too many rules.
Another factor would be a game that can be played with three people, or 10 people or even 20 people. And most important is that the party game has an open-ended quality so that people can create their own house rules. UNO is a great example… Stacking the cards is the new normal way of playing but I don't think that's technically the 'correct' way of playing. Even with What Do You Meme?, we include photo cards but lots of people just use photos they get up on their phones. If you can personalise the game a little bit, that's a recipe for success.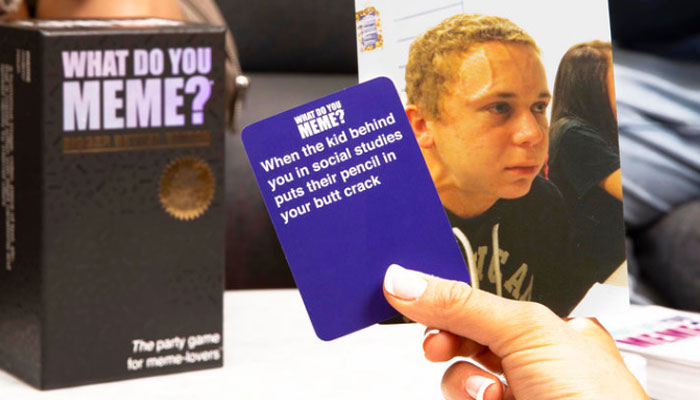 Good points. Would you say the party game space is a good place creatively right now?
Whenever there's an oversaturation of something, it always forces you to be more creative to stand out, so I'm glad there's lots of party games out there. It's competitive, but I'm fortunate to work for What Do You Meme? and we have a lot of retail space. Party games are a great way to introduce people to the wider board game sector, so I think it's in a good place and I'm glad the category is growing.
So yes, I'm all for more party games! It forces competitors to be more creative, more innovative and more inclusive. It also forces companies to look for more external concepts, so it helps the inventor community also. It's a win-win for everyone.
Let's talk about inventors. Inventor relations is part of your remit now, so why is the inventor community important to What Do You Meme? going forward?
Inventors are extremely important and some of our most successful titles came from inventors. I personally view inventors as problem-solvers and we love working with them. We're happy to see ideas from anyone, whether you've been inventing games for 20 years or whether you've never licensed a game in your life. In fact, we've worked with many inventors where we're the first company they've licensed a game to. We love that moment.
We have a section of our site where people can submit ideas to us and we look at every single idea. I'd always suggest that inventors look at the sorts of products we put out at What Do You Meme? to see if their idea expands on what we've done before, or is totally new for us but would resonate with our audience. That's the key.
One of your recent launches – and a good example of the variety of What Do You Meme?'s portfolio – is Better Than Yesterday. It sounds like an interesting idea. Can you talk us through it?
We collaborated with an influencer called Case Kenny on this, so much props to him. Overall, the 'play pattern' is that you draw a card, and the card gives you a challenge that you're supposed to complete for that day. It's nothing overwhelming; it's usually a small, subtle thing that gets you out of your comfort zone. It might be 'Start a conversation with a stranger' or 'Buy coffee for the person behind you in line at the coffee shop'. Little things that help you improve as a person and get you out of your comfort zone.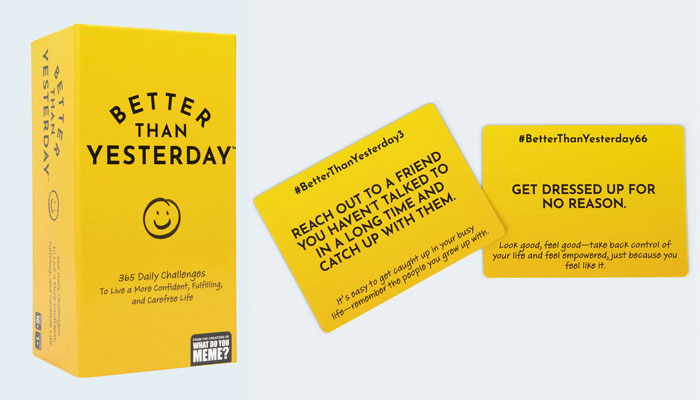 It gets us into the mindfulness sector, which I think is going to be huge in 2023 and I don't see it going away after that. After the pandemic, I think people were a bit mentally and emotionally drained, and maybe socially awkward after being inside for a year and a half, so I'm noticing more and more products aimed at engaging with that.
We launched a product a few months ago called the Menstruation Crustacean. It's a plush lobster that's also a heating pad that helps with period cramps. This fits into the wellness sector too.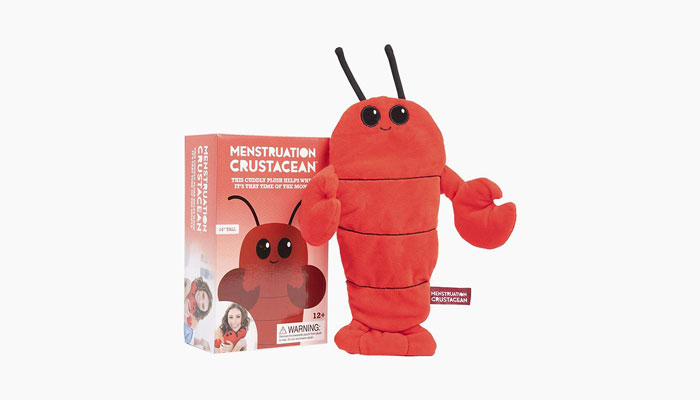 It'll be really interesting to see how the games space engages with the mindfulness area moving forward.
Absolutely. Better Than Yesterday doesn't play like a regular party game because the objective isn't to be better than your opponent, it's to be better than yesterday's version of yourself. I think that's intriguing and our audience is finding that intriguing too.
And just as you're expanding into the wellness space, you're also in the kids' game sector now with Toe Cheese Chase. Is the design process here radically different to how you create party games?
At the end of the day, you're designing a product that you want to entertain and engage your audience – and that's true regardless of if it's a party game or a kids' game. The packaging still needs strong shelf appeal, it needs fun and creative marketing content and it should have the potential to go viral… So it's a surprisingly similar process creating a raunchy drinking game or a cute kids' game.
The biggest difference is that Toe Cheese Chase is very character-based, and we took more time playtesting this game than any adult party game we've ever done.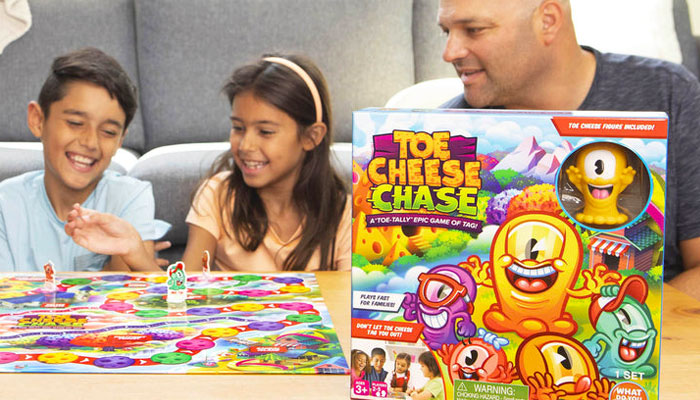 Christian, a huge thanks for this. I have one last question: What fuels your creativity?
I love hearing how other creatives come up with ideas. That inspires me a lot. I also listen to a lot of stand-up comedy, and I get a lot of game ideas through listening to comedians.
How interesting! What is it about stand-up that sparks ideas for you?
Well, comedians take familiar experiences and find the humour in it. We've all been on an airplane, but a comedian will see something in that and turn it into a bit. If you think about that through a game design lens, we've all had experiences that, with the right perspective, could be translated into games. We have to find our experience of a bad time on an airplane and turn that into a game rather than a stand-up special!
It's a fantastic observation, that a comic's knack for taking something relatable and mining it for laughs is comparable to a game designer identifying familiar experiences and 'gamifying' them. I'd never thought of it like that, but it makes total sense. Does anything else help you have ideas?
I listen to different podcasts – I have to give a shout out to Azhelle Wade's brilliant Making It in the Toy Industry podcast.
Yes, it's a great resource. Christian, a huge thanks again. Great insights.
–
To stay in the loop with the latest news, interviews and features from the world of toy and game design, sign up to our weekly newsletter here